Who Is The Masked Singer's Raccoon? Here Are Our Best Guesses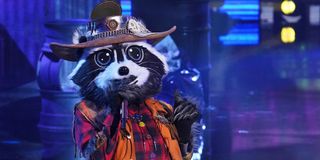 The Masked Singer Season 5 is officially underway, which means it's officially open season for viewers to sniff out the identities of contestants. With that in mind, I'm already hot on the trail looking into the latest clues and speculation surrounding a couple of contestants, and I think I have The Raccoon all figured out.
The Raccoon's first performance showed he's going to carry on the tradition of a non-singer who can survive on energy and charisma alone. I won't knock a valid strategy, but I also won't sit here and act like I think this is a professional singer by any means. With that to kick things off, let's revisit the clues of Raccoon's premiere episode and whittle down the possibilities one by one.
The Clues
The first clue package The Masked Singer Season 5 had for The Raccoon started with some real jailbird energy. While The Raccoon sat behind bars and etched off the days on a wall with his claws, he talked about having to go through hell to get a happy ending. He apparently faced death, and viewers were shown a knife.
The Raccoon likened himself to the fictional character Quasimodo, perhaps to suggest he's been locked away from the world. Raccoon said he bargained with God for another chance, promising that he wouldn't waste it if given another chance at life. To me, it seemed like this person spent some time either in prison or rehab and had turned their life around and found great success in a rebirth. Probably not in singing given their performance of "Wild Thing" by The Troggs, but hey, success can come in all forms.
The Raccoon may be a little rough around the edges, but obviously is a celebrity who ultimately found great fame after their fall from grace. With that in mind, here are a few possible options for who it may be, as well as who The Masked Singer contestant likely is. Like one raccoon said to another as they stood at the lip of a dumpster, let's dive in!
Joe Pesci
This is a guess straight from The Masked Singer panel, and honestly, not a bad choice. Actor Joe Pesci has long been known as a tough guy in Hollywood, or at least, somebody who plays a tough guy. The actor played a made man in roles like Goodfellas and also spent some time behind bars as one half of the Wet Bandits in Home Alone. Those aren't exactly real and daunting dark times like The Raccoon talked about in the clue videos, but The Masked Singer has thrown misdirects at its audience before.
Mike Tyson
Ken Jeong doesn't have a great track record for contestants on The Masked Singer, but he may actually be onto something with Mike Tyson. The prizefighter-turned-actor certainly isn't known for his singing ability, and given the two worked on the set of not one but two Hangover movies, one would think Jeong knew Tyson's voice well enough to pick it up out of a crowd. Plus, when it comes to celebrities with a rough past, Tyson spent time in prison for about 3 years. Ken Jeong has gotten a lot of crap for guesses in the past, but credit where it's due because this is a good guess.
Danny Trejo
Danny Trejo is a badass in Hollywood and frequently seen in many rough and tumble roles. Fans know it's not necessarily a coincidence that he's frequently cast in those roles, as Trejo spent some time in prison throughout his youth and went on to find great success. Certainly a strong contender for The Raccoon, but could he have the time in his schedule for The Masked Singer?
Danny DeVito
The man, the myth, the legend, The Masked Singer fans surely know Danny DeVito. The actor has that gravelly voice that is on par with The Raccoon's performance, and he plays the degenerate Frank Reynolds on It's Always Sunny In Philadelphia. With that said, DeVito hasn't really had a history of past crimes unless we're talking about playing Mr. Wormwood on Matilda. By all accounts, DeVito is a stand-up guy, so this one would be a bit harder to justify than other options.
Our Best Guess
Before I heard the singing and the clues about prison time, I heard the voice. There are some participants on The Masked Singer where no amount of modulation can hide a voice, and when they start singing, it's all over. I was already suspicious it was Danny Trejo before he sang a single note, and the first "wild thing" solidified it for me beyond a shadow of a doubt.
As I mentioned earlier, Danny Trejo was in and out of prison throughout his youth and eventually found a way out in acting. That "second chance" has kept him on a righteous path ever since, and while I don't know for sure what the knife is for, I'm assuming it's some sort of vague reference to the Machete franchise Trejo starred in. It's also worth noting the clue package featured an image of a winged raccoon attacking a snake in a manner similar to the eagle with a snake in its mouth on the Mexican flag. Trejo is Mexican-American, so that could be a nod to his cultural roots.
As for any additional clues, I noticed when The Raccoon stood next to Niecy Nash that the two were roughly the same height. Nash is 5'4 but was wearing heels, and Danny Trejo is 5'6. Height is usually a huge way to confirm a contestant's identity, especially if they're someone who has any height noticeably above or below the average. Given all that, I'd say I'm about 95% sure this is Trejo and would be shocked if The Raccoon is anyone other than him.
The Masked Singer airs on Fox Wednesdays at 8:00 p.m. ET. Do you believe The Raccoon is Danny Trejo? Sound off in our poll, and continue to check back in throughout all of Season 5 for more guesses on who each contestant may be.
This poll is no longer available.
Mick likes good television, but also reality television. He grew up on Star Wars, DC, Marvel, and pro wrestling and loves to discuss and dissect most of it. He's been writing online for over a decade and never dreamed he'd be in the position he is today.
Your Daily Blend of Entertainment News
Thank you for signing up to CinemaBlend. You will receive a verification email shortly.
There was a problem. Please refresh the page and try again.