What Macaulay Culkin And The Home Alone Cast Are Doing Now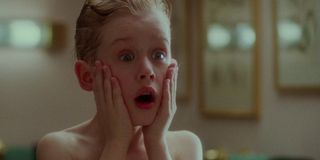 Home Alone is a Christmas classic. It's the story of a boy who finds himself home alone during the holidays. At first, the idea is fun and appealing, but then the loneliness and danger of it all kick in, especially when two burglars try to rob the place. Home Alone turned 30 this year, so it's a good time to check in on what Macaulay Culkin and the rest of the cast have been up to since the film's 1990 premiere.
Let's look at the major works that Macaulay Culkin, Joe Pesci, Daniel Stern, Catherine O'Hara, and other Home Alone cast members have participated in during the last 30 years.
Macaulay Culkin (Kevin McCallister)
Culkin played mischievous little 8-year-old Kevin McCallister. He wished his family away and then had his dream come true when they accidentally left him at home. Culkin appeared in a slew of movies in the early 90s. One of his most famous works was as Thomas J. Sennett in My Girl. If you weren't grabbing a tissue after this role, you have no heart. He starred opposite Elijah Wood as a bad seed in The Good Son. He played Richie Rich in the 1994 adaptation and then reprised his role as Kevin in Home Alone 2: Lost in New York.
Culkin took a nearly ten-year hiatus from acting and returned with Party Monster. Then he appeared in cult-classic Saved! opposite Mandy Moore, Jena Malone, and Patrick Fugit. Culkin then had a series of guest roles in shows like Will & Grace, Robot Chicken, and Dollface. Coming up, he will appear in the upcoming season of American Horror Story.
Joe Pesci (Harry)
Joe Pesci played one of the burglars in Home Alone and its sequel. Harry is clearly the brains of the operation and was a lot more hot-headed than his literal partner in crime. Pesci is a legend, so he had quite an active career before and after Home Alone. He played the cousin Vinny in the law comedy My Cousin Vinny. He reprised his role as Leo Getz in Lethal Weapon 3 and Lethal Weapon 4.
Pesci teamed up with Martin Scorsese and Robert De Niro for the crime film Casino. He then teamed up with Scorsese and De Niro again in 2019 for The Irishman, The film earned Pesci a Best Supporting Actor Oscar nomination. In the past 30 years, he has also appeared with De Niro in a few other films like A Bronx Tale and The Good Shepherd.
Daniel Stern (Marv)
In Home Alone, Daniel Stern played Harry's partner-in-crime Marv. Harry got the brains and Marv got the height. Stern played Phil Berquist in City Slickers and City Slickers II: The Legend of Curly's Gold. These films star Billy Crystal, Stern, and Jack Palance. The first film launched Jake Gyllenhaal's career. In 1993, Stern appeared with Ian Nicholas and Gary Busey in the sports comedy Rookie of the Year.
He also appeared in indie Ellen Page and Drew Barrymore's film Whip It, and in the Workaholics crew's film Game Over, Man!. Stern has done voice-over work on shows such as Dilbert, The Simpsons, Hey Arnold!, and Family Guy. He's also had guest appearances on the shows Monk, House of Lies, Angie Tribeca, and Love. Daniel Stern has a recurring role on Hulu's Shrill. He plays main character Annie (Aidy Bryant)'s father. Shrill was recently renewed for a third season.
Catherine O'Hara (Kate McCallister)
Catherine O'Hara played Kevin's mother Kate. She has questionable mothering skills because she lost her son not once but twice. Much of the first film involves Kate trying to make it back home to Kevin. O'Hara voiced Sally in The Nightmare Before Christmas. She then appeared in a few lesser-known films in the 90s and early 2000s, including A Simple Twist of Fate opposite Steve Martin, Home Fries starring Drew Barrymore and Luke Wilson, and cult favorites Orange County and Best in Show.
O'Hara also dabbled quite a bit in the world of voice-over work, voicing characters in Monster House, Brother Bear 2, Chicken Little, Frankenweenie, and Pippi Longstocking. She appeared in the movies Penelope, For Your Consideration, and Away We Go. Catherine O'Hara also appeared in episodes of Six Feet Under, Curb Your Enthusiasm, Modern Family, A Series of Unfortunate Events, and 30 Rock.
Most people will now recognize O'Hara for her role as Moira Rose in Schitt's Creek. The role won her a 2020 Emmy Award for Best Lead Actress in a Comedy Series. O'Hara can next be heard in the animated film Extinct.
John Heard (Peter McCallister)
Peter joins the bad parents' club as Kevin's father Peter. John Heard appeared in the heartbreaking '90s drama Radio Flyer that starred Lorraine Bracco and Elijah Wood. He also appeared in the legal drama The Pelican Brief, which starred Julia Roberts and Denzel Washington. Heard appeared with major actors like Meryl Streep, Liam Neeson, Nicolas Cage, Samuel L. Jackson, Dan Aykroyd, and Christina Ricci in films such as My Fellow Americans, Before and After, One Eight Seven, Snake Eyes, and Desert Blue.
Heard appeared in the TV series Law and Order, The Outer Limits, CSI Miami, and The Chicago Code. He had a recurring role in Prison Break, The Sopranos, and short-lived Jack & Bobby.
Tragically, John Heard died in 2017 of a heart attack.
Devin Ratray (Buzz McCallister)
Buzz was Kevin's older brother and constant tormentor. Devin Ratray went on to appear in another children-behaving-badly film, Dennis the Menace. His next major movie role was in the Julia Stiles and Luke Mably starring film The Prince & Me. He played a character named Scotty. Ratray then had small roles in the films The Winning Season, Breaking Point, Rough Night, Nebraska, Masterminds, and Surrogates.
Devin Ratray had a small role in the crime drama Hustlers starring Constance Wu and Jennifer Lopez. He had many guest appearances in Law & Order and its spin-off series. Ratray also appeared in episodes of Supernatural, The Good Wife, Elementary, Girls, and Russian Doll. He had recurring roles in Amazon Prime's The Tick and Mosaic. Ratray can next be seen in the films Construction and Hollywood.Con. He recently appeared on Amy Sedaris's series At Home with Amy Sedaris.
Kieran Culkin (Fuller McCallister)
Kieran Culkin played Kevin's youngest cousin Fuller. Macaulay's real-life younger brother followed in his footsteps appearing in many films in the '90s. He played Matty Banks in Steve Martin's Father of the Bride and its sequel Father of the Bride Part II. Culkin appeared in Nowhere to Run, My Summer Story, The Mighty, and She's All That all in the '90s. He also had a role in the Wes Craven directed drama Music of the Heart that starred Meryl Streep, Angela Bassett, and Gloria Estefan.
Kieran Culkin played Buster in The Cider House Rules, Tim Sullivan in The Dangerous Lives of Altar Boys, and Igby in Igby Goes Down. He had a fun role as Wallace Wells in Scott Pilgrim vs. the World. Culkin has successfully made the transition to TV. First appearing in Fargo and now as Roman Roy in Succession. His role in Succession earned him Emmy and Golden Globe nominations.
John Candy (Gus Polinski)
John Candy played the friendly stranger, Gus Polinski, who helps Kate get to Kevin. Candy voiced Wilbur in the Disney animated feature The Rescuers Down Under. He then appeared in the films Nothing But Trouble, Career Opportunities, and Only the Lonely. He played real-life attorney Dean Andrews Jr. in JFK, the Oliver Stone drama that examines the events leading up to the assassination of John F. Kennedy. Candy's Home Alone co-star Joe Pesci also appeared in this film.
Candy reunited with the other member of the burglar team when he appeared in Rookie of the Year with Daniel Stern. Candy had one of the lead roles in Cool Runnings, a sports comedy based on the real-life story of a Jamaican bobsledding team. After Cool Runnings, Candy only appeared in two more films, Wagons East and Canadian Bacon before he died in 1994. It's believed he died of a heart attack.
Roberts Blossom (Marley)
Roberts Blossom played Marley, Kevin's elderly neighbor that at first, he's afraid of, but the two form a bond with the McCallisters gone. Blossom appeared in a few films after Home Alone. They were Doc Hollywood, Death Falls, and The Quick and the Dead.
Blossom spent most of his post-Home Alone career on television. He appeared in episodes of Northern Exposure, Murder in the Heartland, Chicago Hope, and Balloon Farm. Blossom passed away in 2011 at 87 years old from cerebrovascular disease.
Gerry Bamman (Uncle Frank)
Uncle Frank is Kevin's dad's older brother. Kevin isn't too fond of his Uncle Frank and Frank isn't too fond of Kevin or spending money. After Home Alone, Gerry Bamman appeared in the films Married to It, The Bodyguard, Lorenzo's Oil, and the sci-fi film The Puppet Masters, which starred Donald Sutherland. Bamman also had roles in Great Expectations, The Long Kiss Goodnight, Superstar, and The Confession.
Bamman had a recurring role in Law and Order as Stan Gillum. He then appeared in the series Sex and the City, Law and Order: Special Victims Unit, and The Following.
Home Alone is available to stream on Disney+. We hope you enjoy it, you filthy animals. Stream it on Disney+ here (opens in new tab).
Spent most of my life in various parts of Illinois, including attending college in Evanston. I have been a life long lover of pop culture, especially television, turned that passion into writing about all things entertainment related. When I'm not writing about pop culture, I can be found channeling Gordon Ramsay by kicking people out the kitchen.
Your Daily Blend of Entertainment News
Thank you for signing up to CinemaBlend. You will receive a verification email shortly.
There was a problem. Please refresh the page and try again.