Stargate SG-1's Amanda Tapping And More Pay Tribute To Cliff Simon After Death At 58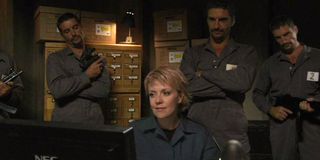 Stargate SG-1 fans were dealt a blow this week upon learning that franchise actor Cliff Simon has died. He was only 58 at the time of his death, and misadventure was the root cause, as his wife revealed in a loving post that he had died at the beach in Malibu following a kiteboarding accident -- doing one of the things "he loved most." After the news broke, many of his Stargate SG-1 family, including Amanda Tapping and Christopher Judge, paid tribute to their former co-star online.
Amanda Tapping is often engaging with her fans via Twitter, but this week the news was less jovial in nature. Playing elite SG-1 team member Samantha Carter, Tapping's on-screen relationship with Cliff Simon's Ba'al was more of an antagonistic one; however, in real life, Tapping describes Simon as "wonderfully lovely" and went on to share how "important" the actor was to those who loved and stuck with Stargate SG-1 over the years (and even in the time since the series has ended).
Michael Shanks, known for his role as Dr. Daniel Jackson through a large chunk of Stargate SG-1's run, also spoke fondly about Cliff Simon, noting he lived his life to the fullest.
Teal'c actor Christopher Judge, one of the other big four leads on Stargate SG-1 -- the fourth being Richard Dean Anderson, who is not an avid user of social media -- simply shared his grief over losing Cliff Simon via the most astute of emojis.
Other actors from the series, including Peter Kelamis, had already written about their time with the actor as the news was breaking. A South African by birth, Cliff Simon moved to the U.S. around the turn of the century, which is when he landed his first guest stint on Nash Bridges and later the gig on SG-1. Cliff Simon was seemingly proud of his Stargate SG-1 work. It was among his more prominent acting gigs and he would sometimes share fan tributes about his G'oauld character "Ba'al" on social media.
Though much of the cast had moved on by the time Stargate SG-1 had wrapped its initial run -- and Ba'al story in particular seemed to have been told in full -- the series still has an avid fanbase and is available streaming, so it's no surprise Cliff Simon still enjoyed nodding at his character online prior to the tragic accident that took his life. Talks of there potentially being more to say or to reunite the original cast do crop up occasionally, and perhaps one day there will be more to tell in the Stargate's story. If it does come to pass, it's too bad Cliff Simon won't be there to see it.
Amazing Race & Top Chef superfan with a pinch of Disney fairy dust thrown in. If you've created a rom-com I've probably watched it.