Amid Kim Kardashian And Kanye West's Divorce, Caitlyn Jenner Has Shared Thoughts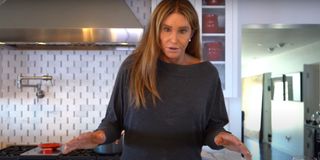 (Image credit: Caitlyn Jenner Youtube)
Details about Kim Kardashian and Kanye West's relationship and divorce have been slowly but surely rolling out over the past few months. These range from West moving out Kardashian allegedly spending Valentine's Day alone. But even slower has been the Kardashian-Jenner public response to the news. The family's wall of silence surrounding the divorce is wearing thin, however, now with Caitlyn Jenner sharing her thoughts.
The former Olympic athlete and star of I Am Cait didn't give much away when People asked her asked about Kim Kardashian and Kanye West's divorce. Caitlyn Jenner only had this to say about her stepdaughter:
Perhaps now that Caitlyn Jenner has put it out into the ether, Kim Kardashian will finally say something publicly about what led up to her divorce from Kanye West. The rumors have swirling almost non-stop since it was reported back in February that she filed. Some speculate it has been West's behavior of late, while others think it might be from the scrutiny of the Keeping Up with the Kardashians reality show that has followed their relationship for the last seven years.
Keeping Up with the Kardashians is airing its final season now, and many are under the impression that the dynamics that led to Kim Kardashian and Kanye West's divorce will be a touched upon. It is likely Kardashian cannot speak too publicly about her divorce, if it is embargoed for this season. Caitlyn Jenner gave some credence to this idea when asked about the final season, saying:
When it comes to the Keeping Up with the Kardashians, though, it's not so much about keeping secrets as it is the perfect choreography or timing of the secret reveal. Caitlyn Jenner spilled these tidbits ahead of the Season 20 premiere of the reality show on March 18, and she wasn't the only one. Her ex-wife, Kris Jenner, also teased the public with her thoughts on the divorce as well. The momager was only slightly more forthcoming, saying:
We'll just have to wait and see how things are timed out. Tune in to the final episodes of Keeping Up with the Kardashians, which air Thursdays on E! at 8 p.m. ET.
I am a vegan feminist. I'm fascinated by all things space/stars. I love film history, reality television, and my cat Bubbe.