How Kim Kardashian Is Reportedly Spending Valentine's Day Amid Kanye West Divorce Rumors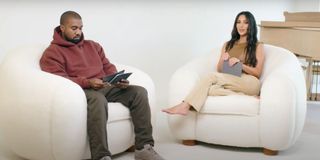 Ah, Valentine's Day – a holiday tailor-made for the celebration of love. I'm seeing roses, chocolates, diamonds – and a shit-ton of couples elaborately posing on Instagram. But mega-celebrity couple Kim Kardashian and Kanye West might be spending the day a little differently, as rumors of their divorce continue to fly.
In fact, Kim Kardashian and Kanye West may not be seeing each other at all on Valentine's Day. A source recently told People:
Rapper Kanye West has indeed been spending the majority of his time separately from his family (who reside in Los Angeles, California) at his ranch in Wyoming for many months. But if social media is any indication, the rumors of the West and Kim Kardashian not spending Valentine's Day together may be true.
Kim Kardashian has dedicated all of her posts on Twitter and Instagram to promoting her SKIMS Valentine's Collection. Not a peep or even an emoji publicly addressed to Kanye West, her husband of six years.
For months, rumors have swirled over Keeping Up with the Kardashians star Kim Kardashian and Kanye West potentially divorcing. The two had a rough past year, as they contended with the controversies concerning the them in the media. West made a botched effort of running for President of the United States, and at one of his rallies even revealed that him and his wife considered having an abortion of their eldest daughter North, 7, to the entire world.
That was July. A few months later, in November, Kim Kardashian showed the last public post featuring both of them. She praised the anniversary of Kanye West's My Beautiful Dark Twisted Fantasy album and revealed some of the starry-eyed backstory behind it. Kardashian wrote at the time:
Kim Kardashian's actual post is quite sweet. You can check it out for yourself down below:
How sweet! How romantic! But now? Crickets. It's Valentine's Day, and there's no hint that Kim Kardashian and Kanye West are spending the day together. Then again, the other Kardashian sisters are being just as quiet about Valentine's Day on social media. Perhaps they are all just taking the day to spend quality time with their children. The carefully posed Instagram pics most assuredly will drop another day.
Movies and TV News Writer
Freelance writer. Favs: film history, reality TV, astronomy, French fries.
Your Daily Blend of Entertainment News
Thank you for signing up to CinemaBlend. You will receive a verification email shortly.
There was a problem. Please refresh the page and try again.