How Kim Kardashian Allegedly Feels About Kanye West Spending Time With Their Kids Amid Divorce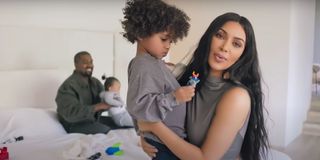 (Image credit: Vogue)
Divorces can often be contentious, especially when it comes to kids. With the official news that Kim Kardashian has filed for divorce from rapper Kanye West, speculation has turned to how the pair will co-parent their four children, all under the age of 7.
A source has told People that Kim Kardashian wants the kids – North, Saint, Chicago and Psalm – to have a relationship with father Kanye West after the divorce. According to the source:
It is not entirely unheard of for both parents to not be present during visitations. But the source's claim that Kim Kardashian not being present was at Kanye West's specific request is honestly a bit eyebrow-raising, to say the least.
Likely, Kim Kardashian and Kanye West will want to keep as much distance between them as the rumors and speculation continue to swirl. This shouldn't be hard for West, who spends the majority of his time at his ranch in Wyoming. But many are wondering if the real reason behind the request lies behind West's mental health issues that have played out in the public over the past year.
In 2020, Kanye West unsuccessfully ran for president of the United States against the likes of Joe Biden and Donald Trump. West's decision was a shocker, but not as much as the things he said at rallies on the campaign trail. At one point, West revealed that he and Kim Kardashian even thought about having an abortion of their eldest child, North. At the time, many people considered this enough grounds for a divorce. Kardashian shared a benevolent statement on Instagram in July that urged the public to be understanding of those suffering from mental health issues.
Despite Kanye West's provocative words in the past and months of speculation about his mental state, Kim Kardashian allegedly still wants West in their kids' lives as the two move on from their marriage. The source said:
The Kim Kardashian-Kanye West relationship has played out before the public's eyes in mostly real time, thanks in part to the filming of Keeping up with the Kardashians. Kanye West isn't exactly prominent on the show, but he does make occasional appearances. And it's obvious for anyone who watches the show that he has tremendous love for his kids.
In fact, in the last season of Keeping up with the Kardashians, we saw West allow his daughter North to sing while models walked at his Paris Fashion Week show – in front of hundreds of onlookers. The moment was particularly special and reminds fans that he undoubtably will play a part in his children growing up confident and believed in. People's source also said:
The final season of Keeping Up with the Kardashians is fast approaching, and fans and spectators alike will probably see the final moments of Kim Kardashian and Kanye West's relationship, and the potential aftermath as well. The season premieres March 18th at 8 p.m. ET on E!.
Movies and TV News Writer
Freelance writer. Favs: film history, reality TV, astronomy, French fries.
Your Daily Blend of Entertainment News
Thank you for signing up to CinemaBlend. You will receive a verification email shortly.
There was a problem. Please refresh the page and try again.