When 9-1-1 And 9-1-1: Lone Star Will Return To Fox With New Episodes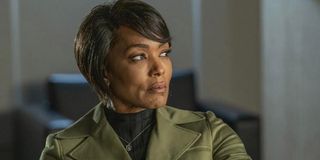 Fox's 9-1-1 and spinoff series 9-1-1: Lone Star are currently on midseason hiatus ,and both left fans on the edge of their seats at the end of their respective eighth episodes. Although some probably aren't looking forward to the wait for new episodes, the first responder dramas will make their return to Fox very soon!
When Is 9-1-1 Season 4 Returning to Fox?
Season 4 of 9-1-1 will return on Monday, April 19! While it seems like that's still quite a long ways away, Fox is re-airing the "Begins" episodes of each character in its timeslot each week so fans can relive the stories of the members of the 118 while the show is on hiatus.
In the most recent episode, "Breaking Point," Chimney and Maddie made some tough decisions about their birth plan for their daughter, specifically regarding whether to still have the baby at the hospital or home at home since everything has changed due to COVID-19. Meanwhile, Hen and Karen, who were getting close to being able to adopt little Nia, discovered that Nia's birth mother is ready to bring her home. Check out the trailer for the show's return down below:
When Season 4 of 9-1-1 returns, fans can expect to see the birth of Baby Buckley-Han and the continuing storyline of Nia and her birth mother. Also, from the looks of the trailer, it seems as if the 118 will be dealing with a massive freeway pileup!
When Is 9-1-1: Lone Star Season 2 Returning to Fox?
Season 2 of 9-1-1: Lone Star will also return on Monday, April 19 with new episodes! And while it's on hiatus, Fox is airing episodes of the newly revived America's Most Wanted in its place. While it's not Lone Star, it is still TV viewing that will surely keep people on the edge of their seats.
9-1-1: Lone Star's winter finale, "Bad Call," had the 126 paramedic team, comprised of Tommy, T.K. and Nancy, being taken hostage in an attempt to save a criminal's life. Owen and Carlos teamed up and discovered where they were being held, saving them just in time.
As Owen, Gwyneth and Carlos were visiting a hospital-bound T.K., who had been hit on the head by a gun, Judd and Grace made their way to Judd's father's house during a rainy night. That setup alone can only mean one thing. When they were discussing the possibility of having kids, headlights were shown in their direction. Judd tried to swerve out of the way and, as a result, he drove right through the railings on a bridge, sending the car into a lake and shocking fans everywhere. Check out the teaser for the new episodes:
Showrunner Tim Minear told TVLine that when the show comes back, the episode will focus on Judd and Grace and how they met, sort of a "Begins" episode. The episode will kick off with a flashback, before shifting between more flashbacks and Judd and Grace being saved in the present. Even though there is no official trailer for new episodes, the teaser alone will give any fan goosebumps, as they're likely hoping for the best for the firefighter and dispatcher.
What exactly fans can expect from both spring premieres of 9-1-1 and 9-1-1: Lone Star and how they'll ultimately play out is up in the air. While we are praying that Judd and Grace make it, it will be hard to wait until April 19. Hopefully, the time passes quickly! In the meantime, catch up on both series on Hulu, as all episodes of both dramas are currently streaming there.
Your Daily Blend of Entertainment News
Passionate writer. Obsessed with anything and everything entertainment, specifically movies and television. Can get easily attached to fictional characters.