Robert Kirkman's Invincible Voice Cast: Who's Voicing Amazon's Comic Book Superhero Show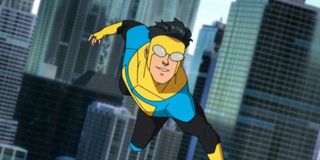 (Image credit: amazon press)
Comic book mastermind Robert Kirkman is best known to mainstream audiences for co-creating the franchise-spawning Walking Dead series, but he's also responsible for one of the greatest superhero comics out there with Invincible. After a few years of patiently waiting, fans have at last been gifted with Kirkman's animated take on Invincible, with the star-studded series debuting on Amazon on March 26. Regardless of whether or not you were familiar with the long-running series, which ended back in 2018, you're going to recognize just about everyone in Invincible's voice cast.
To that end, we've put together a handy guide laying out all the main Invincible characters and the talents that portray them in Season 1 and hopefully beyond. (Seriously, this show could and should last for a long time, even alongside the live-action movie that's in development.) Let's start things off with the Oscar-nominated star playing the titular teen hero.
Steven Yeun (Mark Grayson / Invincible)
As perfect as Steven Yeun was as Glenn Rhee in The Walking Dead, the role of Mark Grayson feels like an even more natural fit for the Minari actor. While Yeun could (arguably) no longer play the role of teen Mark in live-action, he's spot-on from a vocal perspective. Of course, Yeun has a lot of experience in that realm, with regular roles in such animated series as the Tales of Arcadia franchise, Tuca & Bertie, Final Space and Voltron: Legendary Defender among others.
Sandra Oh (Debbie Grayson)
It goes without saying, but Grey's Anatomy and Killing Eve standout Sandra Oh is as perfect as everyone else in the cast in the role of Mark's mother Debbie Grayson, who does a formidable job of balancing a household with her super-family. Millions of people recently heard Oh's work in Disney's Raya and the Last Dragon, which was around 98% less bloody than Invincible is.
J.K. Simmons (Nolan Grayson / Omni-Man)
J.K. Simmons is no stranger to comic book projects, having portrayed J. Jonah Jameson across two different Spider-Man franchises and a bunch of animated series, as well as playing James Gordon in both Justice League films. But he actually gets to play the superhero for Invincible as Mark's father Nolan, who also serves as the all-powerful and totally brutal Omni-Man. (His work as BoJack Horseman's Lenny Turtletaub will never not be great, also.)
Gillian Jacobs (Samantha Eve Wilkins / Atom Eve)
While waiting to see Community and Love vet Gillian Jacobs bring R.L. Stine's Fear Street books to life on Netflix, fans can check out her excellent voice work as Mark's classmate and superhero colleague Atom Eve (real name: Samantha). Jacobs is seasoned in taking on voice roles in shows that appeal to both adults and teens, having appeared in Star Trek: Lower Decks, Regular Show, Adventure Time and Rick and Morty, to name a few.
Zazie Beetz (Amber Bennett)
Thankfully, Atlanta and Deadpool 2 star Zazie Beetz is playing someone who doesn't have to worry about messing with The Joker as it went with her character in Joker. For Invincible, Beetz is voicing Amber Bennet, a school chum of Mark's whose feelings might go beyond just platonic. The actress doesn't have quite as lengthy a list of voice roles as her co-stars, with a Robot Chicken episode serving as her only animated part prior to Invincible. But she'll soon be heard in the animated feature Extinct from The Simpsons director and animator David Silverman.
Jason Mantzoukas (Rex Sloan / Rex Splode)
Whether he's saying outlandishly gross and weird things on The League, The Good Place, Brooklyn Nine-Nine, Drunk History or a large number of other TV shows, Jason Mantzoukas is known for going over the top, which makes him an excellent choice to play Invincible's egotistical and sex-crazed Rex Sloan. It also tracks that his alter ego Rex Splode can make inanimate objects explode. An actor and podcaster whose career took him everywhere in the last decade, Mantzoukas as delivered many noteworthy vocal performances in projects such as Close Enough, Big Mouth, The Shivering Truth, and Solar Opposites.
Walton Goggins (Cecil Stedman)
It's been scientifically proven that The Unicorn star Walton Goggins is one of the most watchable actors in Hollywood, both in TV shows like Justified and movies like The Hateful Eight – there's got to be a study somewhere, right? – and that holds true even when it's only his voice being utilized. For Invincible, Goggins is voicing the comic's governmental antagonist Cecil Stedman, and he brings the perfect drawl to the role, even if the character is hard to love.
Zachary Quinto (Rudy Conners / Robot)
It makes a certain amount of sense that Invincible's genius non-human Robot is played by the same actor who brought Star Trek's Spock to the big screen, Zachary Quinto. Embellished with the brain of Rudy Connors, Robot is a fun part of whatever team he happens to be a part of, and Quinto is a big part of that fun in the animated series. Like a couple of others in the Invincible cast, Quinto has lent his voice to projects such as Big Mouth and Robot Chicken, and also memorably voiced Lex Luthor in 2020's Superman: Man of Tomorrow.
Malese Jow (Kate Cha / Dupli-Kate)
The Unfabulous and Vampire Diaries vet Malese Jow is top-notch as Invincible's self-cloning heroine Dupli-Kate, whose powers are attention-worthy for all kinds of reasons to other characters. It appears as if Jow is fairly new to the whole voice-acting game, which isn't easy to tell from her performance. She does have a bit of experience in the world of superheroes, though, having recurred as Linda Park on The Flash, where she also portrayed an alternate Earth's version of Doctor Light.
Seth Rogen (Allen the Alien)
With a voice that is always distinctively recognizable regardless of the role, Seth Rogen and creative partner Evan Goldberg are gearing up to bring Invincible to the big screen as a live-action franchise. But before all that, Rogen lent his voice to the role of Allen the Alien, an E.T. who accidentally enters Mark's life as a threat and then becomes something of an ally. Rogen has popped up in vocal form on TV shows like The Simpsons and Family Guy, but is more accomplished in that realm on the big screen, having audibly starred in hits such as The Lion King, Sausage Party, the Kung Fu Panda franchise, and Monsters Vs. Aliens. Let's not forget that he also voiced the titular alien in the 2011 comedy Paul.
Mark Hamill (Art Rosenbaum)
Having played both one of live-action cinema's greatest heroes with Star Wars' Luke Skywalker and one of animation's greatest villains with his various performances as The Joker, actor Mark Hamill took on a much less in-everyone's-faces role for Invincible. In the Amazon series, Hamill voices the costume designer Art Rosenbaum, who's more of a behind-the-scenes character that's responsible for giving several of the heroes their signature looks. As accomplished a voice actor as Hamill is, he could have feasibly delivered his Art performance in his sleep.
Clancy Brown (Damien Darkblood)
Understandably, Invincible aimed to find as powerful a voice as possible to take on the role of its central superhero detective from Hell, Damien Darkblood, and they nailed the casting by bringing in prolific actor Clancy Brown. An actor celebrated for live-action roles in projects such as Shawshank Redemption and Carnivàle, Brown has appeared in superhero TV shows such as The Flash, Daredevil, and The Punisher, and is also one of the most accomplished voice actors in the Invincible cast. To name but a few comic book roles he's voiced over the years: Parallax, Lex Luthor, Mr. Freeze, Mister Sinister, Red Hulk, Thunderbolt Ross and Bane.
Kevin Michael Richardson (Mauler Twins)
One of the few cast members who gets to play two different characters on Invincible (sort of), as opposed to characters with two different identities, animation superstar Kevin Michael Richardson is the voice behind the Mauler Twins. The two geniuses aren't really twins, of course, as one is the clone of the other, even if they can't agree on who the original is. Like Mark Hamill and Clancy Brown, Richardson has seemingly been on every animated series out there and, more relevant to this entry, has voiced such superhero comic characters as Ego the Living Planet, Groot, Trigon, The Joker, Black Manta, Solomon Grundy, and Wolverine, among many others.
Andrew Rannells (William Clockwell)
Every teen superhero needs a best friend to let in on all the vigilante details, or at least some of them in Mark Grayson's case. His BFF of many years is William "Don't Call Me Willy" Clockwell, who is voiced in the TV show by Black Monday and Girls star Andrew Rannells. A veteran of the stage as well as the screen(s), Rannells is also an accomplished voice actor who has worked on the English dubs of several animated series such as Yu-Gi-Oh! Duel Monsters, Sonic X, and Tokyo Mew Mew, while also lending his talents to such U.S. series as the Teenage Mutant Ninja Turtles series from the 2000s, as well as Apple TV+'s Central Park.
Various Walking Dead Stars (The Guardians of the Globe)
While their collective appearance was surprisingly short, but amazingly sweet, the superhero team of the Guardians of the Globe were voiced by a handful of Walking Dead characters in a fun complement to Steven Yeun and Robert Kirkman's combined presence. (Not to forget Khary Payton here.) Here's who voiced each character: Lauren Cohan as War Woman, Chad L. Coleman as Martian Man, Lennie James as Darkwing, Ross Marquand as The Immortal and Aquarius, MIchael Cudlitz as Red Rush and Sonequa Martin-Green as Green Ghost.
To be sure, Invincible features a plethora of side characters throughout its first season, and just about all of them are voiced by excellent actors such as Hamilton's Jonathan Groff, Fargo's Jeffrey Donovan, Mad Men's Jon Hamm, Rick and Morty's Justin Roiland, Nailed It's Nicole Byer, The Flash's Ezra Miller, True Detective's Mahershala Ali, and that's STILL not everyone.
New Invincible episodes drop Fridays on Amazon Prime Video (opens in new tab), so don't miss out on the bloody superhero mayhem, but also don't miss out on the best movies streaming on Amazon Prime.