What Wynonna Earp Fans Can Expect From The Final Episodes, According To The Stars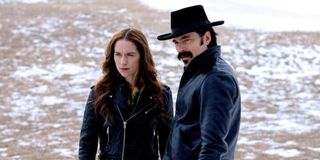 (Image credit: Syfy)
The wild ride of Wynonna Earp on Syfy is almost at an end, with only a couple episodes of the fourth and final season left before the final credits roll on anybody who is left standing. For any fans who were afraid that the one-of-a-kind comic adaptation was going to run out of steam by the final arc or run out of ways to top itself, stars Melanie Scrofano and Tim Rozon have previewed what fans can expect from the final episodes of the series, and they definitely don't sound dull.
Melanie Scrofano and Tim Rozon, who of course play Wynonna Earp and O.K. Corral cowboy Doc Holliday on Wynonna Earp, recently spoke to CinemaBlend and other outlets about the Syfy series. When I asked what they were looking forward to fans getting to see in the remaining episodes, they shared what to expect without dropping the kinds of spoilers that would give away the game. For her part, Scrofano promised that payoff is coming, saying:
Wynonna Earp has featured no shortage of bold moves over the four seasons so far, delivering twists like writing in a unique pregnancy arc for the main character in just the second season and turning the leading man cowboy into a vampire and delivering reveals about Waverly that nobody could have seen coming back in the early days of the series, to name just some.
Melanie Scrofano didn't reveal what exactly the "something" is that all of these twists and turns and struggles are leading to, but it's good to know that Wynonna Earp is building to something after all this time and won't just end without giving at least some kind of closure and tying off some loose ends. And fans can always have fun with the speculation now, even if there is still plenty to worry about when it comes to the next couple of episodes.
Will there be a WayHaught wedding despite everything? Will Wynonna and Doc see Alice again? Could there be a happy ending for these characters who have gone through (and sometimes put each other through) so much? Tim Rozon didn't drop any big plot details to ruin the surprises either, but he weighed in on Melanie Scrofano's tease to "agree with that completely," then shared his own perspective:
Well, if the man who plays Doc Holliday is excited about seeing episodes that he already filmed, then I think it's safe for fans to start getting excited too! Of course, that excitement can always be tempered with at least a little bit of dread, because what's a coming series finale if not a reason to start worrying that some favorite characters won't make it to the end? Wynonna Earp is a deadly show, after all, and not everybody comes back, least of all when the end of the show is nigh.
Find out with the final episodes of Wynonna Earp, airing on Fridays at 10 p.m. ET on Syfy. Wynonna Earp is only one of many shows that is wrapping this season, and it at least had the benefit of the time to plan ahead for the series finale rather than learning of the cancellation only after the broadcast of the season finished.
Such unceremonious cancellations have happened to other shows, and few are lucky enough to score a rescue to tie off loose ends and keep on going. For better or worse, the series finale for Wynonna, Doc, and the rest is on the way. If the end of Wynonna Earp puts you in the mood to revisit the beginning, you can find the first three seasons streaming on Netflix now.
Resident of One Chicago, Bachelor Nation, and Cleveland. Has opinions about crossovers, Star Wars, and superheroes. Will not time travel.
Your Daily Blend of Entertainment News
Thank you for signing up to CinemaBlend. You will receive a verification email shortly.
There was a problem. Please refresh the page and try again.