Syfy's New Show About A Cowgirl Who Takes Down Demons Sounds Crazy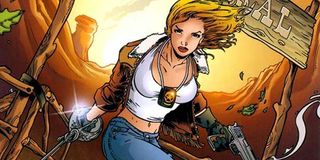 It appears that Syfy is upping the ante of insanity with its latest series acquisition. The network will look to adapt a supernatural comic book series called Wynonna Earp, focusing on a demon-fighting femme fatale harboring a historical legacy with the law that's quite obvious, given the name. The announcement of the show is also coupled with the reveal of its primary cast.
Having much of the stars and creative team already assembled, Syfy has made it offical that Wyonna Earp will manifest on the network as a 13 episode series set to air next year, according to Deadline. The show will star Melanie Scrofano as Wyonna, a young woman who brandishes a famous surname and joins a secret division of the U.S. Marshals created to combat killer supernatural creatures known as The Monster Squad. (Whether or not they have discovered that "Wolfman's got nards" remains to be seen.)
The show will be developed by Emily Andras, a writer/producer for Syfy properties such as Lost Girl and their current rookie series Killjoys. Adapting the mythos of Beau Smith's original IDW-published Wynonna Earp comic title, which debuted in 1997, the show seems intent on being a strong showcase for poignant female lead characters, accompanying its campy premise. In this case, Scrofano's rough, tough, motorcycle-riding modern take on the traditional wayward Western gunfighter will brandish a Marshal's star, leading a ragtag posse of paranormal crime-fighters.
The starring role represents a great opportunity for Scrofano (pictured above), who has spent her decade-plus career mostly in guest spots on a variety of television shows, including genre-relevant fare such as Supernatural, Warehouse 13, Haven and the upcoming Damien. However, utilizing a Buffy the Vampire Slayer-type lore, Scrofano will be the titular centerpiece of Wyonna Earp, portrayed as the great granddaughter of the legendary lawman Wyatt Earp, who seems to have inherited some potent creature-killing abilities to go with the famous name. Besides being a serious talent showcase, the series also sounds as if it will thrive on the pure ass-kicking absurdity of its fantastically kitschy premise.
Joining Scrofano on Wyonna is Tim Rozon, who is also no stranger to Syfy's more lascivious series, having lengthy runs on Lost Girl and Being Human. Continuing the O.K. Corral theme, Rozon will play a character carrying the equally famous moniker Doc Holliday as a character described as a famous con artist. Rounding out the primary cast trio is Shamier Anderson, who plays a mysterious character named Agent Dolls. Anderson will also be bringing some Syfy history to the table, having appeared on Lost Girl, Defiance and the recently cancelled NBC comic adaptation (that Syfy could not save), Constantine.
With the comic series carrying itself as an over-the-top, sometimes hyper-sexualized depiction of femme fatale-delivered justice, it will certainly be interesting to see how Wynonna Earp translates into a live-action capacity. While there are admittedly derivative elements to this story that will ring familiar to fans of the sci-fi/horror genre, the series nevertheless sounds like an exciting and delightfully zany mish-mash of genres that could become quite intriguing.
Wyonna Earp will begin production in Calgary in September, with a surely-fateful Tombstone-like showdown date marked on the calendar for its premiere in April 2016.
Your Daily Blend of Entertainment News