Kendall Jenner Responds After Kris Jenner's Tweet Appears To Imply She's Pregnant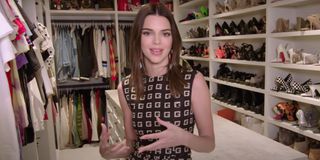 (Image credit: Architectural Digest)
The Kardashian-Jenner family have been blessed with baby news so much in recent years that the youngest generation now outnumbers the old. At this point, the only Keeping Up with the Kardashians star without a child of their own is Kendall Jenner. But when her mom Kris Jenner appeared to imply that she was pregnant on Twitter, Kendall had humorously to check her mom's emoji usage at the door.
During what appears to be a live watch of the March 25th episode of Keeping Up with the Kardashians, Kris Jenner tagged Kendall Jenner in a tweet with only the comment "You got this!!!" and a baby bottle emoji. You and I and the whole entire world knows what that emoji stands for. Without the context of the night's episode, it looks like Kendall's mom announcing to everyone that she was pregnant – and the 25-year-old didn't hesitate to point it out to her in her reply:
Really though, Kendall Jenner is definitely not pregnant – yet. In the Keeping Up with the Kardashian episode this week, Jenner spoke with big sis Khloe Kardashian about her sudden "baby fever." In Kardashian's usual jokester capacity on the show, she set up her younger sister with babysitting duties in an attempt to cure her of her fever.
Kendall Jenner spent her first babysitting session with Malika Haqq's 4-month-old son, Ace, followed by an overnight watch of three of her sisters' kids, all under the age of three. To say it was comedic gold might be an overstatement to some but, then again, you probably didn't tune in to see the 25-year-old model stick a toddler's head in a cabinet (for some unknown reason) or tell a crying 4-month-old, "You did this to yourself."
Young people without kids, forced to suddenly take care of kids, will always be funny. It's the kind of hazing that enforces a necessary checks and balance in the world. But a millennial like Kendall Jenner forced, in turn, to check her Boomer-era mom's social media is yet another necessary form of hazing.
The initial response on Twitter to Kris Jenner's tweet was a lot of confusion and shocked reactions, racketing up the likes to well past 20,000, which is not very common for most of her posts. But once Kendall Jenner set the record straight, in her way, most fans were left (virtually) rolling on the floor laughing at the idea of Kris Jenner's oversight.
At the end of the ordeal though, Kendall Jenner was adamant that the experience didn't deter her from having kids. In fact, she claims to be more than ready, so Khloe Kardashian might need to send in more reinforcements. Let's at least hope that these events successfully deterred Kris Jenner from using baby bottle emojis at random. Stay tuned to the final season of Keeping Up with the Kardashians, which airs on E! at 8 p.m. ET on Thursdays!
Freelance writer. Favs: film history, reality TV, astronomy, French fries.
Your Daily Blend of Entertainment News
Thank you for signing up to CinemaBlend. You will receive a verification email shortly.
There was a problem. Please refresh the page and try again.