Outlander Creator Ron Moore Is Adapting Another Fantasy Book Series For TV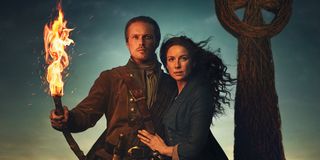 Adult fantasy fans rejoice! Yet another popular fantasy series is making the jump to TV screens everywhere, with none other than one of The Godfathers of fantasy fandoms behind the project. Outlander creator and Battlestar Galactica vet Ron Moore is adding to his extensive resume by writing the tv series adaptation of Sarah J. Maas' A Court of Thorns and Roses, this time for streaming on Hulu.
According to a post by A Court of Thorns and Roses author Sarah J. Maas, she and Ron Moore will both be involved in the writing of the series and are currently working on a script for the pilot episode. Check out the author's Instagram post for yourself:
In Sarah J. Maas' caption, she mentions that Ron Moore is an idol of hers, and I mean, rightly so. Even if you aren't a fan of his, albeit more nerdy, work on the iconic Battlestar Galactica and Star Trek franchises, you may have fallen more into the fandom of his more recent genre-bending Outlander series, which has helped a new audience dip their toes in the sci-fi genre.
We can expect the small-screen adaptation of A Court of Thorns and Roses to be more in line with the Outlander series, as it is unmistakable as an adult romance series with a science fiction and fairy tale edge. Also like the Outlander series, there are a number of novels in the series to draw inspiration and script content from - Ron Moore will be far from working with a blank slate. Unlike Outlander though, the novels that make up the A Court of Thorns and Roses are more recent, with the first novel having been released in 2015 compared to Outlander's 1991 debut. Both series, though, are still ongoing, with new novels on the way.
A Court of Thorns and Roses already has a pretty big following, even with it being so recent. Fans of the series have already had an eventful year, with the most recent novel dropping in February and, with the Hulu series now announced, existing fans appear to be full of excitement.
Comments on Sarah J. Maas' post are full of uncontainable joy and also a bit of fear. Fans are pleading that the series stay true to the books so that their favorite series isn't ruined for them. Those fears can be somewhat alleviated by the involvement of Ron Moore, though, as the writer has proven through Outlander that he does justice to a novel series, and some fans did acknowledge that they trust him with A Court of Thorns and Roses.
We've got some time to before we see the result of the new Ron Moore and Sarah J. Maas team-up, as they are only now writing the pilot. There is no cast list or release date as of yet, but we will be sure to stay on top of this story and keep you in the loop of news to come! Until then, be sure to read up on the series if you aren't up to date.
Constantly thinking about books, coffee, and the existential dread I feel from Bo Burnham's Inside. While writing I'm also raising a chaotic toddler, who may or may not have picked up personality traits from watching one too many episodes of Trailer Park Boys.