Naked Man Really, Really Wanted To Take A Swim In Kendall Jenner's Pool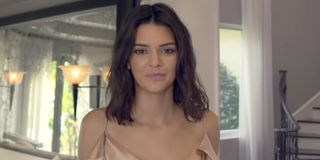 As a model, one of the stars of Keeping Up With the Kardashians, and, obviously, a member of one of the most famous families around, Kendall Jenner is no stranger to having her name grace headlines, whether for good or questionable reasons. This means that the young star is also no stranger to unwanted attention from people who would call themselves her fans, or from people looking to take advantage of her lifestyle without her knowledge. Jenner has seen break-ins at her property before and, unfortunately, another such incident has occurred, but this time it also involved a man getting naked and trying to jump in her pool.
According to TMZ, Kendall Jenner is now in the process of securing more armed guards for herself and her property, after a break-in at her Los Angeles home, which happened at around 2 a.m. on Sunday morning. Law enforcement told the outlet that an unnamed 27-year-old man was able to make his way onto her property at that time, and promptly began to yell Jenner's name while knocking on her windows.
Apparently, Jenner was at home when the man was at her place, but she was in a secure location. Her security team was able to be notified and they began tracking the man's movements at her home, but he took off all his clothes and attempted to get into her pool before they could apprehend him.
The man was eventually caught by security guards and held until the police were able to arrive, and he was then arrested for misdemeanor trespassing. After spending six hours in jail, he was released because of the facility's COVID regulations.
Luckily, Kendall Jenner never had to face the man herself while at home, but this is still a very scary situation, which a lot of celebrities have been through. It's bad enough to have someone break into your home while you're there, but to know that you've been specifically targeted because of who you are, as appears to be the case this time, has to add a level of fear that most of us probably can't imagine.
It's being said that Jenner now has additional armed guards at this home, as well as other beefed up security measures, but that she's still considering moving altogether. While many of us would probably be thinking of the same thing after an incident like this, the feeling may be even more pressing for Jenner, as this home is already in a gated community where residents pay for an added level of protection, but it seems to have failed at that in some way.
This is far from the only close call that Kendall Jenner has had with trespassers or stalking incidents. Her lawyers were just in court on Monday to secure a temporary restraining order against a man who's currently in a mental health facility, and had told police he wanted to shoot Jenner and then himself. He's still hospitalized but could be released at any moment, so she is, obviously, also worried about him possibly finding her.
In addition to these two recent scares, Jenner had an alleged stalker get onto her property twice in 2018, but after she got a restraining order against him, he was deported to Canada. And, in 2017, Jenner sold another home, after a rash of disturbing incidents, which included a burglary.
It's very lucky that Kendall Jenner wasn't harmed in any of these incidents, and, hopefully, she and her team can figure out the best ways to continue to keep her safe moving forward.
Bachelor Nation, Gilmore Girl; will Vulcan nerve pinch pretty much anyone if prompted with cheese...Yes, even Jamie Fraser.
Your Daily Blend of Entertainment News
Thank you for signing up to CinemaBlend. You will receive a verification email shortly.
There was a problem. Please refresh the page and try again.