Chris Evans Reveals He Hasn't Watched WandaVision Yet, And Now I'm Concerned About Falcon And The Winter Soldier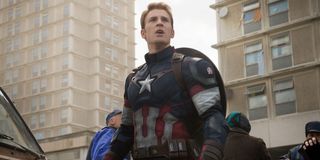 Disney+'s WandaVision made headlines during pretty much all of its run and, even before its premiere, the show was generating plenty of buzz. With that in mind, you would think pretty much everyone would have watched at least one episode, but you'd be wrong! Marvel's own Captain America and Hollywood's golden boy Chris Evans has revealed he hasn't seen any of the wacky Marvel series yet - and it's a little concerning to think he may not tune in for The Falcon and the Winter Soldier.
Chris Evans revealed during his appearance at Ace Comic Con that he has yet to see any episodes of WandaVision. For shame, Captain America! How could you let your fellow Avenger down like that? All jokes aside though, Scott Evans, who was present when the reveal was made, looks both shocked and slightly offended that the Marvel actor has slept on the beloved series.
Although Chris Evans does not remark on whether he has tuned in to The Falcon and the Winter Soldier, the fact that he hasn't seen WandaVision kind of makes us think he hasn't seen the newest Marvel series either. Imagining Captain America not watching a series pretty much dedicated to him is a little crushing, honestly.
The Falcon and the Winter Soldier is all about the memory and legacy of Chris Evan's Captain America and how to keep his spirit alive in his absence. It's sad to think that the one person who is the inspiration for the show - or at least his on screen persona - would be someone who misses out on the show completely.
Despite not seeing WandaVision though, the former MCU star is still happy to see the franchise thriving. During the same interview, he said:
While it could be fitting and completely in character of Chris Evans to have aged out and moved on from involvement with the Avengers, we really hope that's not the case. At least Evans says he hasn't seen any episodes of WandaVision YET. This could just mean that Evans is a little too busy to sit down for the whole experience that is a Marvel series right now and does intend to catch up later on.
Chris Evans does have a pretty hearty schedule, we'll give him that. He's currently filming The Gray Man, another Russo Brothers film, in which he stars alongside Ryan Gosling. In addition to that, he's got a few upcoming gigs, like voicing Buzz Lightyear in a new Toy Story spinoff titled Lightyear. He's even rumored to have a role in a new reboot of Little Shop of Horrors.
Even though Chris Evans is seemingly finished playing an Avenger on screen, we certainly hope he makes time to at least catch up on The Falcon and the Winter Soldier, since it fits so closely to the legacy of a character he has played for almost a decade. Who knows, when and if he does decide to catch up on the series, the first season may be fully released, and he may just binge the whole thing. If that ends up being the case - reaction videos or it didn't happen.
Constantly thinking about books, coffee, and the existential dread I feel from Bo Burnham's Inside. While writing I'm also raising a chaotic toddler, who may or may not have picked up personality traits from watching one too many episodes of Trailer Park Boys.
Your Daily Blend of Entertainment News
Thank you for signing up to CinemaBlend. You will receive a verification email shortly.
There was a problem. Please refresh the page and try again.