Michael Strahan May Have Rick-Rolled Everyone With His Tooth Gap, But His Dentist Got The Last Laugh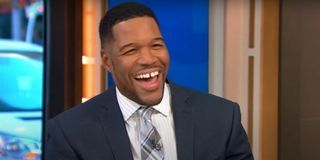 Some may know him as one of the charismatic hosts of Good Morning America. Others might know him as a former defensive end for the New York Giants, with a Super Bowl ring and Hall of Fame spot to boot. Regardless though, everyone knows Michael Strahan for his tooth gap and, when he rick-rolled his fans on social media into believing that he filled in the infamous gap – well, let's just say his actual dentist got the last laugh.
Michael Strahan initially did the tooth gap fill-in as an April Fool's prank on Twitter – and it was elaborate. Days ahead of April 1st, he went to his actual dentist, Dr. Lee Gause at Smile Design Manhattan and had the "process" filmed, with the post's caption reading, "I did it. #GoodbyeGap." On April Fool's Day, though, he revealed it was all a ruse. But apparently, the prank was good business for his dentist, who told TMZ that "more than 100" people had "flooded" his office with calls to get the same fill-in procedure done. Check out Strahan's fake video with the good doctor down below:
Fans following Michael Strahan's faux-lead is funny, though not as funny as that time he called Birds of Prey a Marvel movie. But the rick-roll is also kind of mind boggling because if Strahan has taught us anything, it's that there's power in the gap, or in other words, power in our supposed imperfections. But for those considering a life-altering change like that – exercise caution because Strahan's dentist reportedly said that even if Strahan truly asked him to do it, he would refuse because it is his "signature."
If you don't want to take Michael Strahan's own dentist's word for it, then listen to Michael Strahan himself. In his tooth gap "update" video that turned out to be the prank reveal, Strahan said:
Michael Strahan's pranking abilities may not be on the level of a seasoned veteran like Eric Andre, but his efforts should be applauded nonetheless. This April Fool's Day was actually included a number of funny celebrity pranks. Evil Dead alum Bruce Campbell managed to troll fans with fake script pages from Doctor Strange in the Multiverse of Madness, which actually seem to serve as confirmation of his role. And one of Ryan Reynolds' Deadpool crew members posted a pretty wild behind-the-scenes photo to mark the occasion.
All in all, it's a good rule of thumb for the future to assume that any celeb shakeups happening the week leading up to April Fool's Day is just a Michael Strahan tooth gap-level rick roll, heading straight for you. Now, let's all bow our heads and manifest that the iconic tooth gap lives on in perpetuity.
Your Daily Blend of Entertainment News
0
Movies and TV News Writer
Freelance writer. Favs: film history, reality TV, astronomy, French fries.
Your Daily Blend of Entertainment News
Thank you for signing up to CinemaBlend. You will receive a verification email shortly.
There was a problem. Please refresh the page and try again.