Watch The Office's Rainn Wilson And Bear Grylls Running Wild And Completely Nude In New Video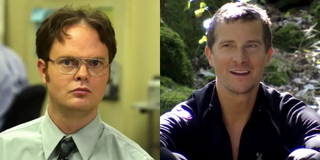 By now, Bear Grylls is well known as someone who is always eager to take his adventurous, survivalist tendencies to unbelievable heights, and to bring others along for the ride as much as possible. Grylls has been showing celebrities how he does what he does and lives through it for several years now, and former The Office cast member Rainn Wilson just joined him on Running Wild with Bear Grylls for an outdoor escapade which involved both men going completely nude.
Running Wild with Bear Grylls is currently in its sixth season on National Geographic, and we've already seen Anthony Mackie in the mountains of Italy, Terry Crews brave the Icelandic highlands, and Danica Patrick in the Moab Desert. But, almost nothing they did compares to what Grylls put Rainn Wilson through, as he had them go fishing in the forest mountains of Utah...totally naked. And, you know, Mr. Wilson wasn't thrilled by the experience. Take a look!
Ummmmm. No. OK? I'm just going to go ahead and say that even if I'd already agreed to have some wild survivalist time in a mountainous forest, I would not then also agree to doing any roaming about or swimming while nude, alright? We all have our lines which cannot be crossed, and that is mine. However, it does not appear that this is the case with Rainn Wilson, who decided to brave this challenge anyway. He might be a stronger, tougher individual for it, but he certainly didn't enjoy it while it was happening.
Luckily, the recent episode, which was filmed in the La Sal mountains, wasn't simply a Bear Grylls-filled version of Naked and Afraid, as the ever intrepid host and Rainn Wilson did get up to mostly-clothed shenanigans while traversing the harsh landscape. This included the duo stepping off a mountain ledge and crossing a canyon while hanging from a rope (Wilson got stuck half way and had to pull himself across using his tether), and I'm going to guess right now that Wilson was at least glad he was fully clothed for that experience.
To be honest, I hate the simple idea of being barefoot, especially outside, so even walking through those tall, apparently dead grasses without shoes / socks would have given me pause and might have made me call for immediate access to my trailer as Rainn Wilson did after attempting to swim in the very cold water. And, I think that Wilson's Dwight Schrute would have done a lot of bragging about being able to do all of this easily, but would have, hilariously, fallen way short of what his portrayer managed.
Grylls, obviously, takes a lot of pleasure in these kinds of exploits, which is great for him. But, I think he might sometimes forget that the people he's with, even if they are somewhat of the thrill-seeking sort, aren't always as completely enthusiastic about these undertakings as he is. Who, in their right mind, would dare take someone new along for a nude feat of outdoorsmanship, and randomly think it was cool to pick up a bunch of mud / grass / probably some slightly dormant angry snakes and just throw the whole mess at said individual and hit them in the face?
Where I come from, there's a 99% chance that such an action would lead to him quickly being abandoned in the wilderness to be set upon by hungry animals, but this is probably why I'll never be asked to partake of an adventure with Bear Grylls. So, kudos to Rainn Wilson for coming through it all like a champ able to make a shrunken penis joke at the end.
Running Wild with Bear Grylls (opens in new tab) airs Mondays at 9 p.m. EST on National Geographic.
Your Daily Blend of Entertainment News
Yennefer's apprentice, Gilmore Girl; will Vulcan nerve pinch pretty much anyone if prompted with cheese...Yes, even Jamie Fraser.
Your Daily Blend of Entertainment News
Thank you for signing up to CinemaBlend. You will receive a verification email shortly.
There was a problem. Please refresh the page and try again.