Where Have AJ Styles And Omos Been Since WrestleMania?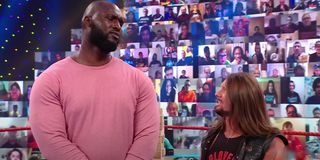 The WWE's latest Monday Night Raw episode set up many stories ahead of the upcoming WrestleMania Backlash pay-per-view, but for all the hype infused into the triple-threat match between Drew McIntyre, Bobby Lashley, and Braun Strowman, nothing could hide the glaring omission of two top-tier wrestlers on the weekly series. And after Raw ended, many fans had just one question on their mind, where the hell are AJ Styles and Omos?
It's been three weeks since the mayhem set forth at WrestleMania 37, and neither member of the tag-team duo has appeared on television since then. It's a confusing move, considering AJ Styles and Omos only recently teamed up, quite successfully, and fans have been quite curious about their absence given all the reasons why they should be getting a major TV push right now.
AJ Styles And Omos Won The Raw Tag-Team Titles At WrestleMania 37
In what has to be one of the most beyond-hype tag team debuts in recent memory, the WWE decided to make the rabble-rousing Omos' first official WWE match a tag-team title opportunity at WrestleMania 37 alongside AJ Styles. The two managed to conquer the New Day's Xavier Woods and Kofi Kingston, which is about as big a push as the WWE could possibly give to a newly formed tag-team duo.
AJ Styles And Omos Haven't Appeared On Television Since Their Win
The win not only marked Omos' in-ring debut within the WWE, but it was also AJ Styles' final title win that he needed in order to be a Grand Slam champion. The two were jubilant after their victory, too, and with no major injuries scripted into the match, it seemed obvious Omos and Styles would stroll onto Monday Night Raw for some major gloating after WrestleMania 37. But it didn't happen.
Wrestlers taking some time off following a WrestleMania isn't uncommon, but the circumstances this time around seem unnecessarily mysterious. Omos and AJ Styles had nothing in their kayfabe story to warrant a break, and with their absence, the tag-team division is in a holding pattern on Monday Night Raw at least until they return. One can't exactly challenge the champs or set up a feud if they don't appear, so with only a couple of weeks to go until WrestleMania Backlash, it's time to learn what the deal is.
Some Believe AJ Styles Or Omos Have COVID-19
The WWE has struggled with COVID-19 diagnosis in the past year, and with WrestleMania 37 being an in-person event, there's been speculation that the risk of exposure is possibly heightened for in-ring talent. Some fans believe it's possible that either Omos or AJ Styles, or both of them at once, have contracted COVID-19 and are being kept off the television schedule until everyone has recovered and is ready to return to the ring. That said, nothing has been confirmed on that front, and there isn't much "proof" to go by beyond the team's absence.
Omos May Just Need More Technical Training
When it comes to less health-damaging speculation, it's possible that Omos, who was formerly a college basketball player, may still not be 100% ring-ready for WWE just yet. Being an inexperienced performer can often be a liability within the WWE, since it's pretty easy to unintentionally injure oneself or other performers if one isn't properly trained for performances. That's obviously a pretty huge concern when someone is the size of the 7'2" Omos, so he may be honing his skills more off-camera, and with the long-time veteran of the industry AJ Styles as his mentor,
Will AJ Styles And Omos Return Soon?
While we can't say for sure when the duo will return, one would think WWE's creative team would like to bring back AJ Styles and Omos as soon as possible. After all, having no tag-team champions on TV to defend their titles could negatively impact the division, and while Matt Riddle and Randy Orton's "R-K-Bro" team-up was entertaining, all the feuds do feel a bit silly when the champs aren't around to lord over the silliness and be challenged. If the two aren't back by WrestleMania Backlash, one has to think that either Styles and Omos will return immediately after, or the WWE will need to go public with some kind of explanation.
Monday Night Raw airs on USA on Mondays at 8:00 p.m. ET.
Your Daily Blend of Entertainment News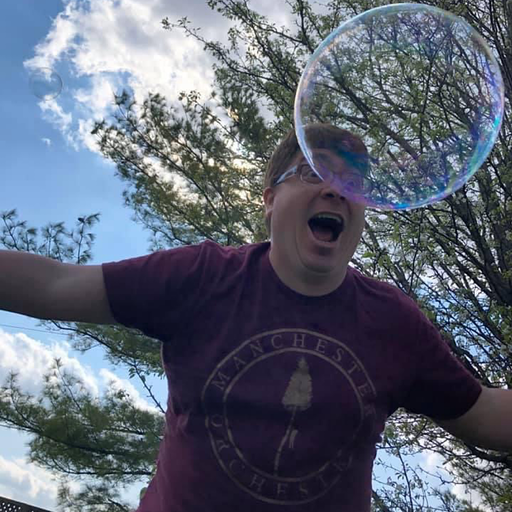 Mick contains multitudes and balances his time reporting on big happenings in the world of Star Trek, the WWE, reality television, and other sci-fi shows.