Grading Every WrestleMania 37 Match Including The SmackDown Women's Title And Universal Championship Matches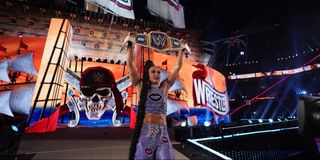 After more than a year of WWE filming wrestling matches from a closed studio setting and after the novelty of the Thunderdome wore off, the 2021 WrestleMania gave all the superstars an opportunity to wrestle in front of tens of thousands of screaming and soaking wet fans with millions more watching at home on WWE Network on Peacock. The show may be over and the fans have gone home but before we take a look at what happens next for the likes of Bianca Belair, Roman Reigns, and everyone else who had stellar matches, let's examine everything that went down in Tampa.
While there were plenty of great matches on both nights of WrestleMania, there were a few matches that either didn't work out how everyone thought they would or were straight up duds and should be erased from the pages of WWE's history books. That all being said, let's go ahead and break down each of the 14 matches and figure out which ones we'll be talking about when the Road to WrestleMania picks up early next year…
Bobby Lashley (with MVP) Defeated Drew McIntyre To Retain WWE Championship
The first night of WrestleMania 37 kicked off with the exciting and honestly surprising WWE Championship match which saw Bobby Lashley successfully defend his title against former champ Drew McIntyre with one hell of a sleeper hold. And while McIntyre was rendered unconscious in his failed attempt at recapturing the strap he won at last year's big show, the same can't be said for the rain-drenched crowd who loved every minute of this great opening match.
Score: 3.5/5
Natalya And Tamina Won Tag Team Turmoil
One of the matches that seemed to be thrown on the WrestleMania 37 card at the final moment, the women's tag turmoil match (with the winner earning a title shot the following night), wasn't necessarily a bad match, it just didn't serve a purpose. There was no heat going into it whatsoever and seemed like a way to just get more people on the show. There were a few good moments involving the Riott Squad, but it seemed to just be there to be there.
Score: 2/5
Cesaro Defeated Seth Rollins
Going into WrestleMania 37, the pairing of Cesaro and Seth Rollins was one of the matches I was looking forward to the most. Both competitors are insane in the ring, ooze charisma, and they have a history going back more than a decade when they were both on the indie circuit. And even though this match had its fair share of near-finishes, it never chartered into the "Finisher Spam" territory and both wrestlers ending up coming out stronger than they were going in, especially Cesaro with his signature Swing and the elusive UFO that probably made Rollins want to vomit again.
Score: 4/5
A.J. Styles And Omos Defeated The New Day To Win Raw Tag Team Championship
The Raw Tag Team Championship match that saw The New Day defend their titles against AJ Styles and Omos (making his in-ring debut) was about one thing and one thing only: getting the massive WWE rookie over. And the match — thanks to Kofi Kingston and Xavier Woods selling the crap out of that offense — did just that. The build up to Omos, who can actually move for a wrestler of his size, finally getting into the action also helped turn this from a "whatever" match to one that ended up being fun.
Score: 2.5/5
Braun Strowman Defeated Shane McMahon In Steel Cage Match
I love a steel cage match as much as the next guy, but I feel they should be used sparingly and as a last resort in a heated feud between two wrestlers, not as a way to insert another Shane McMahon "WrestleMania Moment" or an attempt to make Braun Strowman look like a monster. But that's what happened here and it sort of sucked. Sure, Braun ripping off a portion of the cage was cool, but the lead up to that moment with Shane wasting all that time trying to escape the cage (and that ridiculous gimmicked section of the fencing) insulted everyone's intelligence.
Score: 2/5
Bad Bunny And Damien Priest Defeated The Miz And John Morrison
Big wrestling matches with celebrities are a mixed bag, especially at WrestleMania. For a moment there, it seemed like the Bad Bunny/Damien Priest vs. The Miz/John Morrison match would fall into the Shaq at WrestleMania 32 side of things instead of Lawrence Taylor at WrestleMania 11, but does it feel good to be wrong. Seriously, Bad Bunny was one of the highlights of both nights, including that remarkable Canadian Destroyer he gave to Morrison at ringside. Hats off to everyone involved for giving fans an outstanding match, especially with Bad Bunny making his in-ring debut
Score: 4/5
Bianca Belair Defeated Sasha Banks To Win SmackDown Women's Championship
Well before the Bianca Belair defied the odds at Royal Rumble 2021 it was easy to see she was a star in the making, and after her historic win over The Mandalorian's Sasha Banks to secure the SmackDown Women's Championship at WrestleMania 37 Night 1, there's no way of arguing against her spot at the top of the pecking order. This match had everything you wanted: an engaging lead-up with history between the competitors, great in-ring work, and a beautiful "Kiss of Death" in the middle of the ring to give Belair her first (of hopefully many) title wins.
Score: 4.5/5
Randy Orton Defeated The Fiend (with Alexa Bliss)
This is the second time Bray Wyatt (this time as The Fiend) and Randy Orton have squared off at WrestleMania, and just like in 2017, this year's match was a forgettable mess and should never be mentioned again. I mean, what was the point of this atrocious match that felt like an eternity despite clocking in at a few seconds shy of six minutes. The red lights, the Alexa Bliss possession/distraction, and lack of wrestling in a match that featured two of the best performers in the company made for a miserable time.
Score: 1/5
Nia Jax And Shayna Baszler Defeated Natalya And Tamina To Retain Women's Tag Team Championship
Honestly, after Tag Team Turmoil match the previous night, I didn't have the highest of hopes for the Women's Tag Team Championship match seeing Nia Jax and Shayna Baszler defend their titles against Natalya and Tamina, but the match was actually a lot of fun. Each side had smaller and more technical members (although they're just as hard-hitting) along with two giants of the division, a pairing that worked well together. Throw in some classic tag team psychology that show the importance of keeping an eye on who's the legal woman and it gets even better.
Score: 3/5
Kevin Owens Defeated Sami Zayn (With Logan Paul)
I have been waiting years to see Kevin Owens and Sami Zayn put it all on the line at WrestleMania. And while their match on Night 2 didn't come close to some of those 5-star classics they put on while both in the indies, these longtime friends/enemies showed the world why they're two of the best wrestlers of the modern era. These two work together so well and it shows. The only drawback was the involvement of Logan Paul though he did take a mean stunner at the end.
Score: 4/5
Sheamus Defeated Riddle To Win United States Championship
There was a time when I wanted nothing more than to have Sheamus off my television screen, but those days are long gone, especially after he secured the United States Championship by defeating Riddle in a nice 10-minute match that was full of stiff blows from both competitors. And plus, Riddle trying to pull off a moonsault only to meet Sheamus' Brogue Kick was one of the best WrestleMania endings since the Curb Stomp into the RKO at WrestleMania 31.
Score: 3.5/5
Apollo Crews Defeated Big E To Win Intercontinental Championship In Nigerian Drum Fight
Do you know what a Nigerian Drum Fight is? No? Neither do I, even after watching Apollo Crews (with some help) take the Intercontinental Championship off of the beloved superstar Big E in an entertaining yet forgetful match that was heavy on kendo sticks and light on actual drums. There were some fun moments involving the steel steps and other weapons throughout the match, but these two honestly deserve better and a standard one-on-one would have been better for all involved parties.
Score: 2.5/5
Rhea Ripley Defeated Asuka To Win Raw Women's Championship
Leading into WrestleMania 37, Asuka was one of the most dominant superstars on the female roster and so it came as a shock to see her 230-day reign at the top of the Raw women's division come to an end against Rhea Ripley. Neither the champ nor challenger held anything back in this hard-hitting affair that was brought to an end after Rhea ducked Asuka's kick and countered with her signature Riptide to secure her first title since coming to the main roster.
Score: 3.5/5
Roman Reigns (With Jey Uso And Paul Heyman) Defeated Edge And Daniel Bryan To Retain Universal Championship
And then there's the WrestleMania 37 Night 2 main event triple threat match that saw Roman Reigns successfully defend his Universal Championship against Royal Rumble 2021 winner Edge and Daniel Bryan. There was a lot going on here from the multiple run-ins by Roman's cousin Jey Uso, the champ and Edge spearing one another at the same time, and some classic Mania momentum shifts in favor of Daniel Bryan, but the "Head of the Table" reigned supreme and pinned both challengers to cement his legacy as the "Top Dog."
Score: 4/5
Overall, the 2021 WrestleMania matches served as a great reminder that there are few things better than wrestling in front of tens of thousands of screaming fans. The two main event championship matches, fun interactions with the WWE 2021 Hall of Fame inductees, and the rain delay all made it seem like wrestling is back and better than ever.
Your Daily Blend of Entertainment News
Philip grew up in Louisiana (not New Orleans) before moving to St. Louis after graduating from Louisiana State University-Shreveport. When he's not writing about movies or television, Philip can be found being chased by his three kids, telling his dogs to stop yelling at the mailman, or yelling about professional wrestling to his wife. If the stars properly align, he will talk about For Love Of The Game being the best baseball movie of all time.
Your Daily Blend of Entertainment News
Thank you for signing up to CinemaBlend. You will receive a verification email shortly.
There was a problem. Please refresh the page and try again.