How Justin Timberlake Feels About The 'It's Gonna Be May' Meme, According To Lance Bass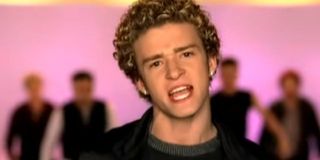 If you have any sort of social media account at the onset of this month, you already know: It's gonna be May. The famous meme, featuring Justin Timberlake in NSYNC's music video for their 2000 pop hit "It's Gonna Be Me", has been making the viral circuit for a few years now. The ubiquitous meme has become so popular that even Justin Timberlake has seen it, and fellow NSYNC band member Lance Bass has now apparently shared Timberlake's feelings on the meme.
With the meme now becoming a pop culture phenomenon, it's only natural to want to know how Justin Timberlake feels about it, and it sounds like he's not super high on it. In an interview with US Weekly, Lance Bass said:
Bass is, of course, referring to the infamous noodle-esque perm that Justin Timberlake sported in the "It's Gonna Be Me" music video. Apparently, NSYNC has an on-going group chat (which, noodles aside, is adorable), and Lance Bass loves to stir the hypothetical ramen noodle pot:
Lance Bass seems to have differing feelings on the meme, though. He recently posted the song on TikTok, inspiring a slew of users to film themselves doing the original choreography from the "It's Gonna Be Me" music video.
According to Know Your Meme, the image originated in 2012. Tumblr user amyricha first posted the now-iconic meme. It was a photo of Justin Timblerlake with the words "It's gonna be me" as a caption, with 'me' spelled like 'may' to poke fun at Timberlake's unnecessary diphthong. The following year, appliance brand Maytag used the idea to create a new slogan: "It's Gonna Be Maytag." Lance Bass posted about it on social media, and the rest is history.
Other NSYNC members have hopped on the bandwagon, as Chris Kirkpatrick has posted variations. Although it may get under Justin Timberlake's skin, he seems to take the teasing in stride, as the pop star and frequent SNL guest has also been known to share the meme on Instagram.
Although the members of NSYNC no longer record new music or perform together, the band's music continues to live on. An upcoming movie musical will use NSYNC songs to tell the story of two devoted fans who follow the band on their final cross-country tour. Based on a true story, the film was pitched by Lance Bass, who initially came up with the idea. An early 2000's pop musical created by Lance Bass? Sign me up!
The legacy of the iconic boy band definitely lives on. Whether we remember NSYNC for their absolute bops or their signature dance moves, one thing is certain: It's gonna be May.
Your Daily Blend of Entertainment News
Actor, singer, and occasional dancer. Likes: fashion, books, old buildings. Dislikes: cilantro, the NJ Turnpike, sneaker wedges.