Justin Timberlake's Honest Reason For Why He Left 'NSYNC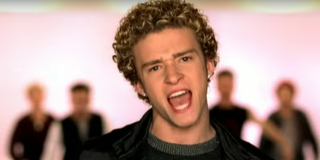 (Image credit: "It's Gonna Be Me")
Before he was a bona fide A-list musician and actor in his own right, Justin Timberlake was at the forefront of the '90s boy band craze as one fifth of 'NSYNC. The pop group was one of the most successful and beloved music acts of the era, but even as they were still reaching new heights of success, they disbanded in the early 2000s. Now, the group's most famous member Justin Timberlake is opening up about why he finally wanted out.
Along with worldwide success comes a ton of pressure, Justin Timberlake pointed out in a new profile piece for The Hollywood Reporter. Timberlake detailed the reasons he decided to move on from 'NSYNC back in 2002, saying that the group had simply gotten too big to the point where it became more stressful than enjoyable, and also that he was ready to get started on his solo career.
The stadium tour that Justin Timberlake is referring to is 'NSYNC's 2001 PopOdyssey tour, in promotion of the group's third and final album Celebrity. It was in the production of that album that Timberlake was also starting to take a lot more control over his music. While the songs on 'NSYNC's first two albums were written and produced for the group, Timberlake and fellow group member JC Chasez wrote and produced many of the tracks on Celebrity. It's likely that this increased creative involvement is what Timberlake is referring to when he says that he felt he cared more about music than some of his bandmates who remained uninvolved in the writing or production process. It should be noted that Timberlake and Chasez were the only two members of the group to pursue solo music careers after the disbandment.
Of course, as well all know now, Justin Timberlake definitely made the right choice in going solo. He quickly released his first solo album Justified in 2002 right after 'NSYNC announced their hiatus, and it soared up the charts thanks to the success of singles like "Rock Your Body" and "Cry Me a River." Now with four successful and beloved albums under his belt, along with countless movie and TV roles and a one-year-old son with his wife Jessica Biel, Timberlake is one of the most recognized celebrities in the world. But we're still never going to forget about the days when his hair looked like Ramen noodles.
Your Daily Blend of Entertainment News