Who Is The Masked Singer's Yeti? Here Are Our Best Guesses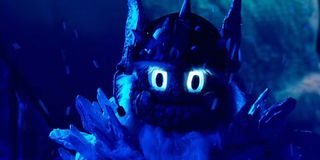 The vocalists for The Masked Singer Season 5 have been some of the best to appear on the Fox series so far. At this point in the competition, only the cream of the crop are making it to Final 3. Unfortunately, that means real contenders such as singer Bobby Brown and actress-host Tamera Mowry-Housley have been pushed out of the singing competition. There are still strong competitors such as the Yeti still in the running for the trophy. Given how unpredictable the Fox competition series is, Yeti could be the next big reveal.
Yeti has proven himself to be one of the best performers on The Masked Singer. From the vocal tone to high-energy choreography, whoever is behind the mask is a true performer, much like the rest of the Spicy 6. Even though he's only tackled two songs, Yeti has shown his range as a singer by performing legendary boy band New Edition's "If It Isn't Love" and pop superstar Justin Bieber's "Lonely." He's managed to supply stable vocals while tackling complicated dance routines (or roller skating). Given his stage presence, the Yeti was born to be on a stage, but is he a musical artist, a reality television star or both?
The Clues For Yeti
While the Yeti has only appeared in two episodes, he has had more narrative compared to other contestants. Clues have ranged from paper hearts to avalanches to New Year's hats. These clues signal a loving person who has lived a hard life.
While the clues may be a little all over the place, things may be clearer than people think. Once you start to piece all the clues together, who the Yeti is starting to make sense. At this point, I'm quite sure I know who is behind the Yeti costume, but there are several possibilities worth considering.
Is Ray J Letting His Voice Shine On The Masked Singer?
Reality television star and entrepreneur Ray J would be perfect for The Masked Singer. Before he gained notoriety through reality television, the businessman got his start as a singer in the late 1990s thanks to his sister, multiplatinum entertainer Brandy Norwood. Ray J's nasal vocal tones are like those of the Yeti as heard in songs such as "One Wish" and "Wait a Minute." The Love and Hip Hop star hasn't released a full album since 2008 so participating in the Fox series would be a terrific way to restart his singing career. Looking at his most recent releases, the singer has been slowly getting back to music despite his prolific television and technology portfolio.
Has Omarion Been Telling Viewers His Story?
Yeti's emotional vocals and high-energy performances have made him a fan favorite. As with fellow contestant Piglet, a boy bander seems likely behind the mask. More specifically, Omarion's vocal tone and stage performances come to mind. The Yeti's penchant for light R&B-pop fare fits his musical style, given his solo work and his group B2K's output. Plus, the former B2K member's height matches the Yeti's. But in recent years, the singer turned his focus to reality television and raising his children. So, participating in The Masked Singer would be a great way to reintroduce himself to the public.
Is That Marques Houston Two-Stepping On The Stage?
Omarion's former friend and label mate Marques Houston also fits the profile of the Yeti. As an Immature/IMX or Sister, Sister fan, Houston isn't too off-base for the singing Fox competition. While the public knows Houston as an actor, 1990s and 2000s fans remember him for songs such as "That Girl", "Clubbin'" and "First Time." Over the last decade, Houston has become known for his role in television movies and reality television. The singer-actor hasn't been put out any music in few years so The Masked Singer would be a clever way to restart his music career.
Could Mario Be The Yeti?
Much like Omarion and Marques Houston, singer-actor Mario is another good fit for the Yeti. It wouldn't be the first time the singer has participated in a competition series as he was a contestant on Dancing with the Stars in 2008. The public may remember Mario for his hits in the 2000s such as "Just a Friend 2002," "Let Me Love You" and "Break Up." The singer's vocal versatility and emotional performances are perfect matches for Yeti's musical stylings. If the Yeti is Mario, it would be a pleasant surprise. Given his recent acting gigs, the series would serve as a perfect way to get his music back into the public consciousness.
Our Best Guess
While Marques Houston and Ray J fit the vocal tone, those fancy moves and emotional journey are that of an all-around entertainer. I believe he's a former B2K member, actor and reality television star Omarion. Having been a teenager in the late 1990s and early 2000s, Omarion's nasal, emotive tone and top-notch choreography are familiar for a regular 106 & Park viewer. Plus, anyone who grew up watching B2K and Omarion videos know the veteran singer can work a stage from one side to another.
But the clue packages gave away his identity. It was the story he told in Episode 7 that confirmed my suspicions. More specifically, the scene where his foot caused an avalanche and buried the security. This part alluded to his breakup with B2K groupmates. Their 2003 breakup played out in the press and online for weeks as three members left over money and management issues. Omarion decided to split with the group and stay with his management and record label.
Plus, the Yeti coming back to save the security and doing a dance routine. This part alluded to his 2018 reunion tour with his former groupmates. Omarion along with his former groupmates decided to put aside their differences to reunite for the sake of their fans. The four went out on a successful trek across the U.S., singing their old material as well as solo work. At one point, all four alluded to possibly creating more music.
There's a reason The Masked Singer invited the Yeti to participate in the program. The odds are in the Yeti's favor to go all the way as other former boy banders Nick Carter's Crocodile and Joey Fatone's Rabbit made into the semifinals during their respective seasons. But if Yeti continues to pull all the stops, he might make it to the finals of Season 5 despite facing some stiff competition. To see if the Yeti makes it to the Final 3, you can watch The Masked Singer Wednesdays at 8 pm ET on Fox.
Your Daily Blend of Entertainment News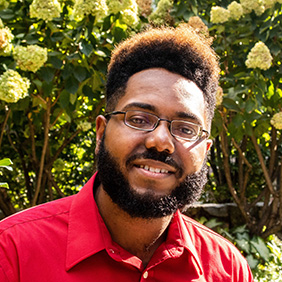 A boy from Greenwood, South Carolina. CinemaBlend Contributor. An animation enthusiast (anime, US and international films, television). Freelance writer, designer and artist. Lover of music (US and international).