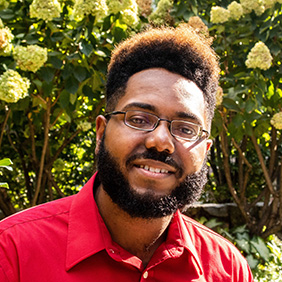 Adreon Patterson
News Writer
The Background: Adreon Patterson is a News and Features Writer for CinemaBlend. He started working for the publication in 2020 after working for multiple online and print publications as a Staff or Feature Writer over the last five years. He covers a multitude of topics, including Marvel, DC, and special topics. He graduated from Savannah College of Art and Design with an MFA in Writing after receiving a BFA in Animation.
What They're Into: Since first watching old-school Mickey Mouse shorts, Adreon has been obsessed with animation. The 1990's Disney Renaissance and any animated content are his everything. Samurai Jack, Foster's Home for Imaginary Friends, Hayao Miyazaki's films, and Justice League are amongst his DVD and streaming collection. Growing up in the 1990s, countdown shows like 106&Park and TRL informed him about everything from pop culture to music to fashion. He's an MCU fanatic catching every TV show and film since Iron Man (will debate anyone over which film or series is the best). He's always championing Black excellence in film and television with a focus on the 1990s and 2000s. He likes his comedies witty and surreal and his dramas emotional and thought-provoking. Outside of film and television, he is a hardcore music lover consumed with Korean music (ask about who's the hottest in K-pop, R&B, and hip hop outside of BTS and Blackpink). Here's all-time favorites:
TV shows - The Cosby Show, Martin, Murder She Wrote Films - Coming to America, Clueless, Fatal Attraction.
What They're Excited About Right Now: Atlanta's 4th and final season, Season 2 of Abbott Elementary, and Dr. Pimple Popper on TLC.