Shadow And Bone Cast: Where You've Seen The Actors Before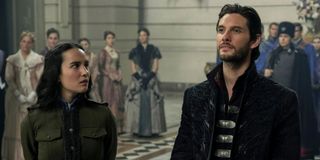 Netflix, for the last several years, has been knocking it out of the park with some of their series that have popped up, especially those that combine elements of fantasy and dystopia. Just look at The Witcher, which literally took over the streaming service when it premiered back in 2019. It was one of the most viewed shows on Netflix ever. That's why it's not that much of a surprise that Shadow and Bone, an adaption of the books of the same name, has become so popular.
However, with an ensemble cast as big as the one in Shadow and Bone, you're sure to have seen these familiar faces across the media atmosphere in the last couple of years – or maybe even the last twenty! From the star of the series, Jessie Mei Li, to some of the minor characters that have somehow stolen our hearts, this is where you might have seen the cast of Shadow and Bone before.
Jessie Mei Li (Alina Starkov)
With every fantasy series, there is always that one character that truly drives the story, and that responsibility falls into the hands of Alina Starkov, an orphan assistant cartographer of the Royal Corps of Surveyors in the First Army, who ends up discovering that she is in fact the legendary Sun Summoner. Jessie Mei Li is the young starlet behind the wonderful transition of this character from book to screen.
If you're thinking that you haven't seen her around that much in media, you're certainly right. Shadow and Bone is surprisingly this talented actress's first major television role where she is widely recognized. However, that doesn't mean that Jessie Mei Lei hasn't been around the block a couple of times. She's had a couple of guest appearances on television shows like Strangers and Locked Up, but Mei Li's main source of attention was having roles in National Theater Live, a cinema program that brings the best of British theatrics to movie screens, where she has had a role in All About Eve, playing Claudia Casswell.
Archie Renaux (Mal Oretsev)
I think all of us want a best friend like Mal in real life, especially one that sticks it out with us from childhood to where we are now. I have to admit that even I was jealous of him and Alina's strong friendship throughout the first season, and I have a feeling that's due to Archie Renaux's great chemistry with Jessie Mei Li.
Prior to appearing in Shadow and Bone, Renaux had a couple of parts in short films, but it's not his first time into the television world. Back in 2019, Archie Renaux had a main role in the miniseries Gold Digger, a thriller about family, betrayal, and all things in-between. In the future, Renaux has some movie roles lined, as he has a small role in the new film, Voyagers, as well as a part in the highly-anticipated Morbius coming out in 2022. So keep an eye out for this newcomer to the industry.
Freddy Carter (Kaz Brekker)
If you're a fan of the books as I was for some time, you were probably surprised when they combined the two worlds of Shadow and Bone and Six of Crows, but I think it was a welcome change and adaptation to the popular fantasy series and really paved the way for some characters to get some serious development. One of which was Kaz Brekker, the leader of the Crows in Shadow and Bone, played by Freddy Carter.
Freddy Carter has had a couple of roles prior to his spot in Shadow and Bone. While he's still building up his resume of film roles, with very minor roles and cameos in films like Wonder Woman and The Convent, Carter has had a lot of success on TV. Carter had a small recurring role in Pennyworth as Jason Ripper. He also played Peter "Pin" Hawthorne on the popular British drama Free Rein and had the main role in two Netflix movies based on the show, Free Rein: The 12 Neighs of Christmas, and Free Rein: Valentine's Day.
Amita Suman (Inej Ghafa)
Every crew needs a compass, and that is exactly where the character of Inej Ghafa comes in handy as part of the Crows in Shadow and Bone. No matter what, she keeps on fighting, trying to keep as many of her friends safe as she can. She always believes in something better for the world and has hope when no one else does. This beautiful take on the classic character comes from the awesome acting skills of Amita Suman, who is relatively new to the acting world.
Amita Suman hasn't been in much prior to her role in Shadow and Bone, with a small guest role in Doctor Who and a recurring role as Naya on the CW show The Outpost being some of her biggest parts. However, with how amazing she has been doing in Shadow and Bone, I would keep an eye out for more of her work in the future.
Kit Young (Jesper Fahey)
I mean, Jesper is lowkey a bit of a mess and adorkably amazing with his one-liners, but there's no denying that he is fearsomely loyal to his friends and will follow them to the end of the earth. Besides, who wouldn't love this charming gunslinger who can literally shoot through a coin without barely as much as a look? Now that is an amazing character. Kit Young brings that personality to the small screen, standing out individually among the rest of the Crows.
Young hasn't had as many projects as some of the others on this list in regards to TV and film, but he has plenty of roles in famous plays like Julius Caesar and The Real Thing in the theater. He also appeared National Theater Live, playing Lysander in A Midsummer Night's Dream. With Shadow and Bone becoming so popular, it's only a matter of time before we see him in more films and television, including The Origin and The School for Good and Evil, two upcoming films he has in the works.
Ben Barnes (General Kirigan)
General Kirigan is handsomely changed in the show for the better in my opinion, and really builds on the relationship that he and Alina develop over time that ends in a climatic story between the two. Ben Barnes, the actor behind General Kirigan, adds to this success through his portrayal of the classic character.
Ben Barnes has been around for quite some time and has had plenty of roles in big-time films and television shows. For example, he was the Prince Caspian in the Chronicles of Narnia movies. Barnes has also had roles in films such as Dorian Gray as the titular character, and in the comedy film The Big Wedding alongside stars like Robert De Niro, Amanda Seyfried and more.
In terms of television, Ben Barnes also had a role in Gold Digger as mentioned before, but also had main parts in Westworld as Logan Delos, and was a part of the main cast for The Punisher series on Netflix, playing Jigsaw. It seems like Shadow and Bone is something that is right up this actor's alley, so I'm eager to witness what else he will bring to the table with General Kirigan.
Zoe Wanamaker (Baghra)
Everyone needs a trainer when they suddenly discover the power they have. With Harry Potter, that came in the form of Hogwarts. With Ciri from The Witcher, Geralt trained her. But with Alina Starkov, Baghra was her Grisha trainer to try and control her unimaginable powers. Zoe Wanamaker brings the fierceness of Baghra to life, while also being a great mentor to Alina at the same time.
Wanamaker is a name that you might not recognize off the top of your head, but once you see the roles she has been in, you'll know exactly who this is. For example, she was Madame Hooch in the classic Harry Potter and the Sorcerer's Stone, as well as Paula Strasberg in My Week with Marilyn. However, Zoe Wanamaker has been in television for several decades and the theater as well, being nominated nine times for an Olivier Award (winning once for Once in a Lifetime) and nominated four times for Tony Awards.
For someone as experienced as her, I'm so happy to see her on a big-time TV show like this. While she does have main roles in shows like Britannia as Queen Antedia, it's cool to see her returning back to the fantasy world.
Howard Charles (Arken)
With any show that's adapted from books, there are usually characters that are added as original even though they never appeared in the novels. That is the case of Arken, otherwise known as the Conductor in Shadow and Bone, a character with plenty of twists and turns that keeps you on your feet during the whole first season.
Howard Charles, who plays Arken, has had some success in the industry. In film, he's had a role in a direct-to-DVD film, called The Scorpion King: Book of Souls, playing Uruk. In television, Charles had a main role in the drama series The Musketeers, based on the novel of the same name, where he played Porthos du Vallon, for the whole series. Howard Charles has been in several other TV shows in guest appearances, but Shadow and Bone has shown off his abilities in a big way.
Julian Kostov (Fedyor)
With Grisha's, there are plenty of different types of them, and Fedyor, a Heartrender, is one of the many that made Shadow and Bone so interesting and captivating to watch. Although not seen as much of the other characters on here, Fedyor had just as much of a role in Alina's journey as anyone else did. Julian Kostov portrayed Fedyor in Shadow and Bone, and this isn't his first time in fantasy. In fact, Kostov has a recurring role in the popular fantasy/magic show A Discovery of Witches, where he plays Timur. He also had a recurring role in the drama Berlin Station, playing Sergei Basarov.
While his new role in Shadow and Bone is exciting, I'm eager to see what he has coming up in the next couple of years. I want to see more of his awesome actor on my computer and in cinemas.
With how popular Shadow and Bone has become, it's not a surprise that people are looking to see what other 2021 TV shows (and specifically, Netflix TV premieres) are coming out soon after the show ended. Hopefully, we won't need to wait long for a confirmation that Season 2 is coming. Fingers crossed because I can't wait to see more of these actors succeed as our favorite characters.
Your Daily Blend of Entertainment News
Big nerd and lover of Game of Thrones/A Song of Ice and Fire. Will forever hate season eight. Superhero and horror geek. And please don't debate me on The Last of Us 2, it was amazing!