Why We Didn't See More Narnia Movies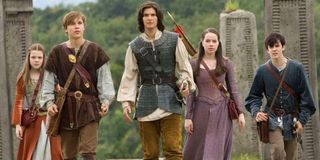 CinemaBlend participates in affiliate programs with various companies. We may earn a commission when you click on or make purchases via links.
Ever drift off and think about going through your wardrobe to share some Turkish Delight and chill with Mr. Tumnus? The Chronicles of Narnia series certainly feels even more of a world away than it used to, since Disney's movie franchise stopped midway through adapting its seven beloved books. The Narnia movies follow a troubling trend that the YA genre has battled with over the years – showing their great potential and then studios dropping the ball, leaving fans to say goodbye too soon. Let's talk about what really happened to the rest C.S. Lewis' fantasy movies and how it may return over a decade later.
Previously, we've broken down what happened to Fox's Percy Jackson movies, which was sadly cancelled after two films, Lionsgate's Divergent, which was axed just short of its conclusion, and Maze Runner, which spawned an entire successful trilogy, but left fans hanging on the spinoff front. Now let's get into why we haven't seen more Narnia movies:
How Many Narnia Movies Have We Seen?
Disney's Narnia series started off with a bang when the studio released The Chronicles of Narnia: The Lion, The Witch and the Wardrobe back in 2005. The fantasy movie that set up C.S. Lewis' world with Tilda Swinton's White Witch, James McAvoy's Mr. Tumnus, and Aslan, voiced by Liam Neeson, was an instant hit, garnering $745 million in box office dollars worldwide, becoming the third-highest grossing movie of that year, behind Harry Potter and the Goblet of Fire and Star Wars: Revenge of the Sith. It also proved to be a worthy adaptation of the source material.
The struggle with a franchise like Narnia is how it leans on its young cast, who were growing rapidly as the film was being developed. In 2008, Prince Caspian was released to milder performance, at $419 million worldwide, with comparable quality to the first. Two years later, the fifth book was adapted with The Voyage of the Dawn Treader which made $415 million worldwide. All three Narnia movies are available to stream on Disney+, which you can sign up for using this link.
Were There Plans For More Narnia Movies?
After the Voyage of Dawn Treader, Disney had its sights set on going back to adapt the first book in the series The Magician's Nephew. Since the cast was getting much older, maybe the studio felt like it was time to refresh the Narnia movies. However, the C.S. Lewis Company seemed to reject this plan when Walden Media soon lost its film rights to the franchise in 2011 and The Mark Gordon Company retained the rights instead to adapt the next book in the franchise, The Silver Chair (my personal favorite in the series).
The Silver Chair remained in slow development until 2016, when Sony got involved in the Narnia movies, hiring Captain America: The First Avenger and Jumanji director Joe Johnston to helm the movie. He had intended to bring a new vision to the franchise with his adaptation, including a new cast and begin a "an all-new trilogy" for Narnia. Life of Pi writer David Magee was on board to write the screenplay, which would focus on the Pevensies' cousin Eustace Scrubb, who Will Poulter previously played, as Narnia's timeline shifts to Prince Caspian's reign as an old King, as Eustace and his friend Jill help him locate his heir.
Why We Haven't Seen More Narnia Movies
It's still unclear exactly why Joe Johnston's The Silver Chair movie never came together, but the director would instead go on to make The Nutcracker and the Four Realms for Disney. The other movie Johnston ended up doing was actually produced by the same company behind the next Narnia movies, The Mark Gordon Company, so the decision may have been connected somehow. What's more telling is how the C.S. Lewis Company has since changed course once again with a new venture with Netflix.
It's hard to say from the outside looking in, but it sounds like the right way forward for the Narnia movies was never properly carved out following its move from Disney. The first three movies certainly suffered in not shooting its vision more consecutively, like Harry Potter or Hunger Games, considering its young cast grew much older then intended with three movies in five years, and with a new director coming in for Dawn Treader. It's also not an easy franchise to adapt, and the fact that it lost some steam midway through may have slowed down financial interest in the property, as well.
Will There Be Future Narnia Movies?
As I alluded to, Narnia is now in the hands of Netflix, as of 2018. The universe's new home is with the streamer with the co-writer of Pixar's Coco, Matthew Aldrich, serving as the showrunner as of a 2019 announcement. Aldrich has been named the "creative architect" for what could reportedly include films and shows, per an official Netflix Twitter account. The latest word we've seen regarding Narnia on Netflix came from France's Netflix account in March 2021 when a fan asked for an update, it replied (in translation from French): "Narnia series and films are in the works!"
It sounds like Narnia could have a big future on Netflix between a series and films, whenever the studio pulls the trigger and makes an announcement about a specific project in active production. It sounds like Matthew Aldrich could be crafting a large plan for Narnia and that could take some time to develop. C.S. Lewis' books are classics that deserve some love and care, and have the potential to be hugely popular, akin to Game of Thrones, if done right. We'll keep you updated as developments arise, but what do you think? Would you be excited for more Narnia movies? Vote in our poll below.
This poll is no longer available.
Your Daily Blend of Entertainment News
YA genre tribute. Horror May Queen. Word webslinger. All her writing should be read in Sarah Connor's Terminator 2 voice over.