Wendy Williams Seeing Her Super-Realistic Wax Figure For The First Time Is A Nightmare Mood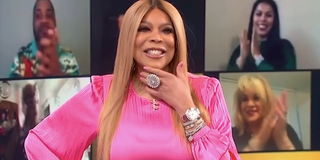 Obviously, having a wax figure made of oneself is something that us mere mortals will never experience. For such an honor, one would have to have become famous (or infamous) in some way, so none of us can really imagine what such a thing would be like. Even without having been through it, though, I think many of us can admit it would probably be at least a tiny bit weird, which might be why the recent unveiling of Wendy Williams' wax figure to the talk show host herself was a whole nightmare mood.
We don't generally see it whenever celebrities are confronted with their Madame Tussauds wax likenesses, so it seemed like a real treat when Wendy Williams decided to show hers off on her eponymous daytime talker this week. Williams hadn't seen the figure at all yet, either, so it was going to be the first time for all of us. As I mentioned, it must be an odd thing to come face to face with something which is supposed to represent your physical form, but what happened on The Wendy Williams Show was probably a bit stranger than expected. Take a look at the Instagram video of the moment, below, so we can gab about it later!
OK, first of all, literally no one is bashing the artistry which went into making Wendy Williams' wax figure, at all. It is, truly, one of the best I think we've seen lately. And, that's really saying something, as there have been plenty of fans who bash how their favorite famous folk are portrayed in this particular medium over the years, as you will likely remember how poorly the efforts for stars like Lady Gaga and Miley Cyrus turned out. Wax Wendy looks great. The nightmare fuel here is in watching IRL Wendy Williams react to seeing her for the first time.
In fact, the first thing I noticed which unsettled me a bit, was how Williams said, "Hey, heyyyy," as though she were speaking to the figure itself, and not in a playful, joking manner, but, uh...like she's real. Also, Williams did an uncomfortable amount of stroking and holding on to Wax Wendy. I'm not saying she needed to ask for consent first, but...maybe?
Wendy Williams had already sorta hugged Wax Wendy by this point, which strikes me as just fine, but it does actually lead me to the point where I found myself very much taken aback. Right after noting how the team at Madame Tussauds managed to make replicas of all of her bracelets and rings, Williams looks over at Wax Wendy's face very lovingly and...What? Look, I'm not 100% sure, but it seemed quite a bit like she was considering planting a kiss on our wax friend, and had to really stop herself before going too far on her show, OK?
Alright, as noted earlier, most of us will never know what this is like. I can imagine it would be kind of a nightmare for the celebrity in question, whether the wax figure was done well (as Wax Wendy clearly was) and looks almost exactly like you or it's actually embarrassing that anyone thinks the figure resembles you in any way. Reactions to this kind of thing would have to be all over the place, with several people probably being creeped out by it, but never in a million years would I have expected to see a response like this one.
It feels a bit like the beginning of a horror movie, where Wendy Williams' love for Wax Wendy will make her real and eventually she takes over, encasing formerly IRL Wendy in wax and hosting the show in her place, and none of us will ever know the truth. See? This is why this whole thing is a nightmare!
Well, I wish IRL Wendy Williams and Wax Wendy both the best of luck. If you'd like to see either of them in person, they're both in New York, with Wax Wendy being housed in the city's Madame Tussauds for the time being. The Wendy Williams Show airs every weekday, so check local listings for the time and channel, but if you want more to watch, we've got the 2021 summer TV premiere schedule all ready for you!
Your Daily Blend of Entertainment News
Yennefer's apprentice, Gilmore Girl; will Vulcan nerve pinch pretty much anyone if prompted with cheese...Yes, even Jamie Fraser.
Your Daily Blend of Entertainment News
Thank you for signing up to CinemaBlend. You will receive a verification email shortly.
There was a problem. Please refresh the page and try again.