Ryan Gosling's New Wax Sculpture Is Creeping People Out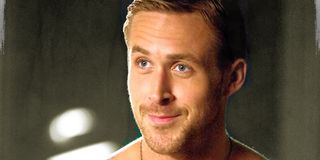 One of the main goals of art is to translate the beauty of the natural world into a timeless, new creation. Arguably the most beautiful thing in the world right now is Ryan Gosling --- in fact, he just might be too beautiful for an artist to fully capture his hotness. That unattainable level of attractiveness clearly proved to be a problem for the person who was tasked with molding Gosling's new wax sculpture for Madame Tussauds.
After the world famous wax museum (opens in new tab)'s Berlin location unveiled their Ryan Gosling sculpture on Monday, fans of the La La Land star were less than impressed. Gaze upon its weird plainness!
No amount of "Hey, girl" memes can save us now! The strangest part is that the sculpture actually does look like Ryan Gosling, just if he somehow had all his hotness and charisma sucked out of him. It's hard to pinpoint exactly why it looks so weird! The forehead may be a little too big and maybe the eyebrows are too far down? I don't know. It's really making me look at Gosling in a whole new light.
Do I find you attractive!? I just don't know anymore, Ryan --- I just don't know!!! But it's certain caused a real mix of reactions...
And I'm not the only one struggling with this weirdly off interpretation of Ryan Gosling. The not-quite-right sculpture caused a whole lot of confusion on Twitter after it was unveiled, and everyone tried to pin down who this decidedly non-Gosling wax man actually looked like. Some said that it actually looks like The Social Network star Armie Hammer.
The comparison that I think might be most convincing is a blonde Nicholas Hoult (Skins, Mad Max: Fury Road). He's got the same kind of long face and low brows as the sculpture.
But perhaps the most appropriate response was the multiple comparisons of the not-Gosling sculpture to the other major figurine mess-up of the month: Emma Watson's strange looking Belle doll.
They'd certainly make a perfect, just-a-little-off supercouple!
Your Daily Blend of Entertainment News
Your Daily Blend of Entertainment News
Thank you for signing up to CinemaBlend. You will receive a verification email shortly.
There was a problem. Please refresh the page and try again.