Ghost Adventures' Zak Bagans Is Teaming With Horror Vet Eli Roth On A Spooky New TV Show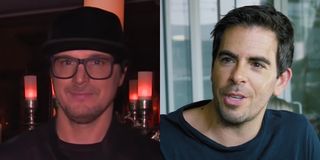 Ghost Adventures has outlasted many paranormal investigation docuseries in its near 13-year run precisely because Zak Bagans and his team explore all manner of real-life spine-chilling horrors: ghosts, aliens, demonic possessions, legends and creatures, and the list goes on and on. But now the master of nonfictional horror is teaming up with the master of fictional horror, Eli Roth, for a spooky new TV show, and I'm totally here for it.
Zak Bagans and Eli Roth's new horror project was greenlit by Discovery+ and will be called The Haunted Museum, based on Bagans' real-life museum of the same name. The show will feature the haunted collectibles and artifacts housed at the museum, as told in part by scripted "mini horror" shorts by Roth and using Bagans' own signature commentary.
The series will have an initial two-hour special, followed by eight hour-long episodes. A select few of the most notorious artifacts from the 14,000-square foot museum will be featured on The Haunted Museum anthology series, such as the Dybbuk Box and the Devil's Rocking Chair. About the collaboration, Zak Bagans said,
Fans of Ghost Adventures will certainly remember some of these haunted objects from previous investigations. The Dybbuk Box, which is said to house an evil spirit, was the inspiration behind the 2012 film The Possession before it came into Zak Bagans' hands. Bagans even opened it on camera during his Deadly Possessions series, resulting in some very creepy pieces of paranormal evidence, corroborated by guest at the time Post Malone. The new show, with Eli Roth at the helm, seems to be promising a deeper and more terrifying look into these incredibly haunted objects.
This wouldn't be the first time the Zak Bagans creeptastic universe has expanded. Ghost Adventures has had several offshoots over the years. Along with Deadly Possessions, there was also the Demon House special, which focused on the team's investigation of a haunted property specifically bought by Bagans for its alleged supernatural entities. Eli Roth, who's currently directing the sci-fi comedy film Borderlands, says he's been a longtime fan of Bagans and his penchant for the supernatural, prompting the collaboration. Roth said,
It's one thing to see the glowing orbs and whispered EVPs on Ghost Adventures. It's a whole other ballgame to accompany them with Eli Roth's fists-and-blood kind of storytelling. Let's just hope it's not a Cabin Fever remake repeat. The Haunted Museum will launch later this year on Discovery+.
Freelance writer. Favs: film history, reality TV, astronomy, French fries.
Your Daily Blend of Entertainment News
Thank you for signing up to CinemaBlend. You will receive a verification email shortly.
There was a problem. Please refresh the page and try again.