9-1-1's Athena Made A Dangerous Decision In The Season 4 Finale, And Fans Have Thoughts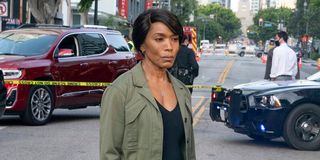 (Image credit: Fox)
Spoilers ahead for the Season 4 finale of 9-1-1 on Fox, called "Survivors."
9-1-1 had a doozy of a cliffhanger to pick up on with its fourth season finale, thanks to the previous episode ending with Eddie shot by a sniper and looking pretty lifeless, much to Buck's horror. Fortunately, "Survivors" didn't waste much time in making it clear that Eddie was probably going to survive, and the big damn hero moment of the episode went to Athena. After the shooter with a vendetta against firefighters shot Bobby and had him cornered in a burning building, Athena donned some turnout gear and quite literally walked through fire to get to her husband, gun drawn and ready to go.
It was a dangerous decision, given that Athena isn't a firefighter used to the challenges of walking through flames and wearing all of that gear, there were LAPD sharpshooters watching from the outside to pull the trigger on the bad guy, and she had a gun drawn while trying to stop him and save her husband. Despite all the many risks of her decision, she not only survived, but stopped the shooter and saved her husband. And also delivered the iconic image of somebody walking through flames with a gun drawn, and what's not to love about that?
Given that "Survivors" was a finale and 9-1-1 knows how to deliver a deadly cliffhanger, there was of course the possibility that Athena wouldn't make it out, or at least sustain the kind of injury that she deserves to avoid after the brutal attack she went through last season. But Athena survived, Bobby survived, and her takedown of the shooter means that all the firefighters and EMTs of 9-1-1's LAFD can go about their business again without worrying about being shot! Fans were all about Athena's heroics, and they shared their feelings on social media. Take a look:
I didn't know that I needed to see Athena geared up as a firefighter to save the day as a cop before "Survivors," but now I feel like my life wouldn't have been complete otherwise. If 9-1-1 decides to introduce a new kind of hybrid first responder that combines the best of the LAPD and LAFD worlds, I nominate Angela Bassett's Athena!
Even though Bobby and Athena were fighting before the shooter started targeting firefighters, she more than showed up to save him. I don't think there are many firefighters on 9-1-1 who would pull off that shot like Athena did, but Athena sure did pull off walking into fire to save her husband's life!
What better gif choice to honor Athena's brave move than of Buck talking about love? If anything, Athena donning the turnout gear and going into the fire with her gun was about as much of a Buck move as any character other than Buck has ever pulled. And unsurprisingly, Bobby didn't have quite as much of an issue with Athena doing it as Buck!
Don't get in Athena's way if she's determined to save her husband! There was no stopping her from going after Bobby despite dangerous circumstances, and it provided arguably the most badass moment of the Season 4 finale.
At the end of the day, the shooter was pretty much doomed as soon as he targeted Bobby, and Athena was not going to be stopped when it was within her power to save her husband. For an episode that somewhat surprisingly didn't end on any huge cliffhanger (unless Maddie admitting to Chimney that she needs help due to postpartum depression counts), this might go down as the most buzzworthy moment of the finale.
9-1-1 has already been renewed for Season 5, so the stories of Athena and Co. will continue in the 2021-2022 TV season. Spinoff 9-1-1: Lone Star has also been renewed for another season, so it's just a matter of time (and the summer TV lineup) before all the action will be back on Fox. Lone Star won't be back until midseason of the 2021-2022 season, but 9-1-1 will be back in the fall.
Resident of One Chicago, Bachelor Nation, and Cleveland. Has opinions about crossovers, Star Wars, and superheroes. Will not time travel.
Your Daily Blend of Entertainment News
Thank you for signing up to CinemaBlend. You will receive a verification email shortly.
There was a problem. Please refresh the page and try again.