Upcoming True Crime TV Shows: An Updated List Of TV Shows And More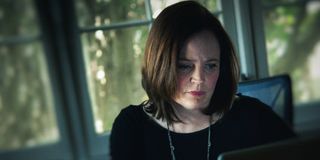 If there is one thing TV viewers can't get enough of, it's true crime series. From docuseries like I'll Be Gone in the Dark to scripted series based on actual events like Ryan Murphy's American Crime Story franchise, there is a little something for each and every amateur sleuth out there. That momentum doesn't look to be stopping anytime soon now that we seem to have more streaming services than traditional cable outlets flooding our screens with an endless river of blood and deceit.
Throughout 2021, 2022, and beyond, true crime buffs will be a happy bunch with shows like The Staircase and Love and Death on HBO Max, multiple Peacock series (both scripted and documentary), and the long-awaited third story in Ryan Murphy's award-winning crime anthology series. With a lot to cover before yet another series is announced, here are all the upcoming true crime TV shows you can expect to see in the very near future.
I'll Be Gone In The Dark (New Episode Coming To HBO Max) - June 21, 2021
One of the best docuseries of 2020, HBO's I'll Be Gone in the Dark told the story of the Golden State Killer and the late true crime writer, Michelle McNamara, who dedicated the final years of her life bringing him to justice for the brutal murder and sexual assault of dozens of victims nearly 50 years ago. Now, nearly a year after the sixth and final episode aired, HBO has announced it is bringing back I'll Be Gone in the Dark for a special episode.
This new episode of I'll Be Gone in the Dark will focus on Joseph James DeAngelo as he pled guilty to multiple counts of rape, kidnapping, and murder in connection with the East Area Rapist and Golden State in August 2020. It will also dive into the still-unsolved murder of Kathy Lombardo, the 1984 cold case in Michelle McNamara's hometown of Oak Park, Illinois, a crime that ignited her passion for true crime writing all those years ago.
Murder By The Coast (Netflix) - June 23, 2021
In the past few years, Netflix has become the go-to destination for riveting true crime documentaries and docuseries with everything from An American Murder to Night Stalker: The Hunt for a Serial Killer and loads more becoming must-watch television for the streamer's subscriber base. That will continue into summer 2021 when Netflix releases Murder by the Coast, a Spanish documentary film about the 1999 murder of teenager Rocío Wanninkhof. The documentary, which debuts June 23, 2021, will follow the media circus surrounding the famous case and the woman who may or may not have played a role in the disappearance and murder.
Dr. Death (Peacock) - Summer 2021
Peacock, which has its own collection of true crime offerings, will launch the drama series Dr. Death. Based on the hit Wondery podcast of the same name, Dr. Death will follow Christopher Duntsch (Joshua Jackson), a once-promising rising star in the Dallas medical community who was the subject of controversy after more than 30 of his patients were seriously injured on the operating table. Duntsch was later convicted of maiming one of his elderly patients and was sentenced to life in prison in 2017.
When announcing the show, Peacock revealed Dr. Death will not only give viewers a deep dive into the "twisted mind" of the doctor but also the failures of the medical system that allowed his abuse to carry on as long as it did. While no release date has been announced, the series is expected to debut on Peacock at some point in summer 2021.
Monster: The Jeffrey Dahmer Story (Netflix) - TBD
The upcoming Netflix limited series Monster: The Jeffrey Dahmer Story will follow the life one of the most infamous serial killers of the 20th Century, one whose crimes go deeper and darker than most of his contemporaries. Created by Ryan Murphy and Ian Brennan, Monster will see Evan Peters step in to take on the role of the Wisconsin-based serial killer who raped, murdered, and dismembered 17 men and boys between 1978 and 1991, giving him the name the Milwaukee Cannibal and Milwaukee Monster.
Per Deadline, Monster: The Jeffrey Dahmer Story will largely be told from the point of view of Dahmer's victims as well as tackle the incompetence and apathy exhibited by local police during infamous killer's multiyear crime spree. The limited series will also touch on how Dahmer's clean-cut appearance gave him a free pass by cops and judges throughout his life.
American Crime Story: Impeachment (FX) - TBD
Following two successful seasons of American Crime Story, it looked the third installment of Ryan Murphy's FX anthology series would never come to fruition, but the long-awaited Impeachment is actually happening this time around. For those not in the loop, American Crime Story Season 3 will focus on the biggest political scandal of the late 1990s: Bill Clinton's affair with White House intern Monica Lewinsky.
While no release date has been announced at this time, the FX series will feature an all-star cast with Beanie Feldstein starring as Monica Lewinsky, Clive Owen as former U.S. President Bill Clinton, Edie Falco as former First Lady Hillary Clinton, Sarah Paulson as Linda Tripp, Annaleigh Ashford as Paula Jones, Betty Gilpin as Ann Coulter, and Billy Eichner as Matt Drudge, per Deadline.
Inventing Anna (Netflix) - TBD
Over the course of more than a year starting in 2016, Anna Delvey pretended to be a wealthy German heiress who stole the hearts and money of multiple victims in New York City. Later convicted of grand larceny and sentenced to 4 to 12 years in prison, Delvey crimes became received international attention for the way in which she used social media to give unassuming victims the impression she was an influencer. The story of Delvey's rise and fall will soon be brought to Netflix with Inventing Anna, a 10-episode Netflix series from Shonda Rhimes inspired by Jessica Pressler's New York Magazine article "How Anna Delvey Tricked New York's Party People."
According to Netflix, Inventing Anna will follow Anna Delvey (Julia Garner) as she forms a love-hate relationship with Vivian (Anna Chlumsky), a reporter based on Jessica Pressler, who is looking for a big story that could save her career.
Love And Death (HBO Max) - TBD
Following her performance on WandaVision, Elizabeth Olsen will take on the role of Candy Montgomery, a woman who brutally murdered a family friend, on the limited series Love and Death. Based on Jim Atkinson and Joe Bob Briggs' book Evidence of Love: A True Story of Passion and Death in the Suburbs and a series of articles in Texas Monthly, the series will examine the events that led to two church-going couples who have the perfect family live in small town Texas to become involved in one of the most gruesome and notorious cases in the state's history.
The series is being written by David E. Kelley and directed by Lesli Linka Glatter with Jesse Plemons on board to portray one of the other series regulars, Allan Gore, per Deadline.
The Staircase (HBO Max) - TBD
HBO Max will also be home to the true crime drama series The Staircase starring Colin Firth as American novelist Michael Peterson who was convicted in 2003 of murdering his second wife, Kathleen Peterson. Per HBO Max, The Staircase is based on the docuseries of the same name and will explore Peterson's life and the suspicious death of his wife.
It was later revealed by Deadline that Parker Posey would be joining the cast as Freda Black, the assistant district attorney and lead prosecutor in Peterson's murder trial nearly 20 years ago. Expect to hear more about the show's cast and release date in the coming months.
Perfect World: The Gamer Murders (Peacock) - TBD
In 2019, a group of gamers found themselves in a race against time when one of their friends posted a message on their private Discord server claiming to have murdered three members of his family with one more on the way. This story, which was told in great detail in a 2019 Vice article, will soon be turned into a three-part docuseries on Peacock titled Perfect World: The Gamer Murders. According to Peacock, the series, which is being produced by Lucid Media with Zack Weisfeld on as executive producer, will recount the terrifying, true-life account of a group of friends plunged into a techno horror story.
The list of true crime TV shows will only continue to grow from here, so make sure to check back regularly to see what all gets added. And since you're here, go ahead and check out all the new Netflix TV premiere dates and the rest of the 2021 Summer TV schedule.