Wait, Could Bella Thorne And Her Family Lead The Next Big Reality TV Show After Keeping Up With The Kardashians Ends?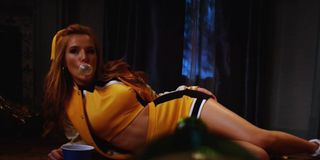 (Image credit: Netflix)
From Duck Dynasty to Honey BooBoo, we've seen countless reality TV families thrive off wild antics and crazy drama. None have reigned quite supreme, however, like the Kardashian-Jenners on E!'s Keeping Up With the Kardashians. But with the show finally ending in just a few weeks, speculation has now turned toward who will fill their void, one rumor suggests that actress Bella Thorne and her family are being encouraged to take up the mantle.
Ryan Seacrest, creator and executive producer of Keeping Up With the Kardashians, is allegedly in talks with Bella Thorne for a similar reality TV family show to take over E!, according to sources for Page Six. Supposedly, one source said, "They've even got a Kylie!" This would imply that Thorne and her two sisters, Dani and Kaili, will be the primary focus, as a way of mimicking the Kardashian-Jenner formula.
The possibility of a Bella Thorne and fam-led reality series would likely be just as, if not more so, controversial than Keeping Up With the Kardashians. Thorne has her roots as a child actor and Disney Channel star but, over the years, the actress has garnered a bit of a bad girl reputation and forayed into more mature territory, such as her 2019 directorial debut in the adult film Her & Him. Similarly, she and sister Kaili caught a lot of flack when the two joined OnlyFans last year and the latter shared her commentary on sex work. All of which, coupled with the rumors of the Infamous actress' alleged drug use and relationship problems, would make for prime reality TV drama.
Despite the sources who claim otherwise though, a Bella Thorne reality show is not currently in the works according to official channels. A rep for Ryan Seacrest even told Page Six:
Even if Bella Thorne were willing, not just any family can imitate the meteoric success that Keeping Up With the Kardashian turned into. But it will be even tougher, considering that the Kardashian-Jenner reign isn't over yet. They may be leaving E! after 20 seasons on the network, but the family managed to parlay their next project as a show on Hulu. No details have arisen about the show yet, but the royal family "we" was used in Kim Kardashian's tweet reveal. With this, it sounds like the family will have more creative control over what they can do.
Even in this final season, Keeping Up With the Kardashians is following its well and truly beaten path of silly antics and family arguments, but they probably won't want to repeat the same pattern in the new show. The question is, though, would Bella Thorne want to?
Freelance writer. Favs: film history, reality TV, astronomy, French fries.
Your Daily Blend of Entertainment News
Thank you for signing up to CinemaBlend. You will receive a verification email shortly.
There was a problem. Please refresh the page and try again.