American Crime Story Season 3: Premiere Date, Cast And Other Things We Know About Impeachment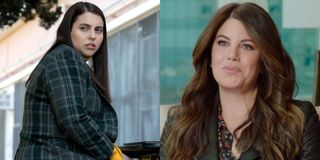 In late 1990s American politics — and pop culture, really — there were few stories that gripped the nation quite like the Clinton-Lewinsky Scandal. Whether it was on 24-hour news channels, the topic of one late night talk show opening monologue after another, or in the various books, magazines, and made-for-TV movies, there was no escape from never-ending saga of then-President Bill Clinton's affair with Monica Lewinsky. That story, and all its characters, will soon become the focus of American Crime Story Season 3.
That's right, in no time at all, it will feel like it's the summer of 1998 all over again with people glued to their television sets watching as the next chapter unfolds. Only this time, instead of watching CNN, Fox News, or MSNBC, we will all be watching Impeachment: American Crime Story on FX. So, to catch you up to speed, we've put together a quick rundown of everything we know about the return of the hit series and dramatization of one of the biggest political circuses of the modern era.
Impeachment: American Crime Story Premieres September 7, 2021 On FX
The third installment of American Crime Story is set to kick off 10 p.m. ET, Tuesday, September 7, 2021 on FX, with a special two-hour premiere featuring the first two episodes. The remaining eight episodes will then air on FX every Tuesday night through the completion of its sensational story detailing one of the strangest chapters in American politics.
This comes nearly one year after the show's original release date, which was set for September 2020, but was postponed in January of that year due to showrunner Ryan Murphy's busy schedule, per THR.
The Impeachment Cast Includes Beanie Feldstein, Clive Owen, Edie Falco And Sarah Paulson
Just like in previous installments of the award-winning anthology series, Impeachment: American Crime Story features a remarkable cast. Beanie Feldstein and Clive Owen will be taking on the roles of the former White House intern Monica Lewinsky and the 42nd President of the United States Bill Clinton, respectively. Emmy Award-winning actress Edie Falco will be taking on the role of former First Lady Hillary Clinton, Sarah Paulson will step in as Linda Tripp, Margo Martindale is playing Lucianne Goldberg, Annaleigh Ashford is portraying Paula Jones, and Billy Eichner will appear as Matt Drudge, per Variety.
Betty Gilpin, of GLOW and The Tomorrow War, was originally set to portray conservative personality Ann Coulter, but told SlashFilm in June 2021 that she had to drop out due to scheduling conflicts.
American Crime Story Season 3 Covers The Events That Led To Bill Clinton's Impeachment
When American Crime Story Season 3 is released in September 2021, it will take viewers into the crazy world of late 1990s politics, specifically the impeachment of Bill Clinton (the first of its kind in more than a century) and the role Monica Lewinsky, Paula Jones, and Linda Tripp played in the events that led to landmark event. When FX announced the third installment of its successful television series in 2019, it was said Impeachment will explore the overlooked dimensions of the women who were caught up in the scandal and subsequent political war that defined a presidency and the final years of the 20th Century.
Impeachment: American Crime Story Is Based On Jeffrey Toobin's 1999 Book A Vast Conspiracy
The material covered in Impeachment: American Crime Story is largely based on Jeffrey Toobin's 1999 bestselling book A Vast Conspiracy: The Real Story of the Sex Scandal That Nearly Brought Down a President. Longtime fans of the American Crime Story series (as well as people who follow true crime writing) will most likely recognize Toobin's name because the first season of the anthology series — The People vs. O.J. Simpson — was also based on one of the author's works: The Run of His Life: The People vs. O.J. Simpson, which was released in 1997, covering the biggest criminal trial of the 20th Century and perhaps of all time.
American Crime Story Season Was Written By Sarah Burgess
All 10 episodes of Impeachment: American Crime Story were written by Sarah Burgess, who adapted the material from Jeffrey Toobin's comprehensive novel to create the third installment in the hit anthology series. In addition to her writing work on the show, Burgess is also serving as one of the series' numerous executive producers. Prior to landing the American Crime Story Season 3 writing gig, Sarah Burgess wrote the 2018 made-for-TV movie Compliance as well as a series of short films which were all released between 2006 and 2007.
Longtime Ryan Murphy Collaborator Michael Uppendahl Is Directing American Crime Story Season 3
While Sarah Burgess is handling the writing duties for Impeachment: American Crime Story, longtime Ryan Murphy collaborator and prolific television director Michael Uppendahl served as Season 3's director in addition to serving as one of the executive producers. If Uppendahl's name doesn't sound familiar, his body of work surely will as he has directed episodes of numerous Ryan Murphy Productions' shows including Ratched, The Hot Zone, American Horror Story, Legion, and Fargo. On top of that, he also directed the Castle Rock pilot and multiple episodes of Mad Men and The Walking Dead, per Deadline.
This Isn't The First Time Ryan Murphy Has Tried To Tell Impeachment's Story
After years of planning, Impeachment: American Crime Story will finally arrived on FX in September 2021. While the show's story, cast, and producers are all at the top of the game, this is actually the second Ryan Murphy has tried to tell the story of the Clinton-Lewinsky Scandal. Originally supposed to be the show's fourth season (Season 3 was set to focus on Hurricane Katrina and its impact on the City of New Orleans and Gulf Coast area), the show was put on ice in early 2018 after Murphy had a conversation with one of its main subjects: Monica Lewinsky.
At the time, Monica Lewinsky wasn't on board as one of Impeachment's producers and Ryan Murphy didn't want to proceed unless she was involved in some capacity. Lewinsky, however, eventually came on board and the current version of American Crime Story Season 3 entered pre-production in 2019.
While there are a lot of things we do know about Impeachment: American Crime Story, we still have to see a trailer or any official photos to see how the cast compares to their real-life counterparts. Don't worry as that will all become available in the weeks and months leading to show's premiere. In the meantime, check out CinemaBlend's 2021 Summer TV Schedule to see when all the new and returning shows will hit the airwaves (and streamers).
Philip grew up in Louisiana (not New Orleans) before moving to St. Louis after graduating from Louisiana State University-Shreveport. When he's not writing about movies or television, Philip can be found being chased by his three kids, telling his dogs to stop yelling at the mailman, or yelling about professional wrestling to his wife. If the stars properly align, he will talk about For Love Of The Game being the best baseball movie of all time.
Your Daily Blend of Entertainment News
Thank you for signing up to CinemaBlend. You will receive a verification email shortly.
There was a problem. Please refresh the page and try again.