Chrissy Teigen Calls Out Husband John Legend For Leaving Her Out Of Grammy Speech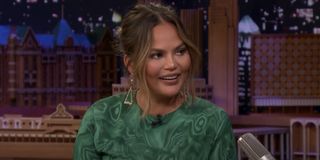 Hollywood is filled with a number of fun celebrity couples, such as Mila Kunis and Ashton Kutcher, Will and Jada Pinkett Smith and Blake Lively and Ryan Reynolds. Chrissy Teigen and John Legend would also fall under this category, as fans can't seem to get enough of the fun-loving pair. Of course, when there's humor in a relationship, a bit of shade is also likely to be thrown now and then. This was recently the case, as Teigen called out her hubby on social media after he left her out of his Grammy speech.
During the 2021 Grammy Awards this past weekend, John Legend picked up the award for Best R&B Album for his seventh studio album, Bigger Love. After the win, Legend took to social media to thank those involved in making the win possible. The singer/songwriter, however, awkwardly didn't mention wife Chrissy Teigen, which elicited a funny response from the TV personality on her Twitter account. Check out her A+ response for yourself down below:
As has been the case in many past instances, Chrissy Teigen had no problem making her hilarious feelings known on social media. Of course, Teigen is only poking fun at her husband and isn't really upset but, still, you can't help but love the hilariously blunt sense of humor she possesses.
When it comes to awards, Chrissy Teigen has made a few jokes at her husband's expense over the years. During the 74th Golden Globe Awards back in 2017, John Legend's name was misspelled on his place card, and Teigen took to social media to make fun of the mistake. One of Legend's biggest awards moments was, unfortunately, the moment La La Land was accidentally awarded the Oscar for Best Picture. And even recently, Teigen still couldn't help but troll her husband about it.
Chrissy Teigen's hilarious jabs at her spouse are very similar to the ones Blake Lively aims at husband Ryan Reynolds. Like Teigen, Lively has no problem calling out her husband, as she just recently threw shade at him for not inviting her to the Deadpool 2 set to meet Brad Pitt. But unlike John Legend, Reynolds tends to throw a few those jabs right back.
Jokes aside, Chrissy Teigen and John Legend are definitely in love and have been incredibly supportive of each other. The two have also been with each other through some particularly difficult times.
John Legend, knowing his wife as well as he does, probably wasn't surprised that she decided to call him out and, since it was a joke, he's probably happy he's not really in the doghouse. Nevertheless, presenting his wife with a small gift or two for good measure probably wouldn't be a bad thing.
Covering superheroes, sci-fi, comedy, and almost anything else in film and TV. I eat more pizza than the Teenage Mutant Ninja Turtles.
Your Daily Blend of Entertainment News
Thank you for signing up to CinemaBlend. You will receive a verification email shortly.
There was a problem. Please refresh the page and try again.