Big Brother's Zach Rance, Teen Mom's Farrah Abraham And More Reality Stars With OnlyFans Accounts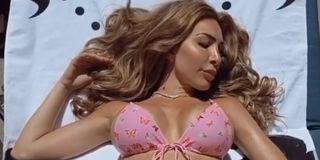 OnlyFans has exploded in popularity as of late, to the point that even the rich and famous are hopping on the platform to make a little cash. For those out of the loop, the site offers fans a more "intimate" look at the lives of people like The Real Housewives Of New York City's former castmember Dorinda Medley or Big Brother's Zach Rance for a price. Movie star Bella Thorne's famously on it, but there are a lot of TV stars who have taken the leap as well.
The site has really caught on in the world of reality television, and every show from 90 Day Fiancé to Survivor has at least one or two people on OnlyFans. Here are some of the more notable names, and what to expect from their pages should you decide to pay a subscription price and tune in.
Dorinda Medley- The Real Housewives Of New York City
Dorinda Medley was dropped from The Real Housewives Of New York City cast during the latest season, but she's got a new home on OnlyFans. For the low price of $4.99 a month, you can be in the know on all things happening in Dorinda's life, and it seems like that's about it. It doesn't appear this is going to be a situation where Dorinda "bares it all" for the camera, but rather provide fans with a more intimate look at the personal bits of her life they will no longer get since she's off the show.
Sonja Morgan- The Real Housewives Of New York City
Sonja Morgan is one of the wilder castmembers of The Real Housewives Of New York City, so one would expect to get quite a value out of her $4.99 a month subscription fee. From what we've seen around the internet though, most of Sonja Morgan's content to date has been safe-for-work posts or content you'd typically see on Instagram or Twitter. This content may be interesting to the Real Housewives superfan, but those looking for anything more may have better luck watching some of her escapades on the series.
Aaron Carter- House Of Carters
Former pop star and star of the short-lived House Of Carters series Aaron Carter is on OnlyFans, and for anyone wishing to keep their pure image of him in his younger years, you probably shouldn't check this one out. Those who aren't as concerned can pay $24 a month to see about as much of him as possible. For those that need it spelled out, this is a profile that has NSFW images, so just be warned before jumping in on this journey that may forever change your perspective on the the former teen idol.
Lyrica Anderson- Love & Hip Hop: Hollywood
Love & Hip Hop: Hollywood star Lyrica Anderson is up on OnlyFans, and you can be a part of the fun for the price of $11.00 a month. Anderson has not posted a description of what to find on her page, though based on the fact there isn't a lot written around the web on the profile, I would imagine the content provided is mostly safe for work. Anderson keeps things mostly clean on her Instagram, so that may be an indication of what to expect.
Zach Rance- Big Brother
Big Brother 16 houseguest Zach Rance was certainly a popular player during his season on the show but has not appeared on the game show since. Seeing him on a semi-regular basis is certainly possible on OnlyFans, though it will run someone interested $24.99 a month. Zach is said to post some semi-scantly clad photos of him posing in underwear and other swimsuits, some of which could be risque depending on your level of comfort with a pants bulge.
Christine Varner- Big Brother
Big Brother 16 houseguest Christine Varner is also on OnlyFans, and as of writing, it's an odd trend that the only two Big Brother houseguests to do the site are Season 16 alumni. Subscribing to Christine's account is $9 a month, and by most current metrics, she's one of the most popular people on the platform. Christine is in the top .2% in earners on OnlyFans, which may be due to the fact she's so accommodating to her subscribers. Christine offers personalized videos, chat, and intimate conversations with all her subscribers.
Victoria Baamonde- Survivor
Victoria Baamonde is a Survivor alumnus who was featured in the ever-controversial season Edge of Extinction. She may not have won Survivor, but she's found a home on OnlyFans where superfans can join her inner circle for the price of $20.00 a month. Based on what's being said around the web, there's some semi-NSFW content found on the page. Victoria has been candid that she'll shut the whole thing down if she sees other shots of her circulating on the web, so I can't say for certain without subscribing just how over-the-top the content is for sure.
Ozzy Lusth- Survivor
Ozzy Lusth is a 4-time Survivor player and has competed on Game Changers, South Pacific, Micronesia, and Cook Islands. Suffice to say mega fans of the franchise may know him quite well, and they'll know him quite a bit better if they subscribe to his OnlyFans for $4.99. This is a case where I can explicitly confirm the page is not safe for work, and anyone who visits will get full-blown nudity where nothing is left to the imagination. No judgment if that's something you're into, and truth be told, you can't beat the price.
Farrah Abraham- Teen Mom
Farrah Abraham has been publicly involved with the world of adult entertainment for quite some time, so it's no surprise the former Teen Mom star has a presence on OnlyFans. Her subscription price comes in at $7.99, She's last on the list because this is by far the most extreme page of all the reality stars. Once inside the account, Farrah offers some pretty explicit private videos, which include some pretty extreme stuff. I refuse to get into details here, but will say that for anyone really interested but not so interested they want to subscribe the details on what's offered can be found online.
Are there any other reality stars with an OnlyFans worth mentioning that aren't on this list? Throw down names in the comments below, and of course, continue to stick with CinemaBlend for all the latest happening in television and movie news.
Mick likes good television, but also reality television. He grew up on Star Wars, DC, Marvel, and pro wrestling and loves to discuss and dissect most of it. He's been writing online for over a decade and never dreamed he'd be in the position he is today.