Too Hot To Handle Season 2: 9 Things To Know About Netflix's Reality Series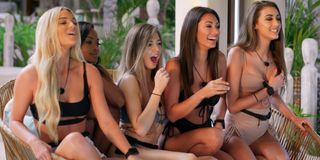 Too Hot To Handle Season 2 is just around the corner, and those who tuned in to Season 1 of the Netflix reality series are undoubtedly excited. For the uninitiated, the series is reminiscent of many popular reality television shows like Big Brother and Love Island, though there's one unique twist that made it one of the more entertaining shows to watch in recent memory. For contestants to win the prize money, most forms of romantic activity are almost completely off-limits.
With Season 2 just on the horizon, there's a lot we can say about this upcoming season, and what viewers should expect going in. Here's what we know about the upcoming episodes and what's coming up, some of which is allegedly more than some of the participants knew themselves.
Season 2 Will Feature 10 Singles
Season 1 of Too Hot To Handle featured 14 singles, and it looks like Season 2 decided to scale things back just a bit. Season 2 will feature 10 singles that are ready to mingle, but of course, won't be able to due to the unique nature of the game. Hopefully, these couples can practice a little more self-control than the crew from last season, but based on the trailer, that doesn't seem to be the case.
The Contestants Hail From Around The World
One cool thing that Too Hot To Handle does that not a ton of reality shows on television have done is incorporate contestants that come from all around the world. Season 2 has contestants from America, the UK, France, Canada, and New Zealand. Sure, the majority of contestants involved still hail from North America, but it's definitely cool to see people from different cultures and walks of life living together and coexisting in a really cool way. Especially after a year in which stuff like that was expressly forbidden.
Too Hot To Handle Season 2 Episodes Will Not Be Released All At Once
Netflix has been toying with the idea of staggered release dates, and that will be used for Too Hot To Handle Season 2. The first batch of 4 episodes will premiere on Netflix Wednesday, June 23rd, and the remaining 6 episodes will arrive the following Wednesday on June 30th. While I'd be even more thrilled if Netflix doled it out on a weekly basis, I do appreciate not getting the entire season at once to prevent me from binging it all at once.
Contestants Are Penalized For Engaging In Sexual Contact
One of the key fun things about Too Hot To Handle is that, for once, romance is not an essential part of the experience. In fact, if contestants want the $100,000 in prize money, they must abstain from any form of sexual activity the time they are on the island with all these ready and willing singles. Doing so results in a penalty, and as we'll soon read, the price to pay for breaking the rules can be pretty steep.
Prize Money Is Subtracted For Each Sexual Act Performed
Winning $100,000 is a good incentive, but contestants can lose money for whatever sexual activity they engage in that isn't approved by the rules. Something as simple as kissing is a $3,000 fine, and something like sex is close to $20,000. It's a steep penalty, especially when all remaining contestants at the end of the game share that prize money. Truthfully, $100k split 10 ways isn't exactly retirement money though, so it's hard to blame the contestants who inevitably break the rules.
Contestants Don't Know They're On Too Hot To Handle Until The Game Starts
One would think contestants doing Too Hot To Handle Season 2 wouldn't have a hard time collectively agreeing to keep it in their pants until the show is done, but producers revealed to People that participants aren't actually told the show they're going to be on until they've arrived at the villa ready to film. They're all led to believe they're part of another show, and only told where they really are hours into filming the show they think they're doing.
Too Hot To Handle Employs People To Watch Contestants At All Hours
Too Hot To Handle Season 2 will have an eye on its competitors to make sure they're caught if they break the rules, and yes, they will have all eyes on them. Producers confirmed to People that there are people tasked with watching each contestant for things that may occur that break the rules and listening to bathroom mics to make sure there's nothing happening where cameras aren't allowed. It's intense, but apparently necessary to maintain the integrity of the competition!
Robot Host Lana Will Return
One of the best things about Too Hot To Handle is that the host is some Alexa knockoff robot named Lana. That last part wasn't meant to be a jab, and while it's all theatrics, I'm sure it's cool to have a disembodied voice on the program. I mean, one that is pretending to be a robot anyway. It's just something newcomers will have to experience to get the appeal.
Too Hot To Handle Is Already Renewed For Season 3
I find reality shows much easier to enjoy when I know there's more on the way. As such, I'll really enjoy Too Hot To Handle Season 2 as I already know that Season 3 has been confirmed. That means that, regardless of how this season is received by audiences, Netflix is going to have another season to burn before they can say sayonara to the series. Not that they'd want to, especially if they have more talent this season as likable and fun as Chloe Veitch.
Be sure to catch the premiere of Too Hot To Handle Season 2 on Netflix beginning Wednesday, June 23rd. Once you run through all those episodes, be sure to head over to our 2021 Summer TV schedule to see what else is worth checking out this summer.
Your Daily Blend of Entertainment News
Mick likes good television, but also reality television. He grew up on Star Wars, DC, Marvel, and pro wrestling and loves to discuss and dissect most of it. He's been writing online for over a decade and never dreamed he'd be in the position he is today.