Wait, Some Of Netflix's Too Hot To Handle Cast Were Already Celebrities?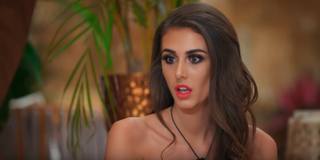 Too Hot To Handle has taken the world of reality dating shows by storm since its debut on Netflix just a week ago. With that, the stars of the show now have much more attention on them then they had previously, with everyone seeing increases in social media followers as they do interviews to promote the series. But, it turns out that all this newfound fame actually isn't quite so new for a few members of the cast. That's right folks, some of these commitment-phobic, sex-obsessed hotties have been around the celeb block before.
Now, it's already pretty fair to say that the sexy singles in question, who are trouble-making couple Francesca Farago and Harry Jowsey, and "Jesus" deep-thinker Matthew Smith, are way more famous now that they've been on Too Hot To Handle than they were for their past forays into fame. But, that doesn't mean that these three didn't get a good amount of notice back before they became known for trying (and frequently failing) to not do any sexytime stuff.
So, let's break down how this trio found fame previously, and we might as well begin with the one who can help us understand some of what we saw on Too Hot To Handle.
Harry Jowsey
You can be forgiven for not recognizing long and lanky Harry during his time on Too Hot To Handle, especially if you don't happen to be in the habit of checking out reality shows from New Zealand. See, it was just two years ago that good ol' Harry showed up on Heartbreak Island. As you might guess, the series (which was in Season 2 when Harry appeared) followed a group of singles (12 of them, to be exact) as they engaged in trials and dating challenges in Fiji with the hopes of finding their forever love...and winning the $100,000 grand prize.
Guess what? Harry and the young woman he left Heartbreak Island with, Georgia Bryers, won all of that money. Are some things clicking in place for you yet? That's right, guys, this is probably why Harry was completely unconcerned with costing the group money every time he and Francesca broke the rules. Unless he's been totally irresponsible with his half of that prize money or hasn't worked at all since winning it, I'm guessing he's already got a nice little nest egg to fall back on. OK, Harry. We see you now.
Francesca Farago
Speaking of Harry's partner in (reality dating show) crime, Francesca has also had some time in the sun of celebdom, but it wasn't for showing up scantily clad on television. While I'm sure she'd be willing to take her love of underboob flaunting fashion to another TV show, Francesca is actually known for having dated one Mr. Thomas Wesley Pentz. Don't know who that is? Why, he's the famous DJ / music producer better known as Diplo. After rumors floated around about she and Diplo once being a romantic item, Francesca came clean to Entertainment Tonight, and said:
Alright, Francesca. Do your thing, girl.
Matthew Smith
We now come to our final Too Hot To Handle cast member, and Matthew here was actually another one with a prior history in reality TV. Go ahead, take another good look at him and see if you can recognize him from his time on what was one of the most popular and long-running reality shows of the 2000's...Nothing? I suppose that's alright. I mean, he did look quite different and less lord-and-savior-like back in 2014 when he hit Season 21 of America's Top Model.
If nothing else, I wouldn't have known this was Matthew for the simple fact that he's not wearing a shirt. But, he was also fan favorite on ANTM for his wholesome, always-smiling personality and his short-lived sorta relationship with fellow competitor Will Jardell. Matthew only placed 10th in the competition, but he's also had some appearances on scripted shows like The Young and the Restless, New Girl and Stitchers.
So, that's were we've seen some of the Too Hot To Handle cast before. Think we missed someone? Let us know in the comments below! If you've already binged the whole series and need something else to watch, check out our Netflix premiere guide, see what's new to Hulu in April and coming up in May!
Your Daily Blend of Entertainment News
Yennefer's apprentice, Gilmore Girl; will Vulcan nerve pinch pretty much anyone if prompted with cheese...Yes, even Jamie Fraser.