The Friends Reunion Fun Keeps On Keeping On As Courteney Cox Spends 4th Of July With Co-Stars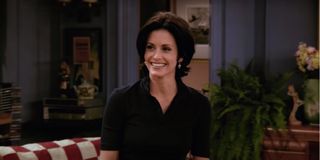 The Friends reunion special was a once in a lifetime event, as the six insanely famous stars of one of the most popular sitcoms of all time came together for the first time after almost twenty years. Once. In. A. Lifetime. The cast seemed to have a great time catching up and spilling behind-the-scenes secrets, too, so it's no surprise to see that some of them kept the party going during this 4th of July weekend.
To celebrate Independence Day, Courteney Cox (Monica Geller) caught some rays with her Friends co-stars Jennifer Aniston (Rachel Green) and Lisa Kudrow (Phoebe Buffay), something I'm sure plenty of fans would have loved to be present for. She shared the love by posting a holiday selfie on Instagram - you can take a peek below.
The ladies of Friends looked marvelously tan and breezy, with Jennifer Aniston sporting her signature beach-ready waves and Lisa Kudrow rocking a Phoebe-esque wide-brimmed straw hat. And those weren't the only A-listers involved, as Courteney Cox also posted a selfie with none other than Oscar winner and national treasure Laura Dern, who will next be seen in Jurassic World; Dominion. Someone let me know how to score an invite for this kind of hangout sesh, because that crew is iconic.
I'm definitely not the only one in awe of this fab foursome. Courteney Cox's post got a ton of well-wishing comments from celeb friends like Michelle Pfieffer, Natasha Bedingfield, David Spade, and Queer Eye style expert Tan France. That kind of also sounds like an ideal dinner party guest list.
The members of the Friends gang have been the best of friends (no pun intended) ever since they starred on the hit NBC sitcom. After the reunion special aired, Jennifer Aniston wasted no time in sharing fun backstage selfies and behind the scenes pics with her social media followers. After 10 years of filming a show together, it's only natural that such strong and lasting relationships would form, and Courteney Cox and Jennifer Aniston seem to be especially good buddies. They often pop up on each other's social media feeds, and Jennifer Aniston is even the godmother to Courteney Cox's daughter Coco Arquette, who just celebrated her 17th birthday.
The ongoing Friends love does a body good, especially since it's been almost two decades since the show aired its final episode 'The Last One' a.k.a. 'The One Where They Say Goodbye.' The show is streaming in its entirety on HBO Max, making it easy to scratch that nostalgic itch, and it also helps that all six of the Friends actors have become huge stars, since there's no shortage of projects that you can watch if you miss seeing Cox, Aniston, Matthew Perry and the rest on screen.
Jennifer Aniston is currently starring on The Morning Show on Apple TV+, with Season 2 on the way, while Courteney Cox will be reprising her role as Gale Weathers in the horror franchise's fifth installment, simply called Scream. Lisa Kudrow fans can check out her comedy series Space Force and Feel Good, both of which are streaming on Netflix. And definitely keep tabs on the cast's respective Instagram feeds - something tells me they're going to be friends for a long time to come.
Your Daily Blend of Entertainment News
Actor, singer, and occasional dancer. Likes: fashion, books, old buildings. Dislikes: cilantro, the NJ Turnpike, sneaker wedges.