Friends Reunion: 5 Things We Want To See In The HBO Max Special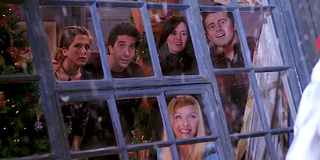 This is not a drill. The Friends reunion on HBO Max is finally coming to fruition, as Jennifer Aniston, Courteney Cox and the rest of the gang are actually filming this month. It's been a year since COVID derailed the original plans for the reunion, and fans have only been clamoring for a reunion for the past 17 years. But it looks like the wait is finally, finally over, and die-hard fans like myself can transition from if the reunion will happen to what we want to see when Ross, Rachel, Monica, Chandler, Phoebe and Joey all share the screen again.
Of course, we know by now that the actors won't be reprising their iconic roles, but instead will be taking the stage as themselves. This might be a good thing — and a huge relief for Matthew Perry — since seeing our Central Perk regulars in character would come with ridiculously hard-to-meet expectations. The bar is pretty high as it is, and I'm sure I'm not the only one who's spent time wondering what would make this reunion perfection. Here are some things I'm hoping we'll see when the time comes.
Appearances From Recurring Characters
OH. MY. GOD. Would a Friends reunion even be a Friends reunion without Janice? Many of the recurring characters on Friends were absolutely vital to the series, and I'm hoping a reunion pays homage to Maggie Wheeler's Janice and the consistent hell she caused Chandler. To James Michael Taylor's Gunther, who kept the coffee cups full and the flame burning for Rachel. To Carol and Susan (Jane Sibbett and Jessica Hecht) for navigating the world of co-parenting with Ross (David Schwimmer). Paul Rudd may have come late to the party as Phoebe's eventual husband Mike, but that makes him no less important — he was the Crap Bag to her Princess Consuela Banana Hammock, after all.
Drop-ins From Famous Guest Stars
Friends is widely known for the impressive array of A-list guest stars who appeared over its 10 seasons. Short of a Seinfeld finale situation, it would be impossible to revisit all the celebrities who graced the Friends stage, and in the world of COVID and quarantining, it's a moo point. But what would be amazing was if we got to hear — perhaps virtually — from some of the more notable guest stars. Brad Pitt has a much friendlier relationship in real life with ex-wife Jennifer Aniston than his on-screen persona Will, who co-founded the "I Hate Rachel Green Club," does with Rachel.
And who wouldn't want to hear from Tom Selleck (other than Chandler, I guess), who made America swoon as Monica's boyfriend? I could drop names until my fingers fall off, but it would be so cool to hear what some of those famous faces have to say this many years after their stints on the show: George Clooney, Reese Witherspoon, Bruce Willis, Jill Goodacre, Ben Stiller… seriously, I could go all day, but could we at least find out if Jon Favreau's Pete Becker ever became the Ultimate Fighting Champion?
Settle The "We Were On A Break" Debate
Friends has a unique opportunity in the HBO Max reunion special, in that it could settle one of television's hottest debates: Were Ross and Rachel on a break? Or is Ross "once a cheater, always a cheater"? Let's get Jennifer Aniston and David Schwimmer to put this one to bed once and for all, with help from their friends — who don't need to hide in the bedroom eating Waxine this time around.
Was Ross within his rights to sleep with Chloe the Copy Girl on the same night that Rachel suggested they take a break? Does it make a difference that they got back together the next morning, or that Chloe was still at Ross' apartment when Rachel went over? How does Mark play into it? It's hard to imagine fans of the show will be open to changing their opinions — and believe me, we all have opinions — but it might be super cathartic to hear how time has shaped Ross and Rachel's POV.
New Stories From Behind The Scenes
Since Friends went off the air in 2004 — and even before that, really — there have been books written, episode commentaries and gag reels on the DVDs, podcasts dedicated to the series, and countless interviews with the cast and creators. It's hard to believe there could possibly be any behind-the-scenes stories or Easter eggs that haven't already been divulged. But, man, I hope there are.
Ten years is a long time — a lot of Thanksgivings — so the actors naturally had to deal with issues in their personal lives over the course of the show, including addiction, infertility and divorce, to name a few. Since this special has been compared to HBO Max's Fresh Prince of Bel-Air reunion, I wonder if or how much this cast will similarly dip into more serious territory, or if they'll prefer to keep the mood light?
Musical Performances
The Rembrandts have been known to perform their iconic theme song "I'll Be There For You" in celebrating big anniversaries of the show, so that's an easy item for the "Want" list. But Friends featured another musical superpower whose songs haven't gotten quite the same amount of air-play. I'm talking about song-writing phenom and truth-telling guitar player Phoebe Buffay, of course.
I would love to see today's singers or musical groups adapt some Phoebe Buffay hits. "Smelly Cat" is a shoe-in, and speaking of shoes, could we possibly get a good bluesy version of "Sticky Shoes" (sexy phlegm optional)? Don't forget this old favorite — the scandalous "Two of Them Kissed Last Night." Yeah, let's get a compilation album going.
Regardless of what HBO Max's Friends reunion special (opens in new tab) brings to the table, I, surely like millions of fans worldwide, am grateful that it's actually happening, after years of speculation and the delays brought on by the pandemic. Seeing Matt LeBlanc, Matthew Perry and the rest share the screen together again is sure to bring the laughs and nostalgia, and I'm so Bamboozled, I could dance in a fountain. There's been no update on when the Friends reunion will air, so stay tuned to CinemaBlend's 2021 TV schedule to find out when it gets announced.
Your Daily Blend of Entertainment News
Mom of two and hard-core '90s kid. Unprovoked, will quote Friends in any situation. Thrives on New Orleans Saints football, The West Wing and taco trucks.
Your Daily Blend of Entertainment News
Thank you for signing up to CinemaBlend. You will receive a verification email shortly.
There was a problem. Please refresh the page and try again.