Jennifer Aniston: What To Stream If You Love The Friends Star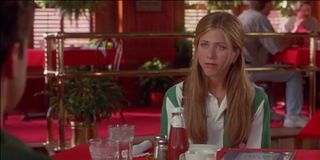 Jennifer Aniston began acting in the late 80s and became a household name because of her role as Rachel Green on the hit series Friends. This 90s classic serieshas become a global phenomenon, which has allowed Aniston to capitalize on its success, but she hasn't let it be her only big role. For years, Aniston made a very successful transition from the television world to the film one, but she recently returned to the TV landscape with The Morning Show.
Jennifer Aniston is an actress that viewers can depend on to keep them entertained and invested. Whether making dramatic movies or comedies, Aniston brings ease and charm to all of her projects. She keeps you engaged. Fans of the former Friends star have plenty to watch with so many streaming services full of Jennifer Aniston content.
Friends - HBO Max
Six 20-something friends try to navigate life and love while living in New York City. Friends ran for ten seasons, from 1994-2004. It made household names of Jennifer Aniston, Courteney Cox. Lisa Kudrow, David Schwimmer, Matthew Perry, and Matt LeBlanc. It also built a die-hard fandom that still thrives with reunions, episodes on demand, and new merchandise still being made nearly 30-years after the series' premiere.
Why Jennifer Aniston Fans Will Like It: Friends is the show that launched Aniston's career and won her so many loyal and dedicated fans. Likely if you're a Jennifer Aniston fan, it's because you watched Friends. It's always fun to watch Friends because it's a great sitcom but also because it is a nice dose of 90s nostalgia.
Stream it on HBO Max here (opens in new tab).
Murder Mystery - Netflix
Jennifer Aniston and Adam Sandler star in this Netflix original movie, Murder Mystery. In it, Aniston and Sandler play married couple Audrey and Nick Splitz, who go on a vacation to revive their marriage, only to get caught in a real-life murder mystery where they're the prime suspects.
Why Jennifer Aniston Fans Will Like It: It's another film that pairs real-life friends, Adam Sandler and Jennifer Aniston. They worked together before in the film Just Go With It. The concept of Murder Mystery is one we've seen done many times, especially in recent films The Lovebirds and Game Night, but Adam Sandler and Jennifer Aniston bring their own brand of wackiness to this framed for murder storyline. Murder Mystery feels like two pals getting paid to make a movie and have a good time together.
Stream it on Netflix here (opens in new tab).
The Morning Show - AppleTV+
The Morning Show follows Alex Levy (Jennifer Aniston) as she tries to navigate her job as a morning show host after her co-anchor Mitch Kessler (Steve Carell) is fired for sexual misconduct. She makes a power move by hiring Bradley Jackson (Reese Witherspoon) to be her new co-anchor. These two very different women have to figure out how to make it work for the sake of both of their careers. The Morning Show's cast also includes Billy Crudup and Mark Duplass.
Why Jennifer Aniston Fans Will Like It: The entire cast of The Morning Show is top-notch, so there are great performances all around. Among the stacked talented cast, Aniston manages to stand out and give one of her best performances of her career. Alex is a complex character who is ruthless and self-centered, but also very sympathetic. You may dislike her at times, but you understand her motives and the difficult situation that she has to maneuver for her career security.
Stream it on AppleTV here (opens in new tab).
Horrible Bosses - HBO Max
Jennifer Aniston, Kevin Spacey, and Colin Farrell play the horrible bosses of characters played by Jason Sudeikis, Charlie Day, and Jason Bateman. Jennifer Aniston plays Julia, the boss of Dale (Charlie Day). She makes unwanted sexual advances towards him and tries to sabotage his relationship with his girlfriend.
Why Jennifer Aniston Fans Will Like It: Horrible Bosses is a hilarious movie that allows Aniston to play a character way different from what fans expect. She plays the hero or good character so often that it's nice to see her play such a terrible character. She also revised her role as Julia for the Horrible Bosses sequel. She was just as despicable in that one as well.
Stream it on HBO Max here (opens in new tab).
Cake - Max Go
A woman who suffers from chronic pain decides to impose herself on the life of a former friend. She was a woman that Claire (Aniston) met in a support group, who committed suicide. Claire forms a bond with the woman's husband, Roy (Sam Worthington), and son Casey (Evan O'Toole). These bonds help Claire heal from her own emotional demons. Anna Kendrick plays Claire's former friend and Roy's wife. Chris Messina plays Claire's ex-husband.
Why Jennifer Aniston Fans Will Like It: Cake is one of Jennifer Aniston's few dramatic performances and one of her most buzzed-about for the way she brings Claire's pain to the screen. It's easy to see how much she's in pain, both physically and emotionally, because of how Aniston embodied and transformed herself into this character.
Stream it on Max Go here.
The Switch - Showtime
Jason Bateman and Jennifer Aniston co-star in The Switch, a movie about a woman who decides to become pregnant through artificial insemination. Wally (Jason Bateman) becomes drunk at Kassie (Aniston)'s insemination party and decides to put his sperm sample in her donor's specimen cup. He then falls asleep and forgets the whole incident. Years later, he meets Kassie's son, who seems very much like Wally.
Why Jennifer Aniston Fans Will Like It: The Switch is pushing some boundaries with the whole concept, but Wally and Kassie's relationship gives the movie its character. They're an interesting pair and it's also entertaining to watch Wally learn to be a dad.
Stream it on Showtime here.
Dumplin - Netflix
Dumplin is a movie about a plus-size girl named Willowdean (Danielle Macdonald) who decides to compete in her mother, Rosie's (Jennifer Aniston) beauty pageant to honor her dead aunt and make a statement about society's definition of beauty.
Why Jennifer Aniston Fans Will Like It: Dumplin is a type of movie not seen often, one where a plus size girl finds love and is not afraid to be herself. Her weight is not the main storyline, but her relationships with her friends, mother, and herself are the most important topics. Aniston's Rosie is shallow but she's also a woman who cares about her daughter and believes that she's trying to help her. Rosie never feels over-the-top. Yes, Rosie is very into beauty contests and that could easily go towards caricature, but the character feels very human and grounded.
Stream it on Netflix here (opens in new tab).
Office Space - Starz
Office Space is a satirical look at office culture in the 1990s. It follows several characters who work in a software company. The Office Space cast includes Ron Livingston, Stephen Root, and Gary Cole. Jennifer Aniston plays Joanna, a waitress and Peter (Ron Livingston)'s love interest.
Why Jennifer Aniston Fans Will Like It: Aniston made Office Space while working on Friends. It wasn't one of her first films, but it was one that fans remember for her performance. Joanna is a character that's relatable, because who hasn't had at least one job that drove them crazy. Office Space brings back such wonderful work-life memories.
Stream it on Starz here (opens in new tab).
He's Just Not That Into You - Peacock
He's Just Not That Into You is a movie based on the dating advice book of the same name. It stars an ensemble cast that includes Ben Affleck, Ginnifer Goodwin, Drew Barrymore, and Justin Long. It follows 20 and 30-something friends as they deal with their own relationship woes. Aniston's character Beth, just wants her boyfriend Neil (Ben Affleck) to commit.
Why Jennifer Aniston Fans Will Like It: He's Just Not That Into You is one of those films that surprised me in that I think it's a lot more enjoyable than people give it credit for being. Most of the stories are interesting and have heart. Beth's story is especially fascinating because you can see that she loves Neil but things can't continue in this state of limbo.
Stream it on Peacock here (opens in new tab).
The Bounty Hunter - Netflix
Jennifer Aniston and Gerard Butler play exes who team up together after he takes her in for jumping bail. The pair start to rekindle their romance while trying to solve a possible cover-up and murder. Jason Sudeikis also has a role in The Bounty Hunter.
Why Jennifer Aniston Fans Will Like It: It's a silly romance movie that only partly makes sense, but Butler and Aniston have enough chemistry to keep you watching and rooting for this very dysfunctional pair. If you enjoy movies where there is a big scheme to cover up a murder, and also characters being chased by bookies, while also trying to collect a bounty on their ex-wives, then this movie is a perfect match.
Stream it on Netflix here (opens in new tab).
Management
When Sue (Jennifer Aniston) checks into the motel managed by Mike (Steve Zahn), they have a chance encounter that changes both of their lives. Mike is immediately smitten by Sue, but she's a little hesitant at first. The two don't quite launch into full romance but they learn and grow from each other, which leads to a potential meaningful romance. Woody Harrelson also appears in Management.
Why Jennifer Aniston Fans Will Like It: Management is a charming indie film that relies heavily on the goofy charm of Steve Zahn. It's a sweet film that is unlike many of Aniston's big-budget flicks. Management is a film that gets its charm from its simplicity.
Stream it on IMDBTV here.
Jennifer Aniston will return for a second season of The Morning Show eventually, but for now, you have plenty to binge across the wonderful world of streaming services.
Your Daily Blend of Entertainment News
Spent most of my life in various parts of Illinois, including attending college in Evanston. I have been a life long lover of pop culture, especially television, turned that passion into writing about all things entertainment related. When I'm not writing about pop culture, I can be found channeling Gordon Ramsay by kicking people out the kitchen.
Your Daily Blend of Entertainment News
Thank you for signing up to CinemaBlend. You will receive a verification email shortly.
There was a problem. Please refresh the page and try again.