Britney Spears May Want Out Of Her Conservatorship, But Now Dad Jamie And Her Conservator Are Fighting It Out In Court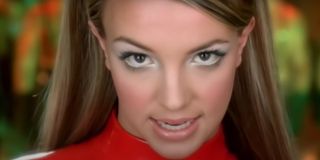 The legal battle over Britney Spears' conservatorship has been in hyperdrive for months since Hulu aired the Framing Britney Spears documentary. Her fans and fellow celebrities, like Christina Aguilera and Madonna, have rallied to support the end of the conservatorship that Spears herself has deemed "abusive." Meanwhile, her dad Jamie Spears and the other co-conservator involved are fighting over expenses in court.
Under the conservatorship, Jamie Spears manages his daughter's finances, while Jodi Montgomery was appointed as conservator over Britney Spears's personal matters. Apparently, the two conservators are duking it out in court over who gets their security paid for by the conservatorship and for how much. According to BuzzFeed News, Mr. Spears requested that the court deny Montgomery's appeal last week for the conservatorship to pay for her private security around the figure of $50,000 per month. His attorneys wrote in their filing:
It's an interesting turn of events, given that many people are apparently on Britney Spears's payroll through her conservatorship – including dad Jamie Spears, who supposedly earns $16,000 per month and gets a percentage of business deals. However, Mr. Spears' attorneys conveyed that he was "concerned" over the "dangerous rhetoric" circulating about details concerning the conservatorship but that if Jodi Montgomery receives security expenses, then "everyone who claims he or she is being threatened" should be allowed the same.
Now, Britney Spears's co-conservator Jodi Montgomery is hitting back against her dad's recent statements, which also seemingly implied she is the reason behind Spears' treatment under the conservatorship. People reported that Montgomery slammed Jamie Spears in court filings on Friday, where she said:
Britney Spears described the treatment she was receiving under the conservatorship last month in court. She alleged that her dad Jamie sought to "control" her, so much so that she likened her experience to "sex trafficking." She said she was "traumatized" and "depressed" due to being overworked and having no privacy whatsoever. Spears also conveyed that she had an IUD against her wishes.
Conservator Jodi Montgomery reiterated similar points in her recent statement. She pointed out that Jamie Spears has used "more than $2 million" from the conservatorship to defend his claim as conservator in court. Moreover, she said "no expenditures can happen" without his approval. She believes they should be working toward the path of terminating the conservatorship but that Mr. Spears "decided it is time to start the finger pointing and media tactics."
With each twist and reveal, the end of Britney Spears's conservatorship seems like it might be a long way off. The Free Britney movement is still ongoing, though, and fans are hoping maybe even Kim Kardashian can help get some resolution – somehow.
Freelance writer. Favs: film history, reality TV, astronomy, French fries.
Your Daily Blend of Entertainment News
Thank you for signing up to CinemaBlend. You will receive a verification email shortly.
There was a problem. Please refresh the page and try again.