Fans Want Kim Kardashian To 'Free Britney' Spears And They've Been Busy Bees On Social Media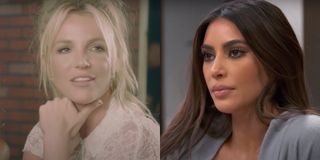 (Image credit: Britney Spears YouTube / E!)
There's been a rallying cry for Kim Kardashian, and no, not just about her seeming slipping back into her pre-Kanye West fashion choices. On social media, fans have been urging the Keeping Up with the Kardashians vet and sometimes social activist to help get involved in the Free Britney movement concerning Britney Spears's controversial conservatorship.
Details about the conservatorship imposed on Britney Spears have shocked the public, and they've been plentiful. The "Baby One More Time" singer revealed a few weeks ago that she has an IUD against her wishes and believes the situation has been "abusive." Yet, the most recent ruling in the case determined her father would not be removed as co-conservator, and she might just be retiring from singing as a result of this years-long mess. Still, many hopeful fans are angling for someone else to move the dial for Spears. Namely, Kim Kardashian, because why not? Fans took to one of Kardashian's signature thirst traps on Instagram to get her attention. The results were quite impressive, with comments flooding the post with the hashtag Free Britney.
Other comments on Kim Kardashian's Instagram continuously asked her to lend her "voice" to Britney Spears's cause and to "say something." Unfortunately for Spears's supporters attempting to incite change, the reality star has yet to respond publicly to the outcry.
Still, it's not a too farfetched idea. When she wasn't busy filming for Keeping Up with the Kardashians and fending off other controversies, Kim Kardashian has advocated for several incarcerated individuals in the past, all the way all up to the White House. Though she may not be a lawyer yet, she has been studying to be one for some time and there's no question that her presence always can drum up more publicity for any issues big or small.
And it's not just Instagram where Britney Spears' fans are making their hashtag pleas. Twitter users have had similar ideas:
The idea of Kim Kardashian coming to Britney Spears's rescue has taken root and simply won't stop. The hashtag Free Britney's connection with Kardashian's name is still spreading on Twitter, with fans even calling on Kris Jenner for a tag team action.
The Internet is certainly a powerful place. Following the pressure on Kim Kardashian's social media, the Mirror UK reported that countless celebrities are uniting to set up a fund for Britney Spears in her fight over her conservatorship. Names supposedly attached include Miley Cyrus, Paris Hilton, Katy Perry, Justin Timberlake and Christina Aguilera, with the latter having offered her own sympathies to her former rival. Closer had actually reported before the hoopla on Instagram that Kardashian reached out to Spears and is planning to help her "win her battle," an unverified report that perhaps encouraged the push in the first place.
Conversely, many have been calling out Kim Kardashian concerning Britney Spears's conservatorship for other reasons. On social media, they've accused her of not speaking out because of her own history supposedly trying to "51/50" Kanye West last year. It has even been alleged that she has a direct connection or possible conflict of interest with Spears' issues, given that her former business manager Lou Taylor currently works for Kardashian, as well as Kylie Jenner. See their alleged evidence below:
It sounds like a tricky, confusing situation no matter how you slice it. But regardless, it's obviously unclear if Britney Spears' situation could be helped by Kim Kardashian at all, considering the matter has been resolved for now. Although, it couldn't possibly make it worse, right?
Your Daily Blend of Entertainment News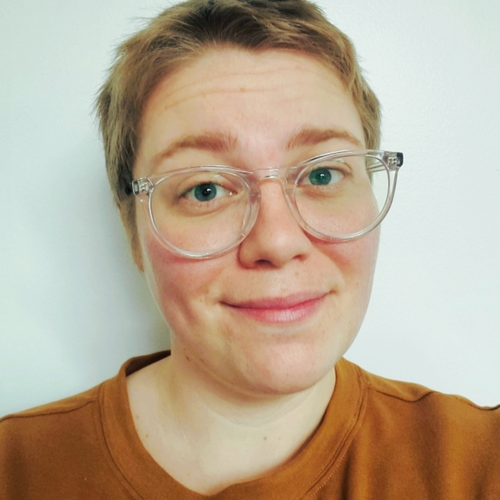 Movies and TV News Writer
Freelance writer. Favs: film history, reality TV, astronomy, French fries.