Virgin River: Where All The Relationships Stand After Season 3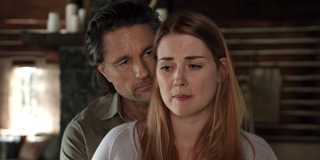 CinemaBlend participates in affiliate programs with various companies. We may earn a commission when you click on or make purchases via links.
In three seasons, Virgin River has done a fantastic job of delivering all of the soapy drama and devastating twists that fans could ever want to witness. But, we also know that there's another, very important reason, that people have tuned into the series in droves: romance. Many of that drama and those shocking twists involve the relationship statuses of Mel, Jack, Hope, Preacher, and the many other residents of the remote (and fictional) California town where the show is based. Virgin River might be a small community where everyone is in everyone else's business, but that doesn't mean that they don't get around when it comes to the lovey dovey stuff.
If you already watched Virgin River Season 3 and need a quick refresher on where the drama left all of the major relationships in this romantic series, look no further, because we have everything you need to know right here, starting with the Virgin River couple to beat all others.
Mel And Jack
Well, if you thought that Mel and Jack were going to have an easier road ahead after they finally professed their love for one another and got with the get-down in Season 2, you were very wrong, indeed. One of the biggest surprises from the Virgin River Season 3 opener was that the series actually skipped right over all of Jack's recovery after being shot in the previous season's finale. Not only was he back on his feet and seemingly untraumatized from that event, but Episode 1 also revealed that his ex-girlfriend, Charmaine, had moved on with her new love, Todd.
While that appeared to ease the tension between Jack, Mel, and Jack's baby mama for a bit, it soon became clear that the new couple is going to have a fight on its hands when it comes to how much Jack gets to see his twins (which we'll talk more about in a bit). But, there were also more troubling developments, namely when it came to Mel's continued desire to be a mother.
The first real sign of strain between Mel and Jack in Season 3 came when she told Jack that she was still interested in trying to have a baby. He eventually told Mel that it was a terrible time for him to consider adding even more kids to his daily life, but the dumbo went and broke up with Mel so as to not stop her from having something she wants.
Mel was heartbroken, and while visiting her sister in Los Angeles, her sister suggested she didn't need Jack at all, reminding Mel of the embryos she and Mark banked while he was still alive.
In the finale, after Jack had admitted his mistake in breaking up with her and they'd gotten back together, Jack attempted a romantic proposal. But, Mel had to reveal that she was, in fact, pregnant, but unsure of who the dad is. Oooooooh!
From what showrunner Sue Tenney said about a potential Season 4, this will likely not break our favorite duo up, but it will make for some tough decisions ahead.
Charmaine, Jack, And Todd
Speaking of Charmaine. When she gleefully introduced Mel and Jack to her new beau, Todd, in the season debut, it looked a lot like Virgin River was about to become a Charmaine drama-free zone. Of course, by the end of that scene, we got our very first red flags, when Charmaine noted both that she and Todd had only known each other for less than a full month, and that they were already engaged to be married!
Jack was not happy about not knowing anything about this man who would be in his children's lives, but Todd seemed alright... for a time. Not only is he pretty obsessed with his own wealth and importance, but he soon tried to use that against Jack by trying to get him to give up his parental rights so that Todd could adopt his and Charmaine's twins. When Jack refused to back down, getting his own attorney because he could feel the fight coming, the situation got even worse.
Charmaine (who audiences will know has her own serious dumbo tendencies) was soon disabused of the notion that Todd was going to be the perfect match for her, when she realized that everything was going to have to be his way if she stayed with him. Todd had decided on them living in Eureka (far away from her work in Clear River, and Jack in Virgin River) without saying a word to her, and also forced her to give up Tucker, the dog that Jack gave her in Season 2, just because he's not a dog person.
Even though Charmaine commiserated with Jack over Todd's behavior, she still quickly married him, with all of her desire to have a man and be taken care of overriding any common sense she might have. And, she revealed to Jack that she was fully backing Todd's play to take the kids away from him.
Way to go, Virgin River, for making it increasingly difficult to either sympathize or empathize with Charmaine!
Doc, Hope... And Muriel?
If you recall Virgin River Season 2, you'll remember that Doc and Hope, finally back together after what was probably the longest separation / impending divorce of any TV characters ever, pretended that they weren't back on track because Hope wanted to keep the other town gossips out of their business. You might also remember that Hope then convinced Doc to date mature town hottie Muriel in an effort to really throw everyone off track. But, she found herself in a difficult position when everyone involved realized that Doc and Muriel did actually have a lot in common.
By the end of the season, Doc had fessed up and told Muriel the truth, with both promising to stay friends, and Muriel took that to heart at what would be a truly troubling time for Doc in the most recent season.
Though Virgin River answered our question about what's wrong with Doc, Hope was away helping her sick aunt for much of the season, with a bad storm keeping her from reaching Doc for several episodes. Who was there to offer support, guidance, and even encourage Doc to fly down and try to locate Hope himself? Muriel, of course. Then, when Hope was finally able to make her way back to town in the penultimate episode, she was in a horrible car accident, leaving her with brain swelling -- that led a doctor to want to put her in a medically induced coma -- and a bad infection.
Did Doc have Muriel's soft, perfumed shoulder to cry on? Of course he did. And, assuming Hope is better at some point during a possible Season 4, it seems like we might have quite the love triangle on our hands. Don't cheat again, Doc. Please!
Brie And Brady
Now we come to a brand new romance that I think many fans were probably at least kinda glad to watch form during Virgin River Season 3. With Jack's shooting came a new resident in town: his legal eagle sister, Brie. While it seemed for a time that Brie was just there to make sure her brother was alright after the shooting, when all of those immediate fears were past, Brie stuck around to hide out from a major problem in her own life, which she didn't share with Jack at all, only revealing it to Mel toward the end of the season.
Needing to get away from her life might be why Brie was quickly taken with trying-to-prove-he'd-reformed troublemaker, Brady. The attraction between the two was basically instant, and even though Jack noticed and warned her to stay away from Brady, she didn't heed his word at all, and they struck up a romance which seemed to help Brie and Brady feel free from their pasts.
It was sorta lovely... until it wasn't. See, the specter of Brady's (not so) old criminal life was still hanging around. While he did manage to get drug dealer Calvin arrested and his operation shut down (for the time being), none of the charges against the Big Bad stuck, and he was very unhappy with the fact that Brady turned on him. Jack soon found out that Brie was dating Brady, and told her all about his illegal history.
Brady was brought in for questioning about Jack's shooting, and by the Virgin River Season 3 ending his alibi had fallen apart, and the sheriff's department searched his property. Then, with Brie watching, we saw them find a gun which could have been used to shoot Jack hidden in Brady's vehicle, and Brady get arrested. As you can imagine, Brie did not look like she was willing to stand by her man after that, but whether or not this will permanently signal the end of their romance remains to be seen.
Lizzie And Ricky
These crazy kids! While it seemed that Lizzie was going to get Ricky into a lot of trouble if they kept dating, it turned out that the small town boy actually calmed the L.A. girl's tendencies toward trouble quite a bit. Unfortunately, Ricky also kept a big secret from Lizzie, which is going to make things very tricky should Virgin River be granted another season.
Ricky decided to enlist in the Marines without telling anyone, even Lizzie. When he finally had to break the news to her, she was pissed that he'd spent weeks lying to her, and didn't seem like the honest person she'd hoped.
To make matters worse, Lizzie's cheating ex-boyfriend, Parker, drove the distance to see her a few times, and in the finale (when she was so mad at Ricky that she spoke about their romance in the past tense) he apologized for cheating and asked her to go on a cross country road trip with him. Considering how fed up Lizzie is with Ricky, she just might take him up on the offer.
Preacher, Christopher, And Connie
OK, OK! This is a bit of a cheat, because these relationships are strictly friendly (Connie / Preacher) and surrogate father-ish (Preacher / Christopher). While I refuse (Refuse, I say!) to get in the weeds with how annoyed I am that Preacher has been denied a romance for two seasons after a promising start with Paige (Christopher's mom), we still need to talk about how this family-like situation was left at the end of Season 3.
So, Preach stayed in Virgin River to raise Christopher while Paige is on the run after accidentally killing her ex-husband (Christopher's father), Wes. Wes' super dangerous twin, Vince, knows something is up with Paige, Preacher, and his missing brother. Not only did Vince get to Paige's friend and convince her to trick Preach into a meeting that left him drugged, incapacitated, and abandoned in the woods, but when Connie and Christopher got home, Vince was waiting for them.
I don't know how any of them are going to get out of those situations, but you can bet it'll be difficult!
Netflix hasn't confirmed that Virgin River will be back for Season 4, but you can relive the glory of Seasons 1 through 3 (opens in new tab) right now. For more to watch, check out all of the upcoming romantic TV shows, and look into our 2021 summer TV schedule!
Yennefer's apprentice, Gilmore Girl; will Vulcan nerve pinch pretty much anyone if prompted with cheese...Yes, even Jamie Fraser.