Loki Ending Explained: How Season 1's Gambit Sets Up MCU Phase 4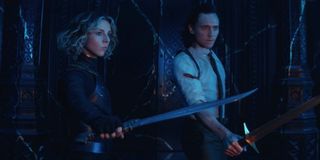 CinemaBlend participates in affiliate programs with various companies. We may earn a commission when you click on or make purchases via links.
Warning: spoilers for Loki Season 1's ending are in play. If you haven't caught up with the entirety of the Disney+ series, you may want to turn back until you've caught up.
The Marvel Cinematic Universe has taken a huge step forward with Loki's first season finale. Episode 6 - "For All Time. Always." has introduced a major new character, as well as some pretty interesting wrinkles in the plot of Tom Hiddleston's time traveling TV show. The events that transpired are going to have consequences, and MCU Phase 4 looks like it's going to be the venue for those actions to unfold. Last call for spoilers, as we're about to get into how Loki Season 1 is the true opening gambit for the next phase of the Marvel Cinematic Universe.
What Happens At The End Of Loki Season 1?
After running around through time and space, Loki (Tom Hiddleston) and Sylvie (Sophia Di Martino) make their way to the Citadel at the End of Time and meet He Who Remains (Jonathan Majors). The architect behind the TVA, its mythology, and its purpose, this presumed variant of Kang the Conqueror tells his guests about how he survived a multiversal war against his variants, creating and sustaining the Sacred Timeline. All is balanced as it should be, at least until this moment.
He Who Remains then informs Loki and Sylvie that this story of glorious purpose ends one of two ways: either he dies and a Multiversal War breaks out, with all the other Kangs wreaking havoc; or Loki and Sylvie can take over the TVA as its "benevolent" leaders. They went to kill The Devil, and he made them a bargain that tears them apart. Sylvie betrays Loki, who tries to stop her from killing He Who Remains, by sending him back to the TVA. Sylvie kills this Kang variant, and he taunts her with a chilling "I'll see you soon."
Apparently, Sylvie has never heard the phrase, "Better the devil you know", and before you know it, the Sacred Timeline is officially borked. With numerous Nexus Events crossing redline status, a frantic Loki tries to warn Mobius (Owen Wilson) and Hunter B-15 (Wunmi Mosaku) that a war is coming, and the need to prepare. There's just two problems: neither of the TVA's finest remember Loki, and apparently, Kang the Conqueror now runs the TVA himself.
How Loki Season 1 Sets Up Season 2
After whatever events took place between Loki and Sylvie's trip to the End of Time, Loki's protagonist now finds himself having to rebuild trust with his prior compatriots at the TVA. Should Season 2 pick up exactly where it left off, we might just see that process first hand, with Mobius and Hunter B-15 learning about how they came to be in the exact spot they're currently inhabiting. Then again, this is the MCU, and Loki is part of a larger universe, which means that when the newly confirmed Season 2 kicks in, we might be picking up on the story already in progress.
Cinematic appearances, as well as those in the television branch of the Marvel Cinematic Universe, could see Loki's namesake paving the way for whatever Season 2 will carry. Jonathan Majors' Kang is already slated to appear in Ant-Man and The Wasp: Quantumania, and the multiversal war that's teased in the finale will only spread throughout the MCU as time goes on. However, with Season 2's release date not slated, when can we expect to see the prince of Asgard make his return?
Where Will We See Loki Next In The MCU?
When Loki began, it was presumed that the series would act like a limited, but effective, swan song for the often murdered anti-hero. Now, with Season 1 proving us all wrong in the best way possible, there's plenty of possibilities for Tom Hiddleston's mischief maker to appear. And we automatically know one of those places, as we've seen Loki recently pop up in the trailer for Disney +'s new series, What If…?
That's not the full extent of where Loki might be seen next in the MCU, as new information has hinted towards another chance to see Tom Hiddleston on the big screen. As previously theorized, Loki creator and Doctor Strange in the Multiverse of Madness writer Michael Waldron seems to have both of those projects tied together rather well. News of a Hiddleston role in Benedict Cumberbatch's sequel isn't only a good chance for a War Horse reunion, it's also another chance to see the consequences of Loki's huge reveal have an impact on the Marvel Cinematic Universe at large.
How Loki Season 1 Sets Up MCU Phase 4
For those of you afraid that Phase 4 of the Marvel Cinematic Universe wasn't establishing an overall threat fast enough, those concerns can now be dashed to the side. Thanks to Loki confirming that a multiversal war is an inevitability, and talk of Spider-Men and the madness of the multiverse being rather important to the future of Marvel Studios' cinematic juggernaut, Kang the Conqueror seems to be the new big bad. Though it won't be just one version of Jonathan Majors' villain that'll be terrorizing the multiverse.
As He Who Remains promised that his variants would be unleashed by his death, and with the Sacred Timeline now fractured, all of those Kangs are going to have an all out war. Peter Parker facing off against past villains is the least of the problems to be shown in the Marvel Phase 4 movies, as the entire history of Kang and his variants laid out in Loki showed us exactly how this conflict is going to play out. So expect the multiverse to continually break down into chaos, with the next Avengers: Endgame style threat being the survival of the multiverse.
Could Loki Season 1 Be The Reason What If…? Exists?
There's one last thing we'd like to discuss before heading out of this Loki ending analysis, and it has to do with Disney+'s What If…? series. As we know, we're going to get an entire series of multiversal possibilities, which show various realities that differ from the mainline 616 universe we've been accustomed to operating in. But are Sylvie's actions in Loki the reason we're getting this series in the first place?
What once seemed like a simple treat that would operate as one of the potentially independent Marvel TV shows now feels like it's a direct result and connection to Loki's actions. What If…? no longer seems to be the isolated exercise in speculation it once was sold as, but rather a multiversal warmup to get audiences acquainted with the concept of the many worlds in the Marvel Cinematic Universe.
Loki Season 1 has fractured the multiverse in its shocking season finale, and now the MCU is about to get a lot bigger in its scope. Which means it's the perfect time to go back and watch the Marvel movies in order, as well as catch up on the various TV shows included among them on Disney+. If you've somehow read through this rundown, and haven't enjoyed the perks of a subscription to that very platform, check out the current subscription offer and dive into all the Marvel adventures you could want to experience. All the best Marvel movies, and more, await you with a simple monthly subscription.
Your Daily Blend of Entertainment News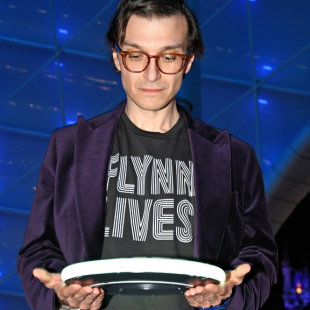 Senior Movies Contributor
CinemaBlend's James Bond (expert). Also versed in Large Scale Aggressors, time travel, and Guillermo del Toro. He fights for The User.