Why Khloe Kardashian Says Mom Kris Jenner 'Misled' Her And Kourtney Kardashian About Keeping Up With The Kardashians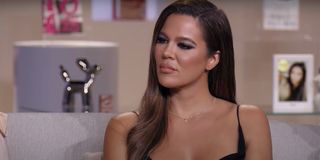 (Image credit: E!)
Keeping Up with the Kardashians only just ended its 20-season reign as the ultimate family reality TV show. But the Kardashian-Jenners are still around with a yarn or two to share about their lives that maybe some fans don't know about. Recently, Khloe Kardashian explained how she and sis Kourtney Kardashian were supposedly "misled" by their mom Kris Jenner into doing the show.
Apparently, Khloe Kardashian and Kourtney Kardashian signed up to do retail reality TV, not necessarily filming of their personal lives. Many fans will remember that a lot of the early seasons did, in fact, focus on the Kardashian's Dash clothing stores. But as the show grew in popularity, the format shifted to more of the family's antics and interpersonal relationships. And I guess we can thank Kris Jenner for that, as always, because Khloe shared on Malika and Khadijah Haqq's YouTube channel:
Though they may have been misled initially, Khloe and Kourtney Kardashian are probably grateful for their mom/momager's insistence. Keeping Up with the Kardashians lasted 14 years on the E! channel and, now, the reality TV family have parlayed their success into other endeavors. They have brands and companies galore, billions in revenue and are even working on a new project, in which they'll produce "global content" through Hulu later this year.
However, the downside to all their fame and success from Keeping Up with the Kardashians is that rumors are constantly swirling about them. For instance, Kim Kardashian's change of fashion style is being linked to the Kanye West divorce. Meanwhile, Khloe Kardashian is thought to be having trouble with Tristan Thompson, again, who is in turn having beef with her ex-husband, Lamar Odom.
Kourtney Kardashian, likewise, has had a rough go being "misled" into filming deeper stuff for Keeping Up with the Kardashians over the years. She has said previously that it was difficult doing so and, at one point, she famously took a hiatus from the show after an on-camera slap fight with her sister Kim. It was great reality TV drama but, as Kourtney explained, it manifested out of not being happy filming anymore.
Nevertheless, life post-Keeping Up with the Kardashians for Kourtney Kardashian is supposedly going very well. She's been living it up with unedited booty pics and speculation has it that she might have just gotten engaged or possibly married in Las Vegas to boyfriend Travis Barker.
Keeping Up with the Kardashians is officially over, and maybe we're the one's being misled now. Because it's clear to anyone that it's hard keeping up with the Kardashians still.
Freelance writer. Favs: film history, reality TV, astronomy, French fries.
Your Daily Blend of Entertainment News
Thank you for signing up to CinemaBlend. You will receive a verification email shortly.
There was a problem. Please refresh the page and try again.