After Commenting On Khloe Kardashian's Sexy Bikini Pic, Lamar Odom Is Called Out By Tristan Thompson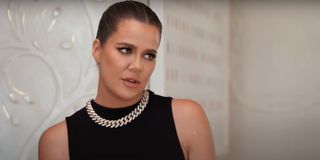 Viral content often spurs up a lot of wild reactions and unintentional beef that is not totally apropos of the content itself. Even for celebrities, it goes down in the comments. Such was the case when Khloe Kardashian harmlessly posted a sexy bikini pic on the Gram, and now her ex-husband Lamar Odom is getting called out by her other ex (???) Tristan Thompson.
What started it all was when Lamar Odom commented on Khloe Kardashian's bikini pic, calling her a "hottie" with a lot of flames and heart eyed emojis attached. To be fair, a lot of other people complimented her in the same way, including her sis Kim Kardashian and even Tristan Thompson himself. But Thompson caught wind of Odom's ogling and apparently didn't like what he was seeing. He wrote another comment, saying:
Tristan Thompson appears to be calling out Lamar Odom's 2015 drug overdose that saw him in a coma for four days. (The life-or-death situation happened amidst Odom and Khloe Kardashian's pending divorce, but she was famously by his side throughout the whole ordeal.) It's not quite clear why Thompson is referring to that history, other than to suggest that Odom isn't going to get a second shot with Kardashian again. Point blank period, in other words. Check out the feud-inducing bikini pic below:
It's accurate to say that the Keeping Up with the Kardashians star and Lamar Odom had their problems, namely his cheating and drug use during their short-lived marriage. Yet Tristan Thompson's beef with Odom is a bit awkward to say the least, since it has been reported that Thompson and Kardashian recently broke up again over more cheating allegations levelled against himself. Thompson's confident tone when calling out Odom may suggest, however, that maybe all those recent rumors concerning him and Kardashian may not be true after all.
Nevertheless, fans are absolutely living for the feud of Khloe Kardashian's (potential) two exes in her comments – at their expenses. Tristan Thompson could have easily taken it elsewhere, like the DMs for example, but he didn't. It reminds me of when Alex Rodriguez asked via Instagram where his party invite was to an event hosted by ex fiancée Jennifer Lopez's vocal coach. Sometimes social media is just where things come to light where they might not otherwise.
As seen by this Tristan Thompson-Lamar Odom snafu, the Kardashian-Jenners' signature and constant parade of sexy pics often become much more than a thirst trap. They apparently can indicate a relationship might not be over or representative of women's empowerment or reveal how brand management works double overtime (and make some mistakes as a consequence).
Regardless, the Kardashian-Jenners have perfected the art of the thirst trap. And trap Khloe Kardashian did – her exes that is.
Freelance writer. Favs: film history, reality TV, astronomy, French fries.
Your Daily Blend of Entertainment News
Thank you for signing up to CinemaBlend. You will receive a verification email shortly.
There was a problem. Please refresh the page and try again.