After Friends: The Reunion, Sherri Shepherd Touches On Diversity Issues But Says She Loved Working On The Show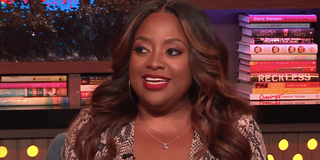 There is no denying that NBC's Friends is a beloved sitcom for many, and is still binged by fans who have watched the show since the '90s. Some have come to realize that the fan-favorite sitcom is lacking in the diversity department. Sherri Shepherd, one of the few Black people who appeared on the show, has now touched on this issue after Friends: The Reunion aired on HBO Max a couple months ago, despite saying she did enjoy working on the show.
Sherri Shepherd reflected to People on the lack of diversity in Friends, which she guest starred in back in Season 4. The show is set in New York, and the comedic actress notes a very real difference between the real-life city and the one portrayed in the sitcom. Here's what Shepherd says, exactly:
Out of the small number of Black people who appeared throughout the ten seasons of the sitcom, Sherri Shepherd's character was one of the even smaller number of characters who had a name. Her character Rhonda arguably had one of the most memorable and hysterical quotes from the show not uttered by one of the main characters when she motioned to her boobs and yells, "I'm Rhonda, and these aren't real!" Even so, in the same interview, the actress says she was not invited back after she thought she was sure to be. In her own words:
Sherri Shepherd, like many of the Black actors who appeared on Friends, very briefly appeared on the hit show. Shepherd is far from the only person to call out the lack of diversity in the popular sitcom. In the CNN special History of the Sitcom, Friends co-creator Marta Kauffman admits and recognizes that representation on the series was lacking. According to her, the lack of diversity is a product of the time and her own ignorance. This is what the writer and producer has to say:
Friends ended over 15 years ago, and did incorporate more Black characters with larger parts in its later seasons. Even so, the lack of diversity is pretty obvious, even to the point where a creator would make a statement on it. It's interesting to imagine how much Friends and other older films and shows would have improved and transformed if characters like Sherri Shepherd's Rhonda were given more of a chance to shine.
Constantly thinking about books, coffee, and the existential dread I feel from Bo Burnham's Inside. While writing I'm also raising a chaotic toddler, who may or may not have picked up personality traits from watching one too many episodes of Trailer Park Boys.
Your Daily Blend of Entertainment News
Thank you for signing up to CinemaBlend. You will receive a verification email shortly.
There was a problem. Please refresh the page and try again.