The Walking Dead Co-Creator Frank Darabont's AMC Lawsuit Has Been Settled, And It's One Hell Of A Payday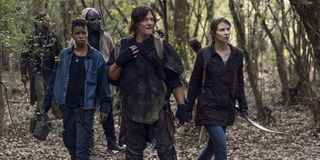 (Image credit: AMC)
The Walking Dead has been a huge moneymaker for AMC over the years since it premiered in 2010, but the network is now poised to pay a hefty amount in a settlement with original series co-creator Frank Darabont, who was fired from The Walking Dead in 2011 after a brief stint as showrunner. The lawsuit over profit participation had been unfolding for the better part of a decade, and the settlement is a pretty big deal for both Darabont and AMC, although for different reasons.
Under the terms of the settlement deal, which was disclosed recently in an SEC filing (via Variety), AMC Networks will pay Frank Darabont and talent agency CAA a grand total of $200 million, and they will continue receiving a portion of future profits from streaming deals for both The Walking Dead and Fear the Walking Dead. The initial lawsuit was filed back in 2013, so this settlement has been a very long time coming.
Notably, the settlement does not account for other Walking Dead-related content, such as the existing World Beyond spinoff and future spinoffs once the original series wraps in 2022, and it buys out Frank Darabont and CAA's rights for additional Walking Dead content.
Although the $200 million settlement is a major payday, it's actually less than a figure that Frank Darabont previously named in damages. In a case development back in 2016, Darabont and CAA were seeking a whopping $280 million, with the figure calculated from Darabont's original contract for as much as 10% of The Walking Dead profits after production costs had been deducted. The $200 million includes $57 million of profit participation that AMC had previously intended to pay for the contracts.
As for AMC, the $200 million settlement was disclosed because it will impact the network's free cash flow for all of 2021. While that is a big chunk of change lost for the network, AMC will have a more straightforward way to proceed with future Walking Dead projects thanks to the settlement, and the Walking Dead universe definitely isn't going concluding just because the end is coming for the series that started it all.
The settlement also takes care of both the original 2013 lawsuit and the additional lawsuit filed by Frank Darabont in 2018 to allege additional fiduciary abuses. The cases were combined by a judge into the one settlement. AMC is still facing a similar lawsuit filed by creator Robert Kirkman, former showrunner Glen Mazzara, and executive producers Gale Anne Hurd, David Alpert, and Charles Eglee filed in 2017, and is pending in Los Angeles Superior Court.
Still, the settlement closes the book on a lawsuit that got pretty ugly at times, with a hell of a payday for Frank Darabont and more opportunities (albeit with $200 million less) for AMC when it comes to The Walking Dead as a franchise. And the future looks bright for The Walking Dead universe continuing beyond the eleventh and final season of the mothership show.
Norman Reedus and Melissa McBride, who are the last remaining cast members who appeared in Season 1, are slated to reprise their iconic roles as Daryl and Carol for a live-action spinoff. An episodic anthology series entered development as well. The zombie apocalypse isn't going anywhere from AMC.
In fact, it will soon return to AMC, as Season 11 premieres on Sunday, August 22 at 9 p.m. ET. That said, AMC+ subscribers will be able to catch the premiere a few days early, on August 19.
Resident of One Chicago, Bachelor Nation, and Cleveland. Has opinions about crossovers, Star Wars, and superheroes. Will not time travel.
Your Daily Blend of Entertainment News
Thank you for signing up to CinemaBlend. You will receive a verification email shortly.
There was a problem. Please refresh the page and try again.