The Walking Dead's Robert Kirkman And Others Just Hit AMC With A Huge Lawsuit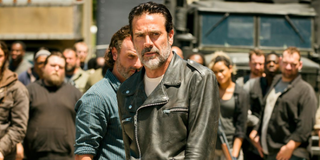 The Walking Dead is one of the biggest shows on television, and it has been setting (and breaking) records throughout its seven seasons so far. The show is a couple of months away from returning for Season 8, but not all of the buzz is about the exciting new plots that await. Robert Kirkman and a number of other Walking Dead producers have just filed a massive lawsuit against AMC that could get incredibly ugly.
Here's what's happening. Robert Kirkman, former showrunner Glen Mazzara, executive producer Gale Anne Hurd, and executive producer David Alpert have filed a lawsuit claiming a breach of contract initiated by AMC that denied them profits that they should have received due to the wild financial success of The Walking Dead. AMC has had a good thing going with The Walking Dead from the very beginning due to the fact that it both produces and airs the series in what is called "vertical integration," which applies when one parent company owns all stages of production. In this case, The Walking Dead is produced by AMC Studios and airs on AMC Network, meaning that it falls wholly under the AMC umbrella.
The lawsuit alleges that under the contracts of Robert Kirkman and Co., they should have received significant profits from the unprecedented success of the series. Their agreements entitled them to profit participation, but their profits were to come out of the AMC Studios profits. According to the suit, AMC deliberately kept the majority of the Walking Dead profits at AMC Network, where the AMC parent company could keep a disproportionate amount of the profit without sharing the agreed-upon percentage with the producers. Vertical integration has allowed AMC to do extraordinarily well with The Walking Dead; it seems that these four producers believe that they haven't received what they were due out of the show's success.
The suit doesn't stop at just AMC keeping a disproportionate amount of the profit on AMC Network rather than in AMC Studios. The legal case alleges that AMC Network also allows "an unlimited number of runs" of episodes, which is quite different from other AMC series like Mad Men and Breaking Bad (which do not fall under vertical integration). Such shows have license fee agreements limiting AMC Network to only a certain number of play dates.
The plaintiffs also claim that AMC received an offer from a third party for international rights to Fear the Walking Dead that was based on the success of The Walking Dead, but AMC chose to turn the offer down in order to go for a significantly less lucrative related-party deal that resulted in the profits once again going directly to AMC without being diverted to AMC Studios, where producers would have gotten a cut.
Robert Kirkman and Co. attempted to resolve their issues with AMC before taking legal action, according to the suit, but filed once they believed their internal efforts had been exhausted. This isn't the first time that a lawsuit has been filed against AMC for allegedly withholding profits; series co-creator and former showrunner Frank Darabont has been pursuing a legal case for years.
AMC has issued a statement in response to the lawsuit, in which the network says (via Deadline) that such suits are common when it comes to shows that are particularly successful. Check out the full statement below.
We can only hope that the issues can be addressed without The Walking Dead itself taking any hits. The show has fans all over the world who have been hooked from the very beginning, and it would be a shame if it suffered from a creative standpoint due to unresolved issues between the producers and the network. We have to wonder if the circumstances that motivated Robert Kirkman to file this suit played into his recent decision to move to Amazon for his future projects. Only time will tell.
The Walking Dead will return to AMC on Sunday, October 22 at 9 p.m. ET. For a peek at what's to come, swing by our breakdown of what we know so far about the new season, and don't forget to take a look at our fall TV premiere schedule.
Resident of One Chicago, Bachelor Nation, and Cleveland. Has opinions about crossovers, Star Wars, and superheroes. Will not time travel.
Your Daily Blend of Entertainment News
Thank you for signing up to CinemaBlend. You will receive a verification email shortly.
There was a problem. Please refresh the page and try again.