Mindy Kaling Shares Feelings About Backlash After It Was Announced She'd Play Velma In Scooby-Doo Spinoff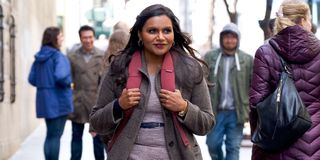 The Scooby-Doo franchise has been around for years and has existed in both animated and live-action forms. But after multiple iterations of Mystery Inc. over the years, the latest one is getting some fans quite worked up, and the backlash was aimed at Mindy Kaling, who will be voicing Velma Dinkley on the new spinoff. Now, the actress is opening up about her feelings about the recent response to her casting.
HBO Max's new Scooby-Doo spinoff will change things up a bit by putting Velma Dinkley in the lead and depicting her as a young, South Asian woman. Twitter was not very happy, considering that the character has mostly been predominantly been caucasian in the former iterations we've seen throughout the years. In the midst of the backlash, Mindy Kaling, while on Late Night with Seth Meyers, shared some keen thoughts on the situation:
Since Scooby-Doo has been around for a long time, it has certainly amassed a number of hardcore fans, young and old, so it's not surprising that many of them would have strong reactions to the news that Velma is receiving this change in the new show. Mindy Kaling may not understand why people can't see Velma in that new light, but it does seem like she's taking the backlash in stride.
It's also great that she's allowing this situation to fuel her, as she crafts her take on the character with thought and care while maintaining what we know about Velma Dinkley's personality. And it goes without saying that she'll also make the character her own and positively reflect South Asian culture in the process.
With Mindy Kaling involved, this new Velma could potentially become a fan-favorite character. The writer, actor and producer does have a strong track record after all. It's also worth mentioning that there have been multiple instances in which a person of color was cast in a traditionally white role and the project was well received. Brandy's turn as Cinderella in the 1997 live-action remake of the fairytale is a prime example and, today, many people view it as a classic. And do we even need to mention what's been done with Marvel's Nick Fury over the last few decades?
While a release date or additional casting has yet to be announced for the HBO Max spinoff, which will be more adult-oriented, it'll be interesting to see just what Kaling brings to the iconic character. Hopefully, we'll all be saying, "Jinkies!" with delight when we finally see her animated character on screen.
Your Daily Blend of Entertainment News
Passionate writer. Obsessed with anything and everything entertainment, specifically movies and television. Can get easily attached to fictional characters.