Sex/Life: 5 Things The Netflix Drama Could Do Better In Season 2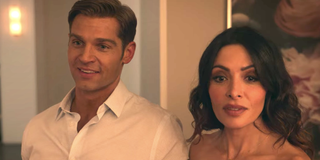 CinemaBlend participates in affiliate programs with various companies. We may earn a commission when you click on or make purchases via links.
The hit Netflix drama Sex/Life came out of the gate and got viewers talking about the tale of a suburban Connecticut housewife (and mom) who was missing her wild days in New York. I was one of the many people who quickly got caught up in Billie's (Sarah Shahi) life, her memories of the glittering excesses of her youth, and her being very torn between her stable, boring, "good guy" husband Cooper (Mike Vogel), and her sexy, "bad boy" ex-boyfriend, Brad (Adam Demos).
Even with the fact that I binged the show in two days, there are several things I hope the show does better if we get Sex/Life Season 2. I'm going to lay those things out for you now, and you can see if you agree!
Give Billie Other Options
The main conflict in Sex/Life sees Billie trying to decide between home life with Cooper, and the wild times she had with Brad. A big problem I had with all of Billie's waffling between the two men, is that neither of them actually seem like great choices, meaning that I think Billie needs some other options in Season 2.
Sex/Life clearly wants the audience to be as torn as Billie when it comes to who she should be with, but that's far from a simple choice, especially when it comes to how Brad and Cooper behave toward Billie. Even though I can see the show was attempting to give some gray area to the archetypes of "bad boy" and "good guy" with the two, all it did was paint a picture of two men who are wrong for Billie, at least as they stand by the Sex/Life Season 1 ending.
Take these men out of the equation, and see what would make her happy if they weren't involved. It's about Billie figuring out her own issues, and then seeing who fits into the life she needs. The show shouldn't be afraid for that to mean neither man. Maybe it's going back to multiple partners (who aren't either current guy), or having no partners at all until she works some stuff out.
Either way, I really want the show to stop pretending that the only way for Billie to be happy is to choose one of these basically terrible men. Which leads to my next point.
Find A Way To Make Cooper More Sympathetic
Ahhh, Cooper. At first, we simply see a guy who's made the mistake that I suppose a lot of partners do, and began to treat Billie as a mom blob he's not really interested in having sex with, even when she's eagerly attempting to initiate some horizontal time.
Things get way worse when Cooper sees that Billie is so dissatisfied with their life that she's begun to obsess over the sex she had with long-dong Brad back in the day. While I know that Billie did herself and Cooper a huge disservice by not even discussing her old life or her enjoyment of public sex, Cooper quickly goes from a guy who didn't have all the necessary info about his wife, to someone who blames and punishes her frequently.
Are we really supposed to want Billie to stay with a man -- father to her kids or not -- who took her to a sex party and tried to force her into fucking in front of everyone? When she finally manages to get out of his grasp, Cooper agrees to getting a very public blow job as Billie's crying and begging him not to do it. Does that sound like a good person?
If you want us to root for Cooper to "win" in this battle for Billie's heart (and her loins), he's going to have to do some major apologizing after truly taking to heart how horrible he was to his wife, and stop blaming Billie for all of their problems and the bad things he's done, in order for him to really be a sympathetic character.
Do More To Acknowledge The Roots Of Billie's Problem
Some of Billie's quandary when Sex/Life starts is due to her completely hiding her previous life from Cooper. She met a man who seemed stable and easy after her whirlwind of terrible relationship with Brad, and never even bothered to say, "Hey, I work hard, but I also play hard. And, by 'play' I do mean have lots of sex in public."
Something that annoyed me about Sex/Life is that Billie and her friend, Sasha (Margaret Odette), are both in a psychology Ph.D. program, and supposedly very good in their field, but at no time after Billie begins to obsess over Brad do either of them seem try to get to the root of the obsession. Billie does talk to an old psychology mentor once, but it's a conversation that focuses on a more general question of whether or not people can/should be monogamous, and doesn't deal at all with why she feels she needs Brad back in her life.
I'd like Sex/Life to go deeper in Season 2, and really have Billie investigate why she blew her life with Cooper up. Not only that, but after everything that happened in a short time, if they're going to stay together, they really need marriage counseling, you guys. Like, immediately.
Have Sasha Be A Much Better Friend
My problems with Sasha go way beyond the, now, psychology professor not trying to truly help Billie uncover why she's become fixated on Brad, the roots of her dissatisfaction with her home life, and what she needs to be happy now. Unbeknownst to Billie, Sasha started a friends-with-benefits relationship with Brad. And, I need her to be a much better friend to Billie and do way more apologizing for that.
Technically, she did apologize for her recent year of hookups with Brad. Billie quickly forgave her, and I was actually glad of that, until I realized how 100% horrible Brad had been to Billie during their romance all those years ago.
The way Brad frequently treated Billie sometimes bordered on emotional abuse. How could you have casual sex (or any kind of relationship) with a man who, upon finding out he was going to be a father, said to Billie, "What are you going to do?" as though he hadn't been a factor in the pregnancy at all? Not to mention the fact that when Billie had a miscarriage, Brad cheated on her within a couple of days.
Taking up with someone who not only dated your friend but was also so horrid to her? That's the real betrayal Sasha needs to cop to and make up for.
Show Way Less Of Billie's Boobs
I don't mind some boobage on screen. If I did, I wouldn't have been able to survive the veritable boob-a-thon which was Game of Thrones. I do not think, though, that this much nudity on Sarah Shahi's part was necessary, and I don't think it had the intended effect. But, we see her breasts so much throughout Sex/Life that it becomes a bit of a joke, and it also takes away from a good message the show could have.
I'm pretty sure the drama is trying to help us accept that women can be enthusiastically sexual beings, and still be good mothers, happy wives, studious Ph.D. candidates, etc. But, when the camera lingers on shots of Billie's breasts so often, it makes it seem like the show is still intent on over-sexualizing the female character. And, don't we get enough of that in media already?
The nudity of the male characters in the Sex/Life cast, on the other hand, is mostly implied. I'm certainly not saying everyone should be naked all the time, but that very-talked-about shower scene where we see full frontal male nudity (which I can admit did cause me to howl with laughter and delight at the fact that a show filled with sex actually dared to show a penis) also didn't really give us the scene I think we should have gotten.
I would have liked to see, from Billie's perspective, her take delight in the physical appearance of a man she was having sex with. That would have helped to drive home that this is Billie's sexual journey and she's attempting to take charge of it. Instead, it's boob city, and we're treated to a woman who is still sort of an object in her own story and not the subject.
I'm still on board with Sex/Life if it does get Season 2, I'd just like to see the show be more thoughtful about what it's trying to do and how the characters are set up to give that to viewers.
You can relive Sex/Life Season 1 on Netflix right now. Until we hear about Season 2, be sure to check out the 2021 summer TV schedule and 2021 fall TV premiere dates!
Your Daily Blend of Entertainment News
Yennefer's apprentice, Gilmore Girl; will Vulcan nerve pinch pretty much anyone if prompted with cheese...Yes, even Jamie Fraser.