Could Stranger Things End An Era With Season 4 After Long Delays?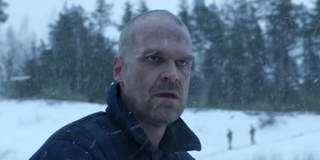 Stranger Things became a surprise smash hit when the first season released back in 2016, and the next two seasons were highly-anticipated by fans everywhere. Unfortunately, those fans have already been waiting more than two years for Season 4 to debut and reveal what happens after the Season 3 finale cliffhangers, and there's still no end to the wait in sight thanks to the production delays that brought much of the entertainment industry to a halt in 2020. Between how Season 3 ended the plot and the long delays for Season 4, I find myself wondering: is Stranger Things going to end – or at least end an era – with Season 4?
Very little has actually been seen of Season 4, with the exception of the teaser that confirmed Hopper managed to survive what seemed like his surefire death at the end of Season 3, and the preview that revealed the return of none other than Matthew Modine's Dr. Brenner. New cast members have been announced, but not even a full trailer has released at this point, let alone an official premiere date. In fact, executive producer Shawn Levy's comments about Season 4 are what led me to start considering if Stranger Things is setting up the beginning of the end. Read on for some reasons why that could be the case!
The Delays Have Affected The Storytelling
Stranger Things, like so many other productions, wasn't able to safely film for months due to pandemic precautions, but the Stranger Things team wasn't just sitting idly by and waiting for the chance to pick up where they left off. The writers used the time to actually finish writing the fourth season ahead of time, and the Duffer Brothers who created the series revealed just how much the delays impacted the storytelling, with Ross Duffer telling THR:
Now, the Duffer Brothers gave this interview nearly a full year ago, in August 2020, so a lot could have changed since then, but the duo evidently used the long production delays to figure out what the ending would look like, when it will happen, and how they'll need to fill it out. It stands to reason that having a firm grasp on the end could mean that the end is relatively nigh.
The odds seem good at this point for a Season 5, but the Duffer Brothers having a handle on the ending of the story may indicate that the fifth season will be the last. Honestly, if not for Ross Duffer's comment that Season 4 "won't be the end," I'd be seriously wondering if the delays could result in the fourth as the final season.
The Young Actors Are Growing Up
The core group of Stranger Things kids started out as a bunch of 12-year-olds who stumbled upon the mystery of Season 1 thanks to Will disappearing and Eleven escaping Hawkins Lab, and part of what was so remarkable about the series early on was how it cast a talented group of actors who actually looked the age of their characters. Only a few years have passed in-universe as of the end of Season 3, but it's been more than five years since Stranger Things premiered, and those five years are going to show when it comes to the young actors.
Unless Stranger Things starts going for some time jumps to explain why the kids are growing up so quickly, it's going to be hard to ignore. Millie Bobby Brown could barely play flashback Eleven back in early Season 2, which released barely over a year after Season 1. At the time of writing, Brown and Noah Schnapp are the youngest of the actors playing the kids, at 17- and 16-years-old respectively. Finn Wolfhard and Gaten Matarazzo are both 18, and Caleb McLaughlin and Sadie Sink are both 19.
As of the end of Season 3, the kid characters would have only been around 14. If Stranger Things isn't ending within a season or two, then I'd say that Stranger Things needs to gear up for a time jump. Fans may be able to suspend our disbelief about monsters from another dimension and Soviet agents infiltrating a small Indiana town and a girl with powers, but I know that I at least am going to notice if Stranger Things tries to sell a group of actors in their late teens/early twenties as high school freshman or sophomores.
Season 4 Is The Most Ambitious Season Yet
According to Stranger Things executive producer Shawn Levy to Variety, Season 4 is "much more ambitious than the prior three seasons" and went "much bigger" when it comes to scale and "multi-settings." The Season 3 finale already split the narrative, with Hopper seemingly killed off but actually in a bad way in the Soviet Union, Joyce Byers finally leaving Hawkins with her sons and Eleven in tow, and the rest of the characters sticking around back in Indiana.
It's already hard to picture how everything will tie together and presumably connect back to Hawkins, and it truly seems like Season 4 could be either setting up a final conflict of some sort or ending the era that tied the Stranger Things action to Hawkins and the memorable cast of characters there. After all, how can they all stay relevant when the adults are leaving, the high schoolers are graduating, and the kids are growing up?
I think that something's gotta give when it comes to the timeline due to all the delays, and that may mean the end of Stranger Things as we know it and the beginning of a new period of the show, assuming it does return for Season 5. I love Steve and Robin and Erica, for example, but they're also fairly tangentially connected to the larger storyline and mysterious goings-on. If a lot of action is happening in Russia (or really anywhere other than Indiana), then there are limits to how all the characters can believably remain in the storyline.
Dr. Brenner Will Be Back
The Demogorgon may be the iconic Stranger Things monster from Season 1, and the Mind Flayer sure did make everything worse for the people of Hawkins in Seasons 2 and 3, but I still think of Matthew Modine's Dr. Martin Brenner as the best villain of the whole series to date. Based on the teaser for Season 4 that released back in May, Brenner will be back in some form or other.
Signs have pointed toward Brenner surviving his seeming fate at the end of Season 1, but it's also possible that he could appear exclusively in flashbacks, since a few years passing for Modine won't show in the same way that would prevent Millie Bobby Brown from playing flashback Eleven (or Noah Schnapp playing flashback Will) indefinitely. However it happens, bringing back Dr. Brenner feels like something that would be saved for either a final season or a penultimate season that somehow reveals an even bigger bad.
All things considered, I'm actually expecting humans to be presented as far more of a danger in Season 4 than Seasons 1-3, partly because Stranger Things might have a hard time topping how big it went with the Mind Flayer by the end of Season 3. Season 1 did the first monster, Season 2 did lots of monsters, and Season 3 delivered a big blockbuster monster. There may be nowhere to go but down on the monster front in the aftermath of the Mind Flayer, so opening the story up to particularly evil humans again could be the best move. And Dr. Brenner definitely qualifies as particularly evil, if you ask me. Plus, the return of Brenner would be a big deal for the current era of the show.
Would Stranger Things really bring him back if not to set up the climax of the series, especially now that the Duffer Brothers have taken the time provided by the pandemic delays to figure out the ending? Is Stranger Things being set up to end as a series altogether sooner rather than later? Or is a soft reboot on the way with drastic changes to the cast and setting? Or will Stranger Things just keep on keeping on for as long as possible, and the 16-year-old characters will all be played by young adults coming up?
Unfortunately, only time will tell, and there is no guarantee that Stranger Things will be back for Season 4 before the end of the year. In the meantime, the first three seasons are available for watching and rewatching, and our 2021 fall TV premiere schedule is packed with some viewing options as well.
Resident of One Chicago, Bachelor Nation, and Cleveland. Has opinions about crossovers, Star Wars, and superheroes. Will not time travel.